Platform encouraging girls to get involved in STEMM wins Swinburne's 'Design for Change' student competition
Sister Cloud was announced as the winner of the 'Design for Change' competition at a virtual live showcase on May 27th.
In summary
Swinburne software development students have created a prototype of an online platform called Sister Cloud, which has won Swinburne's 2021 Design for Change competition
Sister Cloud is aimed at encouraging school aged girls to participate in STEMM
The Design for Change competition challenges students to design and pitch STEMM prototypes that will make the world a better place
An online platform encouraging young girls to get involved in science, technology, engineering, maths and medicine (STEMM) called Sister Cloud, has won Swinburne's 2021 'Design for Change' student competition. 
Design for Change invites students to design and pitch a STEMM prototype to either inspire school-aged students or contribute innovative ideas to industry partner Insurance Australia Group.  The overarching aim is to help make the world a better place.

Designing the future

Emily Cheng, who is studying the Master of Information Technology with a major in Software Development, designed Sister Cloud with fellow students Jordan Remzi-Johson, Marius Bejan, Michael Datta Chaudhuri and Shan Lu. They came up with the idea for an assessment in the Technology Design Project unit. 

It consists of an online platform that encourages girls aged 10-15 years old to get involved in STEMM activities by providing a safe space for them to connect with mentors already working in the space, as well as with peers. 

Sister Cloud gives users access to learning resources like games with incentives for consistent use such as points and daily streaks. It is targeted at a younger audience and suitable to be implemented in schools.

Shaping STEMM futures

 When Design for Change was announced, lecturer in Science Communication and initiator of the competition, Dr Bita Zaferanloo, encouraged the Sister Cloud team to enter.
'I believe community knowledge is a powerful force and my aim is to empower students to act as science communicators to lead and shape the future of STEMM,' Dr Zaferanloo says.

Emily says she is 'extremely honoured' to win the award and grateful for the recognition of the hard work the team put in to create the STEMM prototype. 

'It means a lot to me seeing our idea has resonated with other people.'

Fostering change 

Design for Change is one program in a series of co-curricular activities that the Shaping STEMM futures initiative offer to engage Swinburne students in Australia and Malaysia to enhance communication and develop future readiness. 

The team, led by Dr Zaferanloo, in addition to Senior Lecturer in Software and Electrical Engineering, Dr Caslon Chua, and Industrial Designer, Elliot Henkel, have spent the past five months designing and promoting the program to help make a difference. 

The Design for Change program is supported by an Adobe Innovation Grant and the Design Factory Melbourne at Swinburne. Participating students have access to various training workshops to learn new skills and opportunities to put them into practice.

The team behind Sister Cloud won $1,000, recognition within the Swinburne Emerging Leaders Program, which helps translate their experience on their final academic transcript, and professional experience supported by Insurance Australia Group where they can receive feedback from Industry partners.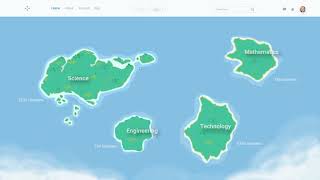 Winner of 'Design for Change' 2021 - Sister Cloud
Sister Cloud's platform is based off islands which each represent an area of STEM and locations within them for users to visit to find others with the same interests.
Creating a supportive community

Emily's own experiences as a woman in STEMM inspired the idea of Sister Cloud. She always had an interest in STEMM but did not necessarily feel supported to participate in it by family and teachers.

'As a Women in STEMM, I often feel isolated, just like a small island in a big ocean.'

'I only recently decided to follow my passion and pursue a degree and future career in STEMM. I understand the feeling of being unsupported and unrecognised and really want to create a solution to help.'

As a result of how positively Sister Cloud has been received, the student team is now looking at turning the idea into a real application.

Emily hopes Sister Cloud will benefit girls and women looking to get into STEMM for the first time or further their journey in the field.

'Sister Cloud will aid girls, as well as the industries attached to STEMM, ensuring that gifted young girls are not pushed out of STEMM for lack of support or other reasons such as cultural stereotypes.'

Related articles
Technology
Aviation
Engineering

Swinburne on show at Avalon

Swinburne's capabilities in astrophysics, aerospace, aviation, engineering, advanced manufacturing and artificial intelligence were on display at the 2023 Avalon International Airshow.

Monday 06 March 2023

Swinburne enters the metaverse with Factory of Future digital twin

Swinburne University of Technology's state-of-the-art Factory of the Future will be the latest space to enter the metaverse through a new partnership with tech leader CWX Technologies. 

Wednesday 08 March 2023

Technology
University
Aviation

Swinburne empowers first aerospace Founder in Residence to soar at Avalon International Air Show

Taking on Avalon International Air Show with innovative aerospace is Swinburne's first Founder in Residence Rachael Barritt.

Wednesday 01 March 2023

Humans are still hunting for aliens. Here's how astronomers are looking for life beyond Earth

We have long been fascinated with the idea of alien life. The earliest written record presenting the idea of "aliens" is seen in the satiric work of Assyrian writer Lucian of Samosata dated to 200 AD.

Friday 03 March 2023

More than $1.1mil in funding for Swinburne industry-linked projects

The projects will look at using recycled glass in roads, improving Australia's 5G network, and boosting quality of life in aged care through technology.

Wednesday 08 February 2023