Design for Change winner: solar distillation solution
The 3D printed component aims to tackle issues of water equity in rural Australia
In summary
Bachelor of Engineering and Law student Erfan Mangani was the winner of Design for Change 2023 with his 3D printed solar distillation project
The competition challenges students to create innovative, sustainable, and feasible designs to solve real world issues
Erfan's project aims to tackle water equity issues experienced by some rural Australian communities like Aurukun in Northern Queensland
Bachelor of Engineering and Law student Erfan Mangani has won the Design for Change 2023 competition with his 3D printed solar distillation project that addresses issues of water equity in rural Australia.
Lead by Microbial Biotechnology and WIL lecturer, Dr Brita Zaferanloo, this annual competition develops students' communication and technical skills as entrepreneurs. It focuses on supporting innovative, sustainable, and feasible designs that solve real-world challenges.
Designing a solution
Erfan's innovative idea is creating 3D printed components that can be used as a solar distillation solution. The idea emerged from a project in Engineering unit, Technology in an Indigenous Context Project (COS10025), that challenged students to implement emerging technologies in innovative ways.
The project aims to address ongoing water equity issues in rural Australian communities, like those faced by Indigenous communities located in Aurukun, a town located in Northern Queensland.
Due to consistent warm and dry weather, their water supply has been identified as not being up to standard, and local council members have raised their concerns.
Simple, flexible, and sustainable
Erfan recognised that the emerging technology of 3D printing could be utilised to solve this problem, so he made a device that could distil contaminated water.
The design is a 3D printed component that can be attached to bottles or jars and can provide clean water via solar distillation. The contaminated water in the bottom bottle is evaporated by sunlight, travelling through the nozzle, where it's condensed to clean, drinkable water and captured in the top bottle.
Erfan tested the design with a prototype of the component
A key aspect of the project was ensuring its potential for future improvements and integration, so simplicity and flexibility was at the forefront of the design. 3D printing is highly customizable which is suitable for creating a design that works best for the specific community. All the component materials are also recyclable to ensure sustainability.
A close-up rendered image of the component
Most of the device is hollow, with various gaps within its frame. The nozzle of the component is also a triangular prism, rather than a circular tube. This was done intentionally to reduce print time and material cost. A less complicated design also reduces the chance of costly failure prints.
Erfan was happy to be selected by the judges and encourages anyone interested in design to get involved.
"The Design for Change competition was a fantastic opportunity to test my innovation and design skills, and I will be looking to get more involved for future semesters," Erfan said.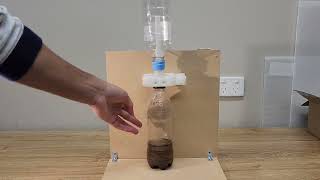 3D Printed Solar Distillation Solution
Erfan's Design for Change video submission
Related articles
Swinburne celebrates 60 years of Work Integrated Learning

Swinburne is celebrating 60 years of Work Integrated Learning and building on our rich history in this space to deliver on our strategic plan.

Thursday 30 November 2023

Young Swinburne designers help build luxury brand

Young Swinburne designers are helping to build the range for a new Melbourne-based luxury product brand, Lood. 

Tuesday 31 October 2023

Swinburne helps Pasifika youths develop life skills and thrive

Up to 100 Pasifika youths have graduated from Swinburne's Discovery Sprint program, where young people can gain skills that could kickstart careers in in-demand industries.

Monday 02 October 2023

Overseas internships open new doors

As part of his studies, Swinburne student James Pappalardo completed an overseas internship, which he says has helped broaden his horizons and encourages more students to do the same.

Thursday 26 October 2023

Donor scholarship sets student on cyber security path

Swinburne University of Technology have announced the inaugural recipient of the Adrian Di Marco Women in Software Development Scholarship, offered by TechnologyOne. The scholarship recipient is Teisha Damman, who is studying a Bachelor of Information and Communications Technology.

Wednesday 25 October 2023