How to enrol as a new local UniLink student
This is a step-by-step guide on how to enrol for new local students studying UniLink diploma courses. If you're continuing your studies with us, please enrol as a continuing student
This page is for students who have received a direct offer from Swinburne and plan to enrol as a new local UniLink student.
Note: If you have received an offer from the Victorian Tertiary Admissions Centre (VTAC) and plan to enrol as new local UniLink student, your process for enrolment is a little different from the steps outlined on this page. Please refer to the VTAC offer guide for UniLink students for instructions on how to enrol.
If your offer has come directly from Swinburne (not through VTAC) and you are a new local UniLink student, begin the enrolment process by following the steps below.
Gather your information
To enrol online, make sure you have the following before you start the enrolment process:
your Letter of Offer
your Tax File Number (TFN) or certificate of application of TFN
your course planner — you'll need to refer to it throughout the enrolment process.
your Unique Student Identifier (USI). If you don't have a USI, get one now.
Ready to enrol? Follow these steps:
To accept or defer your offer, you'll need to log in to eStudent and click on the 'Offers' tab.
Your username is your student ID as it appears in your offer letter.
You can create or reset your password here.
To accept your offer:
Select 'Respond to offer' for the offer you wish to accept
Check the details are correct and, if so, select 'Accept'.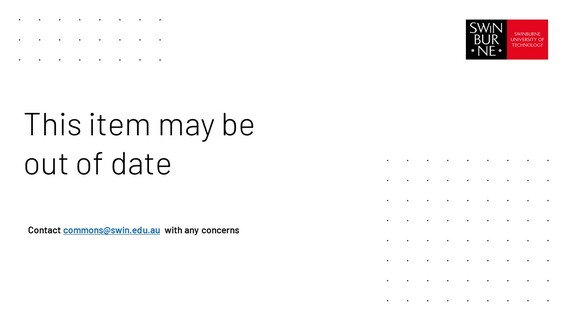 How to accept your offer
View transcript (DOC 111KB)

It's also possible to defer your UniLink offer (and commence studying at a later date) for up to two years.
To defer your offer:
Select 'Respond to offer' for the offer you wish to defer
Select 'Defer'
Provide details of the year and study period you'd like to defer until 
Note: Swinburne assesses each deferral request and will inform you via email on the outcome of your request
Select 'Continue'. 
You may also apply to take a Leave of Absence later in your course — see taking time off for local students.
If you've completed prior study or have work experience relevant to the course you're enrolling in, you may be able to apply for academic credit. However, it's recommended you enrol in your units and complete your timetable now according to your course planner, and make any changes to your unit enrolment after any applicable academic credit has been applied.
1. Click on the My Enrolment tab
2. Accept our terms and conditions; click on the words Read and accept.
3. If you are asked for further details e.g. your parent/guardian details, click on the word Provide, then enter your details and click the Update information button to submit. If you are not asked for further details, proceed to the next step.
4. If you're asked to submit your Request for Commonwealth Support, select Provide (this form is mandatory to confirm your Commonwealth Supported Place). If you're eligible and wish to apply for HECS-HELP, you can do this on the same form.
©
5. In your course name information box, select Group Registration link on the right-hand side to display the different timetable groups.
©
6. To view the timetable for a specific group, select View Timetable link.
Note: There may be several timetable options for each group depending on which elective you'd like to choose.‌
7. Once you have decided which group suits you best, register in that group by selecting Choose on the right-hand side of the screen.
8. Select Register in selected group at the bottom of the screen.
©
9. Choose your elective by clicking Select on the right-hand side of the elective option
©
10. Select Add to study plan on your chosen elective
11. Select Save changes on study planner to confirm
Note: If you have been granted advanced standing (academic credit), it will show on your online study plan as 'Exempt'. You can also apply for academic credit after you have enrolled.
12. Select the Enrol checkbox on the right-hand side of each unit you're enrolling in. Then select Enrol at the bottom of the screen.
©
13. Select Confirm Enrolment to finalise enrolment.

Your fees will vary based on the course and units being studied. To learn which fees you need to pay and when, and what government financial assistance you may be eligible for, see paying your fees.
To make a payment:
Select the 'My Financials' tab within eStudent.
Select 'Make a Payment' from the left-hand navigation.
To apply for government assistance (HECS-HELP, FEE-HELP and SA-HELP):
Select the 'My Financials' tab within eStudent.

Select 'HELP forms' from the left-hand navigation.

Select 'Add New' for a new application.

Provide your details and select 'submit'.
To find out more about loans and discounts, see loans and discounts.
Your timetable has been set up for you. To view your timetable:

Click on the Class Timetable tab.
You will need to wait until the next business day for your timetable to display.
Note: You cannot unregister from any of your classes or change your timetable. If you have any questions, just contact us.
©
Once you have your timetable, you're all set!
Make your first few days a breeze by looking through our Getting Started at Swinburne page and familiarising yourself with your campus and facilities. Don't forget to collect your ID card from studentHQ on any campus.

Now all you need to do is think about which books and stationery you need to get the most out of your first year here at Swinburne. Check out the Swinburne Bookshop for everything from art boards to pens, hoodies to books and USB sticks to mousepads.

Need help enrolling?
Drop in for a chat at the Enrolment Support Hub

Stop by when you're on campus and join the queue. If you don't want to wait, join the queue now and your ticket will be sent to you via SMS. Make sure you arrive at the studentHQ location by the time your ticket is called.

Book an appointment at the Enrolment Support Hub
Book an appointment and secure your preferred time to speak to one of our Course Advice Specialists. Simply select the 'Course Advice Session' option to reserve a time at Library and studentHQ.

Learn more about the enrolment help we offer.
Do you have prior experience?
Need help with the enrolment process?
If you need help with the enrolment process, need technical support or are looking for more specialised advice as an international student, the enrolment team is here to help.
Contact us