Swinburne's Beta Alpha Psi chapter helps shape the next gen of accounting and finance leaders
Swinburne's Beta Alpha Psi chapter provides many opportunities for student members to develop professional skills and grow their industry connections in the accounting, finance and business professions.
In summary
Beta Alpha Psi (BAP) is an international honour society with more than 300 chapters working to shape the next generation of business leaders.
Swinburne is the first BAP chapter in Australia to launch a mentoring program that pairs students with successful Swinburne alumni.
BAP advances the careers of finance, accounting and digital technology students, including by creating opportunities to build industry connections.
Swinburne accounting, finance and information systems students are being equipped to thrive in their future careers through prestigious international honour society, Beta Alpha Psi (BAP).
Swinburne's BAP Chapter focuses on developing future business leaders through professional events, learning activities, industry engagement and mentoring opportunities.

There are more than 300 BAP chapters worldwide. Membership is exclusive to universities accredited by the Association to Advance Collegiate Schools of Business (AACSB) and Swinburne is just the sixth Australian chapter.

Final year Bachelor of Accounting and Business Information Technology (Professional) student Tom Vrsecky is the President of Swinburne's BAP chapter, which is made up of 30 high-achieving students.

Tom says the highlight of studying at Swinburne is benefitting from its close ties with alumni and industry partners. This has created opportunities that have been amplified by his involvement with BAP.

'These connections open up so many opportunities and possibilities for students, and I think this is something that you come to appreciate more as you begin to develop your career.'

Since the launch of Swinburne's BAP chapter in 2020, the students have engaged with high-profile industry partners such as Pitcher Partners, accounting firm Korda Mentha, Chartered Accountants Australia and New Zealand and accounting software company Xero.
Starting with success
Swinburne's chapter has not let the COVID-19 pandemic get in the way of capitalising on opportunity and its members have accomplished a lot since its launch.

Member Fadi Shamoun was recently awarded the BAP 'Medal of Inspiration'. He was singled out from entrants all over the world and received a $5,000 scholarship. The medal is presented to a BAP member who achieved greatness in the face of extreme hardships. In Fadi's case, he overcame the challenges associated with being a refugee and achieved academic success.

Fadi says he was 'in disbelief' when he received the email announcement, after running into technical issues to organise his application essay and referees.

'It was one of the best moments I have ever felt throughout my life, knowing I put so much effort into it and my hard work paid off.' Fadi's dedication to education and BAP has allowed him to extend his industry connections in Australia, including by securing a 12-month placement at construction company Coleman Rail.

BAP students also collaborated with the accounting software provider Xero and undertook a three month 'Think-Tank'. The goal was to develop ideas to empower secondary school students to become financially savvy by engaging with them in a fun way, using software platform Xero Learn.

Vice-President of the Swinburne BAP chapter, Annabelle McKenzie says the 'Think Tank' was the 'perfect opportunity' to expand the skill set of all students involved.

The program encouraged the development of key professional skills such as project management, teamwork, and public speaking., whilst allowing students to showcase their ability, connect with industry, and give back to the community.

The students efforts across multiple projects saw the Chapter take out the runner-up prize at the prestigious Best Practices Competition – Beta Alpha Psi Oceania Region, sponsored by Deloitte.

'Our team were super excited to have achieved the result that we did, and our achievements in the competition also served to affirm that our program was aligned with the spirit and purpose of Beta Alpha Psi,' says Tom Vrsecky.

Dr John Webster, Faculty Advisor of the Swinburne BAP Chapter says, 'in addition to high-quality professional and technical development activities, students also participate in community initiatives that have social impact. Giving back to the community underpins the BAP program.'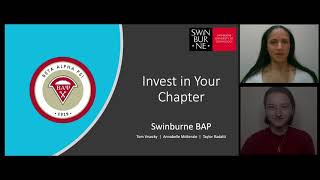 Beta Alpha Psi Swinburne - Best Practices 2021 (Invest in Your Chapter)
Swinburne placed second at the BAP Best Practices competition for the Oceania region.
Paving the way for future experts

Swinburne is the first BAP Chapter in Australia to launch a mentor program, which pairs each of its members with Swinburne alumni based on their interests and career aspirations. They meet regularly to discuss goals, questions and ideas.

Tom's mentor is Swinburne business alumnus Dr Russell Scrimshaw who is a renowned business leader in the Asia-Pacific mining industry and a Swinburne donor.

Russell says he is 'lucky' to be a mentor to Tom and says he 'exhibits all the traits of someone who has tremendous potential and drive to succeed.
Russell is passionate about giving back and supporting students who will become future accounting, finance and business leaders.
'The mentor program is another stellar way for me to help today's generation of Swinburne students achieve their career goals by helping with relevant experiences and advice particular to individual aspirations.'

Swinburne's Accounting Futures Fund

Swinburne's BAP chapter is funded philanthropically through the Accounting Futures Fund. This fund was launched in February 2020, driven by a group of successful Swinburne accounting alumni eager to give back to Swinburne and the next generation.
The fund aims to inspire a pipeline of career-ready graduates equipped for the rapidly changing accounting profession. It supports students through key initiatives such as the Accounting Futures Scholarships and the BAP Chapter.
Related articles
Swinburne helps deepen multi-disciplinary understanding

Swinburne recently hosted nine Indonesian students as part of the prestigious Indonesian International Student Mobility Awards, Vocational Edition (IISMAVO).

Thursday 07 December 2023

The Optus outage shows us the perils of having vital networks in private hands

Optus chief executive Kelly Bayer Rosmarin is set to front a Senate inquiry this week, probing last week's colossal outage which left millions stranded without internet or mobile phone connectivity for a staggering 14 hours. The company has faced severe critisism for its handling of the outage, including for its lack of urgency in updating the public.

Wednesday 15 November 2023

The Optus chief was right to quit but real change is unlikely at the telco until bigger issues are fixed

Optus chief executive Kelly Bayer Rosmarin bowed to the inevitable on Monday and resigned as chief executive of Australia's second largest telecommunications company. Why inevitable? Poor communication and a lacklustre response during a major system outage is bad enough. Then things got worse when Bayer Rosmarin and the director of Optus networks admitted at a Senate hearing on Friday they had no disaster management plan for the kind of national outage experienced two weeks earlier.

Monday 20 November 2023

Swinburne and Oracle partner to enhance student employability

Swinburne and Oracle have partnered to provide students with valuable industry interactions.

Tuesday 05 December 2023

Swinburne alum thrives in ever-changing Australian tech industry

Alum Tristan Sternson's passion for IT has sparked an incredible business journey and established him as an Australian tech industry pioneer. Since assuming the role of ARQ Group CEO in December 2019, Tristan's leadership has played a pivotal role in transforming the company from an underperforming entity into one of Australia's most remarkable turnaround successes within just three years.

Wednesday 01 November 2023