Swinburne community support for students reaches milestone
Almost 3,500 local and international students have received financial support through the Student Emergency Fund to date.
In summary
Swinburne's Student Emergency Fund appeal has exceeded $1 million in philanthropic contributions
The fund continues to provide critical financial assistance for students experiencing hardship as a result of the COVID-19 situation
More than 540 donors, including 184 Swinburne staff, have contributed to the fund
Swinburne's Student Emergency Fund has exceeded $1 million in philanthropic contributions, making the appeal one of the leading student support responses from a university in Australia.
More than 540 donors from 18 countries – including 184 staff members – have contributed to the fund which continues to provide critical and real-time financial assistance to students facing hardship as a result of the COVID-19 situation.
This is the highest performing appeal in Swinburne's history, with support from some of our major donors helping us reach the $1 million mark, including the Pratt Foundation, Beck Family Foundation, Asian Australian Foundation, Russell Scrimshaw, Philip Ting and Mark Korda.
Critical support for our students
Almost 3,500 local and international students have been supported through the fund to help cover necessities, such as rent, food, utilities and healthcare.
One of the recipients of the fund is a first year Bachelor of Engineering (Honours) student, who shared a heartfelt message with donors:
"I am an aspiring engineer and your financial assistance has given me the opportunity to be the first female in my family to attend university. Without your assistance, I would not be able to afford to study next semester."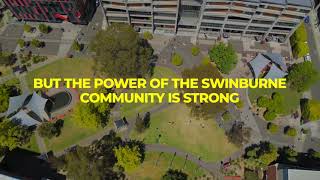 Swinburne students say thank you
Some of our students share their experiences of hardship and thank the Swinburne community for supporting them.
Director of Development, Belinda Collins, says the generous response to students experiencing hardship is Swinburne's community at its finest.
"Our students are our core purpose, our reason for being. It has been inspiring to experience Swinburne's entire supporter community uniting to wrap our arms around our students. From our Chancellor and Council, to our staff, alumni, donors and fellow students, we have walked with our students, donating much needed funds and sharing messages of support," she says.
Personal messages of support
A key feature of this appeal is the many personal messages of support that have been shared from donors to students.
One of those is from Mithun Rajan, a Master of Finance and Banking (Professional) graduate who studied at Swinburne as an international student. He now works in Melbourne and hopes his gifts to the fund will help students to 'stay strong' at this time.
"Swinburne gave me the opportunity to learn and grow through various forums during my study. It was time that I gave it back, especially to those in need. My contribution is to put a strong message in the minds of our international students that "we are all in this together" – not only in merrymaking moments, but even in these unprecedented times. I was just as you all are. Let's stay strong."
Swinburne's incoming Vice-Chancellor, Professor Pascale Quester, also shared a message for students:
"Education is a vaccine. It protects against bigotry, bias and ignorance. When this pandemic is over, you will be stronger, more resilient and ready to overcome anything life throws at you. Now and always, Swinburne is a passport for a better future."
In gratitude for the community that has come together in support of our students at this critical time, an honour board will be erected displaying the names of all donors to the Student Emergency Fund.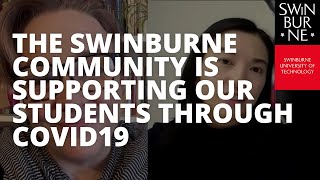 Members of Swinburne's alumni and philanthropic community share why contributions are critical for our students at this difficult time.
Related articles
Swinburne launches Australian-first reconciliation centre

The National Centre for Reconciliation Practice will lead national academic, industry and community understandings of reconciliation, and help drive systemic change.

Thursday 02 June 2022

Social Affairs
University

Swinburne congratulates new Minister for Education

Swinburne University of Technology welcomes the appointment of Jason Clare as Federal Minister for Education in the newly sworn-in Albanese Ministry.

Wednesday 01 June 2022

Swinburne climbs 25 places to Top 300 globally

Swinburne University of Technology has climbed 25 places to number 296 in the QS University World Rankings 2023, claiming a coveted Top 300 spot and a place in the Top 1% of universities worldwide.

Thursday 09 June 2022

Fellowship opportunity: making sense of society's fault lines

Applications are now open for the first Swinburne Beyond the Fault Lines Liffman Fellowship.

Monday 06 June 2022

Swinburne's strategic focus delivers financial turnaround – 2021 Annual Report released

The Swinburne University of Technology's 2021 Annual Report was tabled in the Victorian Parliament on 3 May 2021.

Tuesday 03 May 2022