Deliberately different: 35 years of Wantirna
From the time it opened as Outer Eastern College of TAFE in 1986, Swinburne's Wantirna campus pushed the boundaries to offer the best educational experience possible
In summary
Swinburne's Wantirna campus is proudly celebrating 35 years since they changed the game of vocational education in Victoria
From humble beginnings as Outer Eastern College of TAFE, then Eastern TAFE, and then joining the Swinburne community in 1998, the passion of staff to deliver education across Melbourne's east has been unwavering to this day

From its inception, Outer Eastern College was envisaged as a place to deliver a unique and fit-for-purpose vocational educational experience
The tight-knit community at Swinburne University of Technology's Wantirna campus is proudly celebrating 35 years since they changed the game of vocational education in Victoria.
From the time it opened as Outer Eastern College of TAFE in 1986, the dedicated educators have pushed the boundaries to offer the best educational experience possible.
Join us as we take a step back in time and recount the fascinating story of how this special place came to be.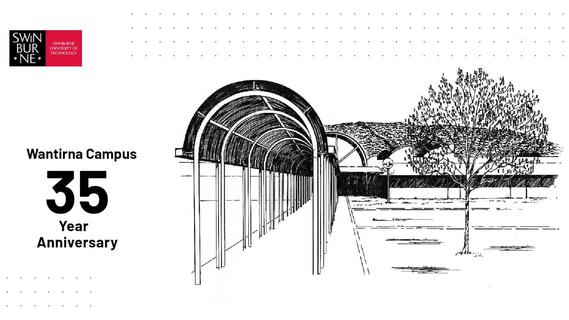 Developing the vision

In 1981, local politicians in Melbourne's eastern suburbs began discussing the need for a new TAFE in the area.
Ultimately, the Department of Education offered three choices for the location based on land they had available at the time – at Ringwood, Croydon and Wantirna.
The Wantirna site was chosen in 1982 due to its prominent location and proximity to the existing retail precinct surrounding what is now Westfield Knox.
"The campus was established at a time when Wantirna and surrounds was the growth corridor of Melbourne," Pro-Vice Chancellor and Chief Executive of Vocational Education Andrew Kong said.
"It was a time when farmland was converting to suburbia and these suburbs were full of aspirational people who needed access to skills and qualifications that would underpin their future and the future of their families. 
"Outer Eastern and later Eastern TAFE made that difference to people's futures and this tradition continues within Wantirna as a campus of the University."
An Interim Council was formed and met eight times between August 1983 and March 1984. 
Their terms of reference gave them responsibility for broad planning of the new TAFE, including its name, leaders and governance structure.
Driven by meeting the needs of the local community, they recommended calling the new institution Outer Eastern Community College of TAFE.
They were forced to accept a compromise to remove "community" when inclusion of the word was vetoed by the State Government.
"Most of us felt as though we were standing at the base of a very tall mountain with its top hidden in clouds – such were the tasks confronting us," College Council president Bob Appleby wrote in the 1986 Annual Report.
"The tremendous enthusiasm of our Councillors firmly committed to creating the best TAFE Community College possible was an enormous plus, so we tackled the mountain!"
Wantirna computing and information technology staff members attend a function in 1995
Early pioneers
Outer Eastern's first staff member was executive officer John Boyd, who was seconded from the Victorian TAFE Off-Campus Network to provide administration support.
He was given a small box of stationery, a corner of the Regional TAFE Board's conference table (which he was required to clear and vacate whenever there was a meeting), and the task of finding a temporary office.
He secured a 57m2 suite in Boronia Rd, Boronia in March 1985.
Dorothy Daykin was employed as an executive assistant, and recalls John giving her a handful of coins to make calls from a nearby public telephone.
The first Outer Eastern budget was typed on a typewriter she borrowed, which John soon replaced with a laptop he borrowed from an associate.
A mammoth recruitment campaign was next on the list, including for a director who could bring the Interim Council's vision for the institution to fruition.
In August, Maurie Curwood was confirmed as the successful candidate after a unanimous resolution from the council.
Previously deputy director at Holmesglen College of TAFE, Maurie was highly regarded in the TAFE community and local community.
He wasted no time establishing positive relationships with the Office of the TAFE Board, Knox Council, and striking co-operative agreements with a range of providers.
Getting to work
Ahead of the official opening of the Wantirna campus, several programs were already being run offsite.
The first was a Participation and Equity hospitality course run during evenings at Stages restaurant in Croydon.
Hearing of the success of the program, other instructors soon came on board to teach computer skills, bookkeeping and other business management skills so participants graduated with training in all aspects of managing a restaurant business.
Business management, social and community studies, electrical and electronics technology were also taught in community locations while the Wantirna campus was being constructed.
Wantirna Campus Director Madelyn Bolch said the unwavering passion and drive displayed by staff at the beginning has survived to this day.
"One of our biggest achievements is maintaining the same community spirit and camaraderie from the original Outer Eastern College of TAFE to the vibrant campus it is today," she said.
"Watching the same level of enthusiasm with each intake and new generation of students is very special."
July 1986 was a bitterly cold one, but not enough to put a chill on the excitement of Outer Eastern's inaugural teaching cohort as they moved into the new campus.
With no furniture in the early days – reportedly not even toilet paper in the bathrooms – they gathered on the carpet in the staff lounge to eat lunch until people brought folding chairs and a coffee table from home.
Outer Eastern was abuzz in the following months as builders completed their work and undertook a clean-up of the site.
With construction equipment leaving and campus equipment arriving, there were unfortunately a few instances of theft.
On one occasion, a trailer went missing overnight and was located by police in Morwell the next day.
A telephone, then a television, and later video equipment, went missing from the Centre for Business and Management.
Staff set a 'trap' for the thief (a telephone packaging box filled with bricks), but were unsuccessful.
An executive officer dressed in 'gardening clothes' walked around the campus on patrol one weekend, thinking they had caught the suspect driving laps around the campus.
The car's driver was a private security guard hired by another executive officer, and they thought the same thing when they saw a suspicious person walking laps of the campus.
It took a story in an Adelaide newspaper about an alleged bank robber caught on security camera for the Wantirna thief to be identified: the campus cleaner who helped set the 'trap' and was hired due to impeccable credentials.
Students and staff enjoy a barbecue lunch in the courtyard at Wantirna campus' 20-year celebrations in 2006
Wantirna opens its doors
The years of hard work paid off when the big opening day finally came on 21 October 1986.
A community festival was held the following day, and among the dignitaries in attendance was then-Premier John Cain.
"One of the strengths of the TAFE system has been the regional involvement and the regional focus in the planning and provision of courses," he said in his speech to assembled guests.
"This College might well be seen as an embodiment of that regional concept.
"I am sure that this College will serve the needs and interests of the immediate community, while underpinning state-wide economic and social advance.
"Let me add my congratulations to those people who have worked so hard to establish this College."
The festival entertained more than 3,000 guests with market stalls, craft activities, aerobics displays, Tai Chi demonstrations, baton twirlers, and even hot air balloon rides.
That first day set the trajectory of community engagement for Outer Eastern.
It existed wholeheartedly to serve its people, and its staff worked with community groups and industry to provide courses in several locations.
Co-operation was the driving philosophy.
"The Wantirna campus is a very cohesive community," Madelyn said.
"If you don't know someone, or know who to go to, there will be someone else who can help.
"Nothing is ever too much trouble. If all else fails, head to the central Staff Lounge and make a new friend over coffee or lunch, where everyone is made to feel welcome."
By 1987, Outer Eastern offered 36 pre-employment and accredited programs, and teachers would often be seen driving up into the Dandenongs to provide courses offsite.
Back then, the equipment required to do so often meant travelling by bus, because 1980s computers each took up their own seat.
A caravan was set up as a fully equipped mobile classroom, albeit a tight one to navigate.
Satellite campuses were also set up in Healesville, Lilydale and Croydon.
"Staff members feel it is a great working environment, both the campus itself, and the people, which is partly why we have so many long-term staff members who have stayed with us and thrived in their roles at the campus," Madelyn said.
Doing TAFE differently
From its inception, Outer Eastern College has been envisaged as a place to deliver a unique and fit-for-purpose educational experience.
Without tradition to hinder change, it was free to develop a culture open to creative solutions and progressive educational pathways.
While other TAFEs were resisting emerging technology, Outer Eastern had portable electronics kits and interactive workstations.
It offered self-paced and flexible learning options to cater to its students' diverse range of needs.
Commemorative trees are planted at the Wantirna campus at the 20-year celebrations in 2006
Growing and evolving
In the early 1990s, Outer Eastern formed strategic partnerships with Deakin and Swinburne universities to develop pathways of study between the institutions.
The Swinburne Pathways Project allowed students to begin their studies at Outer Eastern and join the Swinburne community in subsequent years.
In 1996, Outer Eastern became Eastern TAFE, signifying a change in direction and solidifying its place as a major player in the VET industry.
In 1998, Eastern TAFE became Swinburne TAFE after amalgamating with Swinburne University.
This move strengthened the existing ties between the institutions, giving students an enhanced educational experience.
With a major focus on flexible learning and new learning technologies, the amalgamation increased student choice of access by developing multiple delivery modes and strengthening intersectoral arrangements to improve pathways and credit transfer arrangements.
Looking to the future
Teachers, support staff, students, alumni and community supporters will converge on the Wantirna campus on 1 December for the 35th anniversary celebration.
Among the fanfare, there are bound to be some emotional reflections on the huge impact the people and the place have had on the lives of so many.
For Andrew Kong, it's a chance to acknowledge the way the Wantirna campus has shaped the local community, and the many connections between them.
"Often, staff are locals to the area and many people spend a sizable part of their life journey working at Wantirna," he said.
"In such instances, their colleagues become like family."
For Madelyn Bolch, it's an opportunity to pay tribute to the hard work of so many people over the years.
"To the staff, we say thank you – you are the reason Wantirna campus continues to flourish," she said.
"The great response and enthusiasm we have had from past staff to come along to the mark 35 years of the campus tells a story of loyalty and affection for the campus and its people."
From its inception, Outer Eastern College has been envisaged as a place to deliver a unique and fit-for-purpose educational experience.
Related articles
Swinburne business and carpentry alum building up apprentices

With four qualifications under his toolbelt and a successful building company to his name, Swinburne alum David Vastbinder is using his experiences to give back to apprentices and the industry. 

Tuesday 12 September 2023

Student News
Trades
Design

Best in Australia: Swinburne VET students win gold at WorldSkills

Three Swinburne VET students won first place in the 2023 WorldSkills Australia National Championships and will go on to compete at the International WorldSkills Games in Lyon, France next year.

Monday 21 August 2023

Swinburne brickie Matt O'Brien shares skills with Arnhem Land communities

Swinburne's Head of Croydon Bricklaying Department Matt O'Brien is the latest Swinburne staff to join the initiative

Thursday 06 April 2023