Swinburne games experts on what you should play next
In summary
Melbourne International Games Week 2021 runs from 2–10 October
Swinburne experts from game development and animation courses are taking part in events, conferences, workshops and activities
Deathloop, Webbed and Donut Dilemma are some of the games Swinburne experts suggest you should try
Melbourne International Games Week (2–10 October) brings together games, technology and culture in Asia Pacific's largest digital games celebration. Games lovers, educators and industry people are invited to attend online conferences, workshops, events and activities.
Keep an eye out for experts from Swinburne's game development and animation courses, who'll be speaking at events, mentoring and seeing their games featured.
In honour of the event, three of our games experts recommend trying something different in October – perhaps an independent game made by a small team or an older game you may have overlooked. 
A quintessential lockdown game
Dr Steven Conway is Senior Lecturer and Course Director for Games and Interactivity. 'Popular culture is always most successful when it's reflective of psychological and social anxieties,' he says.
That's why we saw the emergence of 'radioactive monsters' in the 50s and 60s, conveying worries about nuclear arms; body horror films around infection peaking in the 80s with the AIDS panic; and zombies becoming really popular as social media took off in the late 00s, conveying worries about ultra-conformity.
He thinks the perfect metaphor for our current social anxiety is the time loop, reminiscent of cyclic lockdowns – but any surrealism will do. He recommends:
Deathloop: The perfect game for lockdown. It's about dying and reliving the same cycle again and again (the "loop"). Perfectly matched for our current status -- stuck in lockdown, a seemingly never-ending monotony with no clear end in sight. This is, of course, joined by other recent games (Loop Hero, Returnal, 12 minutes, Outer Wilds) and TV shows and films focusing on time loops (Two Distant Strangers, Palm Springs, The Map of Tiny Perfect Things). 
Loop Hero: In this retro-styled adventure, help nurture a hero and overcome the time loop he's stuck in. The twist: you cannot directly control the character, only equip him and watch him go.
Qomp: This game is both new and a classic. What starts out as an innocent game of Pong takes a very surreal turn. Escape the game.
Small team, big game
Swinburne games and games music expert Dr Dan Golding says: 'It's such an exciting time in Victoria for games composing and virtual reality work. There are so many people doing interesting stuff.'
Watch him talk about it here: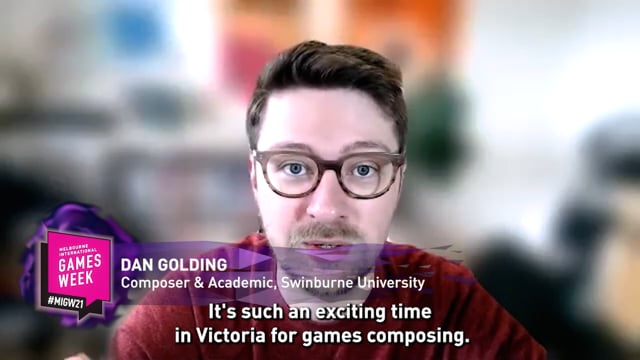 MIGW21 Dan Golding on music in games
Dr Golding has won awards for composing the soundtrack to Untitled Goose Game and says: 'We are seeing a huge variety of types of music, genres, styles and textures in games at the moment.'
He recommends:
Webbed: For something new, I'm really loving Webbed, which was made by a small team from Brisbane. I'm a certified arachnophobe, but it's a testament to how powerful this game is that it's somehow made its spider hero much more cute and endearing than terrifying. Lots of fun.
Homemade games
When computers came into the home, people started learning to code and game. But homemade games are often overlooked in the history of gaming.
Professor Melanie Swalwell is one of the leading experts in the emerging field of computer and game history. Her new book, Homebrew Gaming and the Beginnings of Vernacular Digitality, reclaims a lost chapter in video game history, connecting it to the rich cultural and media landscape around everyday life and to the role of user-generated content in gaming.
She recommends:
Donut Dilema: I would recommend checking out one of the homebrew games from my book: Nick Marentes' Donut Dilemma (1984, remade in 1986) for Tandy microcomputers. Nick's artwork for this game is on the front cover of my book. His family owned a donut kiosk and he was inspired by what sometimes went wrong with the machine. It is a great example of how people often wrote games about things they knew, things that were part of their everyday experience.
Related articles
Film and television
Student News

N'Ouiblez Jamais: a student film on the lived experiences of WWII

Produced by three Swinburne Film and TV students, French documentary film N'Oubilez Jamais is about the experiences of a young Jewish woman during WWII.

Friday 01 September 2023

Electric vehicle fires are very rare. The risk for petrol and diesel vehicles is at least 20 times higher

Two electric vehicle fires have been reported in Australia this week. Five cars were destroyed after a lithium battery ignited in a car parked at Sydney Airport on Monday. Firefighters believed the battery had been detached from the car because it was damaged.

Friday 15 September 2023

Accelerator Program paves the path to entrepreneurship excellence

After an intensive 12-week journey in the Accelerator Program 2023, five startups took the stage and presented their awe-inspiring pitches at Swinburne's Demo Night.

Thursday 14 September 2023

New $5.2m supercomputer enhances high impact research around Australia

Swinburne University of Technology has launched its $5.2 million supercomputer that will produce groundbreaking space technology, medicine, and environmental research by researchers and partners across Australia. 

Monday 14 August 2023

Film and television
Design
Student News

Students skewer publishing world in new Truce Films web series

Swinburne students have played a major role in producing Monologue, a satirical web miniseries by award-winning production company Truce Films.  

Friday 11 August 2023