Who wins and who loses when platforms like Airbnb disrupt housing?
In Summary
Analysis for The Conversation by Sharon Parkinson, Senior Research Fellow, Centre for Urban Transitions, Swinburne University of Technology
Short-term letting platforms like Airbnb are changing property owners' and investors' views and behaviour in the Sydney and Melbourne rental markets. These changes are directly affecting housing availability in localised areas, especially the inner city.
Our research for AHURI is the first major study to combine analyses of the geography of Airbnb in Australia's two largest cities. This included detailed empirical research into Airbnb hosts' motivations, and the regulation of short-term letting in Melbourne, Sydney and cities overseas.
Our findings suggest current owners are likely to benefit from the impacts of short-term letting platforms. Prospective owners and tenants may be disadvantaged.
Who feels the impacts of Airbnb?
Short-term letting is not a new economic activity. Hosts sharing their primary place of residence – such as taking in lodgers, offering bed and breakfast, and so on – have long been a feature of urban housing markets.
However, short-term letting platforms have fundamentally changed the scale of this activity. These platforms have made it more efficient and less risky, and greatly reduced the search costs.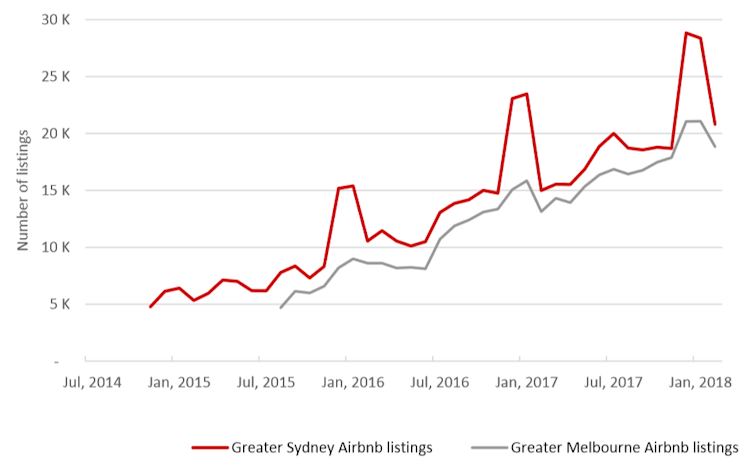 Airbnb listings for Sydney and Melbourne (Aug 2015–Feb 2018) Authors' analysis based on AirDNA.co data
Existing research on these platforms and the "sharing economy" suggests the growth in short-term letting affects different housing market participants in very different ways.
Our research shows that existing owners will likely benefit over time from the rise of these platforms. That's because these sites offer a flexible means of monetising housing wealth to allow further consumption.
For prospective home owners, however, entering the market may become more difficult, as short-term letting earnings may be capitalised into higher purchase prices.
For tenants, there are few benefits. The rise in short-term letting is likely to cause greater uncertainty for prospective tenants seeking long-term rentals. There are risks and restrictions that limit the ability of current tenants to use the platforms to sublet.
Where does Airbnb have the most impact?
Despite some growth in more suburban areas, the spatial impact of Airbnb in both Sydney and Melbourne remains concentrated in high-demand inner-city areas. In these areas, two factors – decreasing bond lodgement rates and increasing property vacancies – point to the likelihood that short-term letting is removing properties from the long-term rental market. This in turn is contributing to increasing unaffordability.
The impact of Airbnb listings on rental housing markets has been very localised in Sydney and Melbourne.
In Sydney, Darlinghurst, Manly and the eastern beach suburbs of Bondi, Tamarama and Bronte have been the focus of Airbnb activity. In these areas, Airbnb listings account for between 11.2% and 14.8% of rental housing stock.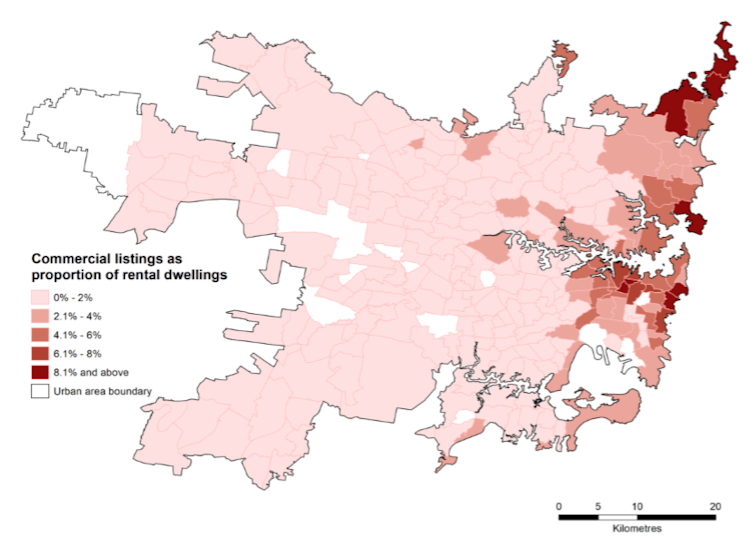 Listings as a proportion of rental dwellings (ABS 2016) in Sydney. AHURI, Author provided
In Melbourne, central Melbourne, Docklands, Southbank, Fitzroy and St Kilda have been the focus of Airbnb listings, accounting for between 8.6% and 15.3% of rental housing stock.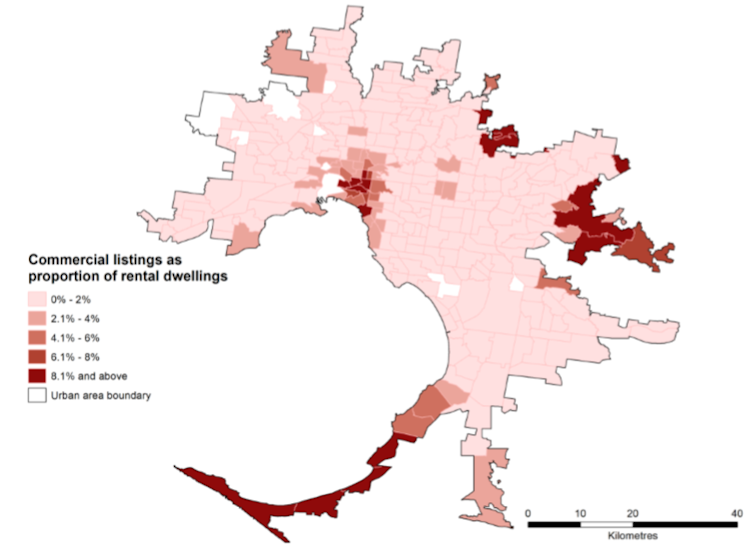 Listings as a proportion of rental dwellings in Melbourne. AHURI, Author provided
However, the impacts of Airbnb on rental supply have been offset by:
substantial growth in dwelling numbers in key areas of Melbourne

large numbers of dwellings that are otherwise outside of long-term housing supply, including many unoccupied dwellings.
What motivates Airbnb hosts?
This research offers a new Australian perspective on Airbnb host motivations and decision-making, drawing on some of the most extensive empirical work to date.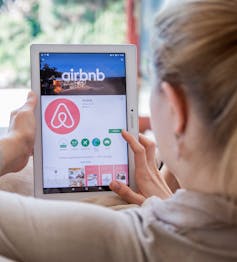 By making short-term letting more efficient and less risky, digital platforms have reduced numbers of long-term rental properties in some areas. Daniel Krason/Shutterstock
The main motivation for hosting on Airbnb is to earn extra money from housing assets, in a way that is perceived to minimise risk. In some cases this income is tied to an immediate need for a buffer against housing insecurity. But this is not the case for many hosts.
Financial motivations were bolstered by the fact that hosting brings additional intrinsic benefits. These include the opportunity to connect with diverse people, and a sense of pride associated with being a good host. For many hosts, the flexibility to use the property occasionally, while also using it to earn money, was a significant advantage of short-term letting over long-term rental.
Some hosts have converted long-term rental properties into permanent Airbnb listings. However, some of these will likely return over time due to a perception of declining profitability, a greater workload associated with short-term letting, and the professionalisation of Airbnb. On the other hand, some hosts are motivated to expand their Airbnb portfolios with new acquisitions.
For other hosts, flexibility is key. Without Airbnb they would prefer to keep dwellings vacant rather than rent out long term. This points to other motivations for owning investment property than achieving maximum rental income.
Approaches to regulation
We reviewed regulation in Melbourne, Sydney and nine cities overseas in which short-term letting is a significant issue. Our review found three broad approaches to regulation:
a permissive approach – short-term letting is mostly allowed without prior permission or notification
a notificatory approach – short-term letting is mostly allowed, provided the host first notifies an authority (that is, there is no specific decision by the authority).
a restrictive approach – short-term letting is mostly banned, or allowed only where an authority gives specific permission.
Melbourne and Sydney have both recently adopted a permissive approach, with some limitations. However, we believe the notificatory approach is best adapted to managing new aspects of short-term letting in the Airbnb era.
Policy implications
The research findings suggest four ways to strengthen policy responses to short-term letting:
a registration system for listings, to help with enforcement
additional localised strategies to limit short-term letting and ensure adequate affordable rental supply in areas of intense activity
the integration of measures to limit commercial-style short-term letting within a broad-ranging housing policy, which reflects the changing nature of housing markets and the complex drivers behind these shifts
an ongoing research agenda into short-term letting across our cities and regional areas and its impact on housing and urban planning outcomes, supported by access to detailed, up-to-date data.
---
This article has been updated to include additional graphics from the AHURI report.

Written by Sharon Parkinson, Senior Research Fellow, Centre for Urban Transitions, Swinburne University of Technology; Laura Crommelin, Research Lecturer, City Futures Research Centre, UNSW; Chris Martin, Research Fellow, City Housing, UNSW; Laurence Troy, Research Fellow, City Futures Research Centre, UNSW. This article is republished from The Conversation under a Creative Commons license. Read the original article.