2023 Alumni Impact Awards
Meet some of our leading alumni who were recognised at the 2023 Alumni Impact Awards.

Winners and finalists
Our inspirational finalists came to Swinburne to study from across the globe and represent a wide range of disciplines. Since graduating, each has blended their Swinburne education with hard work and tenacity to create lives of distinction. They have been selected as finalists for their extraordinary leadership, entrepreneurial innovation, and desire to make the world a better place.

Winners were announced at the award ceremony on Thursday 12 October 2023.
Award categories
Technology Innovation Impact Award
For a Swinburne alum whose exceptional endeavour has resulted in significant impact demonstrating Swinburne's vision of people and technology together for a better world
The George and Ethel Swinburne Social Impact Award
For a Swinburne alum who has demonstrated Swinburne's passion for providing opportunities for all, irrespective of wealth, privilege, age, gender or race, making a real difference to the world we live in
Innovative Planet Impact Award
For a Swinburne alum whose exceptional endeavour has resulted in significant impact through entrepreneurial innovation
Meet our winners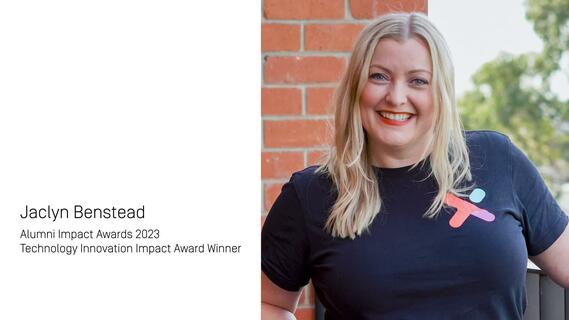 Meet Jaclyn Benstead
2023 Technology Innovation Impact Award winner
Jaclyn Benstead
Jaclyn is the co-founder of Australia-based education technology startup, HEX, which delivers innovation and entrepreneurship programs to the next generation of talent that are immersive, up-to-date, and based in the real world. 
Co-founded in 2017 by Jaclyn, the programs are university-accredited and internationally-recognised, and have amassed a community of more than 5000 global alumni, 100 industry mentors and 50 global industry connections.
Meet Huong Dang
2023 George and Ethel Swinburne Social Impact Award winner
Huong Dang
Huong Dang is a social entrepreneur and founder of HopeBox, a social enterprise based in Vietnam for victims and survivors of gender-based violence.
HopeBox's mission is to empower victims of domestic violence and help lift them out of volatile situations by providing a six-month training course in baking, alongside trauma healing and life skills programs, a stipend and safe accommodation. 
Meet Jesse Leeworthy
2023 Innovative Planet Impact Award winner
Jesse Leeworthy
Jesse is a product engineering alum and Director and co-founder of memobottle™, a slim, reusable water bottle created to address the disastrous environmental impact from single-use water bottle consumption.
In August 2014, Jesse and his co-founder launched memobottle™ on the crowdfunding platform Kickstarter with a target goal of $15,000. They received over $261,000 in funding. Today, it is a global business, shipping to over 70 countries a month and stocked in premium design stores worldwide. 
Meet our finalists
Technology Innovation Impact Award
Matthew Hoskin
Matthew is the CEO of Nirtek, a spin-off company originating at Swinburne, that has developed a ground-breaking medical device to identify those at the highest risk of a heart attack using an infrared laser that detects unstable coronary plaques. 
Matthew has more than 25 years' experience in the medical technology industry leading startups and large organisations that are focused on improving the lives of people through technology.
Meet Matthew Hoskin
View transcript [PDF 171KB]
Vaughan Ryan
Vaughan Ryan is an expert in eCommerce and omni-shopping, especially in the area of Fast Moving Consumer Goods. For more than 20 years, he has worked with one of the world's leading consumer intelligence companies, Nielsen IQ.
Throughout his career, he has guided manufacturers and retailers across the Asia Pacific region, Europe, US and Canada to develop go-to market strategies for e-commerce and traditional face-to-face retailing.
Meet Vaughan Ryan
View transcript [PDF 170KB]
George and Ethel Swinburne Social Impact Award

Thuy Nguyen
Thuy Nguyen is the founder and CEO of Bobi Craft, a community-spirited toy company whose mission is to empower women and create jobs for disadvantaged people while creating unique handmade children's products from organic materials.  
Based in Vietnam, Bobi Craft provides stable jobs for around 400 disadvantaged people, including housewives, farmers, and the vision impaired.
Meet Thuy Nguyen
View transcript [PDF 171KB]
Michal Morris
Michal has been CEO of inTouch Multicultural Centre against Family Violence since November 2017 and recently stepped down from this role in June 2023. 
In 2022, Michal was inducted into the Victorian Women's Honour Roll, acknowledging her long career ensuring the safety, health and wellbeing of diverse communities across the state and recognising her strong leadership of inTouch throughout the COVID-19 pandemic. 
Meet Michal Morris
View transcript [PDF 171KB]
Innovative Planet Impact Award

Cameron McKenzie
Cameron McKenzie is CEO of ASPIRE (Advisory System for Process Innovation and Resource Exchange), an online marketplace that matches businesses with remanufacturers, purchasers and recyclers of waste materials.
The idea behind ASPIRE is to provide businesses with a cheaper and more sustainable option than landfill for their waste. Today, ASPIRE works with more than 800 businesses across Australia, has provided more than $210,000 in savings for businesses and diverted more than 45,728 tonnes of waste from landfill.
Meet Cameron McKenzie
View transcript [PDF 172KB]
Manon Beauchamp-Tardieu
Manon Beauchamp-Tardieu is the founder and CEO of Little Green Panda, a startup with a mission to combat the single-use plastic crisis which sees more than eight million tonnes of plastic dumped into the ocean each year.  

Little Green Panda's first venture was ethically sourced and sustainably produced straws made from agricultural waste. Since August 2018, Little Green Panda has grown exponentially and its plant-based straws and other products are now supplied to thousands of businesses and individuals worldwide.
Meet Manon Beauchamp-Tardieu
View transcript [PDF 172KB]
Follow our alumni networks
Like Swinburne Alumni on Facebook to stay in the loop with networking events and connect with other alumni.
Follow us on Facebook
Join the Swinburne Alumni group on LinkedIn and connect with Swinburne graduates around the globe.
Follow us on LinkedIn
Discover the latest news and campus events by following Swinburne (@SwinburneAlumni) on Twitter.

Follow us on Twitter
Global alumni networks

Connect with alumni across the world and tap into a community diverse in skills and experiences in your local area.