Swinburne stories | Visionaries
Former Swinburne Council Member (1992–2004) and founder of the Kath Watson Scholarship for Women
To understand Kath Watson's lifelong crusade for the underdog, picture her as a feisty almost-five-year-old walking home from school. Ahead, she glimpses her beloved older brother, Tom, pressed against a fence by a gang taunting him because of his brain injury, caused by forceps at birth.
'I remember thinking "I've got to get to him"; I just bulldozed my way in,' she says, the distressing details clear in her memory more than 85 years later. Once there, she held his hand, terrified, until two older boys on bikes arrived and shooed away the bullies. She felt guilty — it was her job to walk Tom safely to and from school — and asked him not to tell their mother. 'He never did, and that was how we were bonded for life.'
Dr Kath Watson AM
Tom lived with his only sibling until his death in 2003, aged 78. Kath, meanwhile, worked as a teacher and became one of Victoria's first female principals of co-educational high schools in 1970.
Her 40-year career opened her eyes to a different sort of underdog — disadvantaged girls who were struggling to gain an education. Just as she had instinctively reacted to Tom's plight, Kath decided stand up for these young women and established the Kath Watson Scholarship for Women to support disadvantaged female students at Swinburne.
Education against the odds
Kath, who was born in 1927 just before the Great Depression, was supported by scholarships for her secondary and tertiary education. Her father, who spent three years in the trenches of France and Belgium during World War I, worked as a night watchman and later as an engine driver at the dock's cool stores. 'We were poor, but at least Dad still had a job — many fathers did not.'
"My parents were not educated themselves, but they were strong believers in the importance of education for women."
Kath's father was granted a soldier settlement house and land package in Pascoe Vale South, a northern suburb of Melbourne. Kath studied for five years at Coburg High School then switched to MacRobertson Girls High to do Leaving Honours, back when only three Victorian secondary schools offered the sixth year.
'My parents were not educated themselves, but they were strong believers in the importance of education for women,' she says. Kath's tertiary education choices were limited, however, due to family finances, so she took up a teaching scholarship to complete a Bachelor of Arts/Diploma of Education at The University of Melbourne.
A passionate and pioneering educator
Her career may have been shaped by financial necessity, but Kath turned out to be a passionate and pioneering educator. She became a Member of the Order of Australia in 1987, for service to education.
In the 1960s she and another teacher did a short counselling course then insisted that Eltham High, where she taught for a decade, allow them half a day a week to chat with year seven students about how they were coping with the transition to high school. 'It was revolutionary at the time,' she says. 'We had to work really hard because some of the staff thought we were loafers. That was the way it was in those days.'
"We had to work really hard because some of the staff thought we were loafers. That was the way it was in those days."
She was also an active member of the Victorian Teachers' Union, helping the fight for equal pay for equal work, which was phased in over five years from 1965. By 1970, she had enough promotable teaching marks, awarded annually by school inspectors, to reach the top category of teachers from which principals were selected. 'The only principal's job advertised was Collingwood, so that's where I went,' Kath says. She remained as principal for five years before transferring to Mitcham High School, where she was principal for more than a decade until her retirement.
The move to Mitcham High was prompted by geography. After her mother died in 1972, her father upped stumps from Pascoe Vale South after 45 years, to Warrandyte in Melbourne's outer east, for a tranquil 'tree-change'. Kath and Tom, who both still lived at home, moved with him.
Kath still recalls her first monthly meeting of about a dozen principals of local high schools. 'Now, gentlemen, shall we begin?' asked the moderator. When Kath, the only female, called out 'and lady', he told her he thought of her as a gentleman. 'Is that a compliment or an insult?' she shot back.
Joining the Swinburne community
Kath has been an important part of the Swinburne family for the past 25 years, after joining its council in 1992.
'Here was I, living in Vermont and retired, when I got a phone call from John Harrowfield, a former pupil of Mitcham High School, who was the local member and a junior state government minister,' she says.
Mr Harrowfield said the government needed one more representative from the outer eastern region for the university's council, and he suggested Kath. Kath demurred, but Mr Harrowfield persisted, as the first council meeting was to be held two days later.
'I said I'd take it, but that as soon as the vice-chancellor found someone more appropriate he could tap me on the shoulder,' she says. 'But I was never tapped on the shoulder and I was on that council until 2004.'
"[Swinburne is] more down to earth; warmer and friendlier. I've got a feeling … that they're more caring of everyone."
Kath, who'd sat on many committees over her career, found Swinburne different from other institutions. 'It's more down to earth; warmer and friendlier,' she says. 'I've got a feeling, even though I haven't done any research, that they're more caring of everyone. I felt accepted from day one.'
Supporting women to gain an education
It was Swinburne's caring and supportive atmosphere that prompted Kath to request a meeting with then vice-chancellor Ian Young in 2010, to discuss leaving her estate to the university. 'I told him that now I had no remaining family members to provide for, I would redo my will in favour of Swinburne to set up a scholarship for disadvantaged women,' she says.
Professor Young was keen to get the scholarship up and running during her lifetime to allow her to see its benefits, so Kath drew on her term deposits to get the ball rolling. Now, others also donate and she tops up as needed.
The scholarship, worth $2,000 a year for up to five years, is open to disadvantaged females aged 25 or over who have had their tertiary studies interrupted for at least two years. 'I really wanted to help women who struggle against the odds to get a tertiary education,' Kath says. 'You can see there is a need and I wish I was a millionaire and could help everyone.'
"I wish I was a millionaire and could help everyone."
Kath meets the winners twice; once to have coffee with them soon after they've been told of their success and again at the presentation ceremony in May. 'It's given me an interest in my retirement — and I feel I can still contribute, even though I'm now aged 90,' says Kath.
Kath received an honorary doctorate from Swinburne in 2011 and was placed on the Victorian Honour Roll for Women in 2013. 'Whenever I go to Swinburne there's always someone, as I'm struggling out of the taxi, who calls out "Hi Kath". I seem to be well known, but I don't understand why.'
Words by Lucinda Schmidt.

Find out about planned giving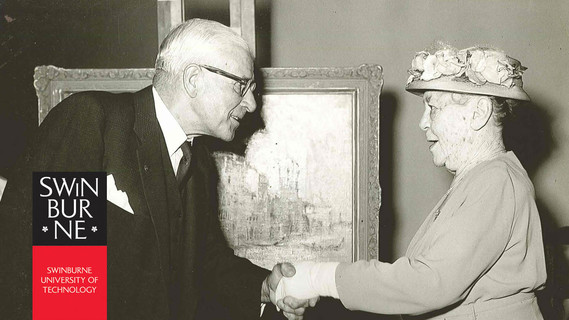 Planned giving at Swinburne
View transcript
Swinburne stories

Collaboration and partnerships

Alumni

Giving to Swinburne