Bringing together design, digitalisation, manufacturing and people to co-create the medical and assistive technologies of the future.
Medical Technology Victoria (MedTechVic) is an initiative of Swinburne University of Technology in partnership with BioMelbourne Network, Scope and Solve -TAD Limited. Together we are working across design, digitalisation and manufacture of customisable medical and assistive devices, ensuring new medical and enabling technologies are shaped by the people who need them.
With one in five people experiencing a disability, medical and assistive devices play a critical role in the healthcare sector. By changing and improving the delivery of clinical care in hospitals and in the home, these technologies allow people with disabilities to determine their own destiny at any age - to participate in work, study, recreation and day-to-day life.

MedTechVic works to support and connect individuals and organisations across the assistive and medical device sector in Victoria, ensuring rapid clinical and technical validation, prototyping and manufacturing of new ideas. Our goal is to bring together individuals with lived disability, their carers, allied health and clinical professionals, engineers, designers and industry to co-create products and services that enhance lives.
Partnering with companies, start-ups, accelerators and people with specific needs, we drive new opportunities for both the users and suppliers of these technologies. We are also developing community and workforce skills to engage in the development of new technologies and services. There is a growing global market for customisable medical and assistive devices, and Victoria is well placed to create a strong pipeline to develop and deliver innovative, scalable devices to meet this expanding need.

Through MedTechVic we leverage our:
Technology and Industry 4.0 expertise
to share with existing MedTech and pharmaceutical companies, and grow Victorian supply chains.
Globally connected Living Labs
to produce and evaluate new medical and assistive products and services.
Research, development and commercial know-how
across manufacturing, allied health, social innovation and co-creation.
Partnerships and collaborations
across clinical, industrial, service and community sectors.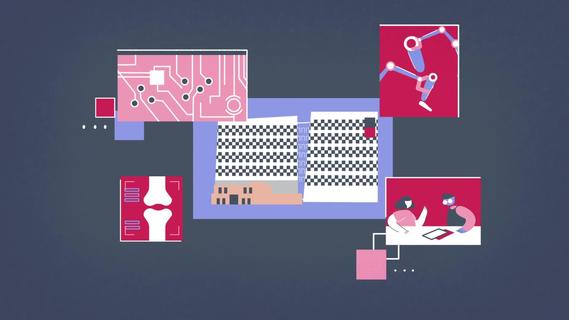 MedTechVic
Enabling Technologies Platform
Our Enabling Technologies Platform is driving an inclusive future for medical innovation – bringing people with disabilities together with researchers, engineers, designers, clinicians and carers to co-create innovative and manufacturable assistive technology solutions.
Our four pillars
We have four key pillars of research and program activity.

Assistive Technology Product Ideation and Development program 
The program partners with community and clinical organisations such as Scope and Solve-TAD Limited to understand challenges around medical and assistive devices. 
MedTechVic's multi-disciplined team of researchers aim to understand issues and use their findings to create individualised, customisable, human-centred design solutions that can still be mass manufactured by Australian industry.
Do you want to get involved? contact us at: MedTechVic@swinburne.edu.au.
Enabling Technologies Platform
This platform is the first of its kind in Australia with a specific focus on disability and assistive technologies. Through our Assistive Technology (AT) Living Lab and Volumetric Capture Studio we are able to provide contemporary technical, clinical and business support for academics and industry - evaluating clinical and market needs, as well as technical viability using human centred design. 
The Living Lab brings people with disabilities together with researchers, engineers, designers, data scientists, clinicians (e.g. occupational therapists, physiotherapists), carers and manufacturers, and offers device development and testing in a collaborative environment. The Volumetric Capture Studio is a unique tool to enable teams to develop truly human-centric assistive technologies, using immersive media technology (as used in films and gaming) to capture the nuances of three-dimensional human interactions with their environment.
Watch the video above to find out more!
Clinical Advisory Network
Working with Monash Health and St Vincent's Hospital Melbourne, this program is creating a Clinical Advisory Network capable of working with companies from start-ups to multinationals. 
The network will advise on product specification and development, clinical validation and all stages of clinical device trials. We will train this network of clinicians and allied health practitioners on the evaluation, validation, design and development of assistive and medical devices through to market. 
MedTech manufacturing 4.0 business readiness program
Our Advanced Manufacturing Industry 4.0 Hub in association with BioMelbourne Network will  deliver bespoke business readiness programs to support small and medium-sized manufacturing enterprises moving into the MedTech sector, and digital innovation support for companies already operating in the market. 
The program assists in building viable business plans for digitalisation of manufacturing capability. This promotes and ultimately leads to development of a local, digitalised manufacturing sector that's able to rapidly adapt to the changing needs of the local and global device sector, and participation in global supply chains of healthcare products.
"There is a growing need for medical and assistive technology that can help individuals live their best lives. At Swinburne we are uniquely placed to bring together the best aspects of design, digitalisation and human needs to develop and deliver innovative and scalable devices to meet increasing global demand."  

Professor Pascale Quester , Vice-Chancellor and President
Do you have lived experience of a disability? Are you interested in working with us?
There are a variety of opportunities to work with us at MedTechVic, whatever your interest, contact us by emailing MedTechVic@swinburne.edu.au
Our Directors
Professor Sally McArthur

Director, Manufacturing Futures Institute & Co-Director, MedTechVic

Professor Rachael McDonald

Chair, Department of Nursing and Allied Health; Program Leader, Iverson Health Innovation Research Institute, Co-Director, MedTechVic
Our latest news
Why the hype about graphene?

Graphene is one of the most innovative materials to be developed and utilised this century and researchers at Swinburne are heavily involved in this innovation.


Wednesday 14 October 2020

New directors appointed to Swinburne Research Institutes

Professor Sally McArthur and Professor Matthew Bailes have been appointed as the new Directors of the Manufacturing Futures Research Institute and the Data Science Research Institute respectively.

Thursday 20 August 2020

New facility to put Swinburne and CSIRO at forefront of manufacturing digitalisation

The National Industry 4.0 Testlab in Composite Additive Manufacturing is the first of a network of six state-based Industry 4.0 Testlabs established across Australia.

Friday 31 July 2020

Technologies and tools for a manufacturing transformation: how to approach Industry 4.0

Dr Nico Adams writes about some business model possibilities and the questions a manufacturing company should ask before "getting into" Industry 4.0.

Friday 26 June 2020

Building better resilience through Industry 4.0

Swinburne continues to be at the forefront of Industry 4.0, thanks in part to its collaboration with industry partners from around the world

Wednesday 20 May 2020
Other initiatives
These initiatives are funded through the Victorian government's Victorian Higher Education State Investment Fund.
Contact MedTechVic
Are you a part of the industry and want to get involved? A community member who wants to know more? Perhaps a student interested in a scholarship? Whatever your query, get in touch with us by emailing MedTechVic@swinburne.edu.au.
Contact us