Advertising students vaporise the competition to win big
Swinburne advertising lecturer David Reid, student Chelsea Knight, Cancer Institute NSW's Lexi Le Clerc, students Alicia Henry, Alex Tink, and Adriana Yung, Bastion chief creative officer Simon Langley, and student Linda Montealegre at the 2022 Advertising Capstone Challenge finals
In summary
Swinburne advertising students have won the 2022 Advertising Capstone Challenge

This year's brief required students to develop a campaign to address the concerning practice of vaping in young people

Participants received valuable real-world experience working with industry partners Bastion Creative communications agency and Cancer Institute NSW
A group of talented Swinburne advertising students have used their skills to design an anti-vaping behaviour change campaign, winning the 2022 Advertising Capstone Challenge.
Adriana Yung, Alex Tink, Alicia Henry, Chelsea Knight, Emma Rutherford and Linda Montealegre took home the gold after pitching to executives from the Cancer Institute NSW and communications agency Bastion Creative in Sydney at the national finals.
This year's competition set the challenge of changing behaviour around 'vaping' (smoking e-cigarettes) to address the harmful practice among young people in NSW.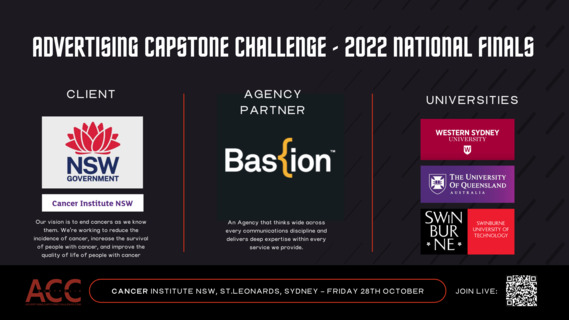 Rising to the challenge

Forming the Brella Creative partnership for the competition, the Swinburne Bachelor of Media and Communication students worked together to research, develop and pitch a compelling campaign focusing on the experiences of former vapers.
Through authentic and emotional storytelling, they expose the dark truth of vaping and give young people reasons to stop.
In addition to their digital, print, broadcast and out of home advertisements, the group also employed an innovative, tactile element through a 'vending machine' to dispense facts about vaping.
"It was a challenging brief but had a highly rewarding outcome," Adriana said.
"We are proud to have taken home the win for Swinburne, especially considering the talent of the competition."
The Swinburne students' campaign incorporated an innovative, tactile element through a 'vending machine' to dispense facts about vaping
Industry recognition

The Advertising Capstone Challenge runs annually and pushes students to network and connect with industry players in real-world scenarios.
Swinburne advertising lecturer David Reid said the competition highlighted the capability and creativity of Swinburne students.
"Pitches from all teams who made the national finals were of an amazing calibre, so I am humbled that our students took the crown," he said.
"The team was so professional. Their research was in depth, their insights were original, their strategy was clever, and their creative and media execution was outstanding."
Bastion Creative managing partner Ana Lynch said the winning students would have the opportunity to be mentored by and intern with the agency.
"This year's ACC gave me great confidence in our future talent with all the teams doing exceptionally well," she said.
"We're working towards engaging the winning team in such a way that they can be directly involved with the roll out of the campaign into market, attending research debriefs, media briefings, creative reviews, pre- and post-production right through to launch, and ideally with every possibility of landing a full time but flexible role."
Forming the Brella Creative partnership for the competition, the Swinburne students worked together to research, develop and pitch a compelling campaign focusing on the experiences of former vapers
Related articles
Swinburne alum and global HR leader unlocking people's 'inner hero'

Anoop Chaudhuri's career with Ford has spanned more than thirty years, three continents and 14 roles. He now leads HR for Ford and is passionate about helping individuals and teams thrive.

Thursday 21 September 2023

Film and television
Student News

N'Ouiblez Jamais: a student film on the lived experiences of WWII

Produced by three Swinburne Film and TV students, French documentary film N'Oubilez Jamais is about the experiences of a young Jewish woman during WWII.

Friday 01 September 2023

Swinburne alum enables ten inaugural study abroad scholarships

The Giles Family Foundation Semester Exchange Grant provides generous financial support for students to study overseas for a semester, inspired by alum Michael Giles' own study abroad experiences.  

Monday 21 August 2023