Swinburne's AIR Hub to drive the future of aerospace
AIR Hub will make lighter planes, cheaper rockets, better drones and flying taxis possible. Image: Getty Images
In summary
The Aerostructures Innovation Research Hub (AIR Hub)

will bring together the best of Victoria's aerospace research, design and manufacturing leaders to work with industry on real-world problems for the next generation of air mobility

AIR Hub will use artificial intelligence, augmented reality, virtual reality, machine learning and collaborative robots to support Australia's world-leading capabilities to manufacture aerostructures




AIR Hub has been created with the support of $12 million in funding from the Victorian Government's Higher Education State Investment Fund
Swinburne University of Technology is launching an Australian-first Aerostructures Innovation Research Hub (AIR Hub) with the support of $12 million in funding from the Victorian Government's Higher Education State Investment Fund.
Led by Swinburne, AIR Hub will bring together the best of Victoria's aerospace research, design and manufacturing leaders to work with industry on real world design and manufacturing problems for the next generation of air mobility.
Speaking at the launch, Swinburne's Vice-Chancellor and President, Professor Pascale Quester said that Swinburne was delighted to launch the AIR Hub following the Victorian Government's support.
'This initiative perfectly encapsulates Swinburne's vision of bringing people and technology together to build a better world. I am very excited by what our experts, working closely with our valued partners, will be able to achieve for the aerospace sector.
'Working closely with the aerospace industry, AIR Hub will create innovative materials and manufacturing processes for passenger planes, air cargo, as well as the space industry. It will also accelerate electric clean energy vertical take-off and landing air vehicles – or eVTOL– more widely known as 'flying cars' or electric helicopters.
'AIR Hub will deliver a 30-year economic, employment and technology innovation boost for Australia and Victoria, designing and manufacturing lighter, stronger and more competitive aerospace structures to propel Victoria's aerospace sector as a world leader,' she said.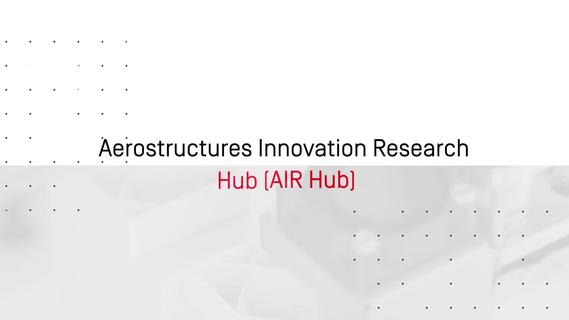 Aerostructures Innovation Research (AIR) Hub
Announcing the hub, Victorian Treasurer Tim Pallas said, 'developing ground-breaking technology in our own backyard will position Victoria as a world leader in the aeronautical industry.'
Victorian Minister for Higher Education Gayle Tierney also welcomed the announcement.
'The new AIR Hub will put Victoria on the world stage through its cutting-edge research and the really valuable partnership between universities, industry and government.'
Lighter planes, cheaper rockets, better drones and flying taxis
AIR Hub is a truly global technology, research and manufacturing collaboration, with industry partners Boeing, Quickstep, CableX, Furnace Engineering, Shoal and Marand Precision Engineering, plus research partners CSIRO, Monash University and Germany's University of Stuttgart and ARENA 2036 combining with Swinburne's research teams.
AIR Hub is working on 'light-weighting' and automating the production of space systems like the rockets used to launch satellites. Light-weighting, the manufacturing of parts to achieve better fuel efficiency and handling, and faster production could save thousands of dollars per launch, opening up business opportunities in the lucrative global space industry for Australian companies. Unmanned aerial vehicles or drones could travel further to deliver supplies to remote places, and eVTOL could become the future in a 'flying Uber' concept of transportation.
As part of the design and manufacturing process, AIR Hub will use artificial intelligence, augmented reality, virtual reality, machine learning and collaborative robots to support Australia's world-leading capabilities to manufacture aerostructures. 
'AIR Hub will bring researchers and industry together to collaborate on real world problems,' Swinburne's AIR Hub Director, Dr Adriano Di Pietro, said.
'By using the latest technologies in digitalisation, automation and advanced materials, we will reinforce our industry partners' position in the global aerospace industry and accelerate innovative technology development. This contribution to air mobility is vital to Australia's future, connecting our people and communities.'
The AIR Hub will foster new, highly skilled talent and upskill the existing workforce to increase job opportunities in the aerospace and space sectors for Victorians in the post COVID-19 period. 
Facilities across Victoria, including the Swinburne-CSIRO Industry 4.0 Testlab for Composite Additive Manufacturing in Clayton and the manufacturing sites of key industry partners will support AIR Hub's research and development activities.
'AIR Hub will also work closely with Swinburne's Victorian Hydrogen Hub (VH2) to research and develop capacity for hydrogen storage on aircraft and eVTOL air vehicles, enabling them to make use of green fuels of the future to help meet global zero emission targets,' Professor Quester said. 
Related articles
Swinburne to host new French-Australian centre to tackle climate change

The French and Australian governments have announced a historic new partnership to tackle climate change, launching FACET: the French-Australian Centre for Energy Transition.

Wednesday 06 December 2023

University
Sustainability

French and Australian governments announce new partnership to tackle global energy crisis

Swinburne University of Technology will host a historic new partnership between France and Australia, FACET: the French-Australian Centre for Energy Transition.

Friday 08 December 2023

TikTok has a startling amount of sexual content – and it's way too easy for children to access

Explicit content has long been a feature of the internet and social media, and young people's exposure to it has been a persistent concern. This issue has taken centre stage again with the meteoric rise of TikTok. Despite efforts to moderate content, it seems TikTok's primary focus remains on maximising user engagement and traffic, rather than creating a safe environment for users.

Monday 20 November 2023

Swinburne and W. M. Keck Observatory form historic scientific partnership to unlock new era of space discovery

Swinburne has become the first organisation outside the United States to join the W. M. Keck Observatory in Hawaiʻi as a scientific partner.   

Friday 03 November 2023

University
Social Affairs

In 5 years, this Australian astrophysics lab reached 50% women. Here's how they did it

Many organisations, from community sporting groups to the United Nations, have set themselves a target of gender parity: ensuring half of staff or members are women. Gender parity is desirable because training and retaining equal halves of a population's available talent influences an organisation's growth, problem-solving capacity and future-readiness.

Friday 17 November 2023