Swinburne grad revolutionises food ordering with HungryHungry
Mark Calabro met Shannon Hautot studying at Swinburne and they went on to become cofounders of OrderMate and HungryHungry.
In summary
Swinburne alumni Mark Calabro and Shannon Hautot have introduced innovative food ordering technology to the hospitality industry through HungryHungry
HungryHungry boomed during the COVID-19 pandemic when dine-in hospitality was shut down

Mr Calabro says his Swinburne degree gave him the skills to think and thrive as an entrepreneur
Swinburne alum Mark Calabro is pioneering innovative food ordering technology with his trailblazing business HungryHungry.
Mr Calabro graduated from what was the double degree Bachelor of Engineering (majoring in Telecommunications and Networks) and Bachelor of Applied Science (majoring in Multimedia) in 2001. He met his co-founder Shannon Hautot while they were both studying at Swinburne.

Mr Calabro and Mr Hautot shared an interest in technological entrepreneurship and innovation. Mr Calabro's strengths are in marketing and sales, while Mr Hautot excelled in product development. Their first venture was the point of sale software company OrderMate, which 'quickly spun out and we grew it brick by brick,' Mr Calabro says.

HungryHungry, which provides online ordering software to hospitality businesses, launched in 2019 when they saw a shift towards consumer control in the ordering process.

'We were still explaining what a QR code was, which is really strange and surreal now. Then COVID-19 arrived as we were starting to raise capital and it fast forwarded.'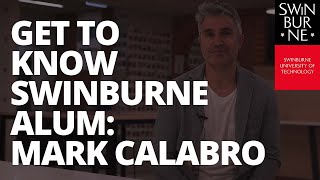 Tech saves livelihoods
Mr Calabro says it was professionally and personally rewarding to support struggling people and businesses throughout COVID-19 when dine-in hospitality was shut down.

'Overnight, literally, we had hundreds of calls every day from small business owners who had never transacted online and had no idea what to do,' he says.

With HungryHungry, businesses could begin trading online within hours, allowing customers to put in their orders online.

'I still remember some of the conversations where owners were in tears, which quickly became tears of joy from gratitude that we had people working at all hours to get their business online.'

It is experiences like these, where businesses use his technology to solve problems, that drives Mr Calabro as an entrepreneur, as well as the opportunity to learn and grow from challenges.

HungryHungry has had huge success in Australia with Melbourne institutions like LUNE, Melbourne Central, Queen Victoria Market, Royal Stacks, Daughter in Law, Icebergs and the MCG using its technology. HungryHungry launched in the United Kingdom in August and Mr Calabro hopes it can become a global brand.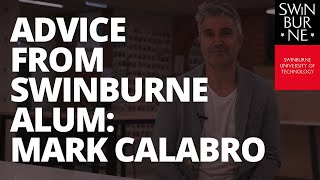 Learning the ropes
Mr Calabro says his time at Swinburne gave him the skills to think as an innovative entrepreneur, with assignments that linked the way people think and interact with technology being particularly useful.

'Shannon and I often talk about our experiences at Swinburne and learning things like human computer interaction. There are some fundamental principles that are just as relevant today as they were 20 years ago.'

Mr Calabro's advice to future entrepreneurs is to surround themselves with people experienced in business and ask them questions. He says the key is to learn from the best, including those at university.

'Everything's a journey and everything takes time so continually keep investing in yourself because that's the most important investment there is. The world is changing quickly and Swinburne changes with it.'

He also recommends celebrating failures, instead of viewing them negatively. 'Failures are great - it's the learnings you take away from any experience. You learn more with a failure than you do with a success. If you're not failing then you're probably not trying hard enough.'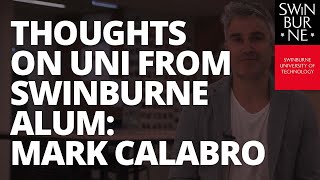 Related articles
Electric vehicle fires are very rare. The risk for petrol and diesel vehicles is at least 20 times higher

Two electric vehicle fires have been reported in Australia this week. Five cars were destroyed after a lithium battery ignited in a car parked at Sydney Airport on Monday. Firefighters believed the battery had been detached from the car because it was damaged.

Friday 15 September 2023

Accelerator Program paves the path to entrepreneurship excellence

After an intensive 12-week journey in the Accelerator Program 2023, five startups took the stage and presented their awe-inspiring pitches at Swinburne's Demo Night.

Thursday 14 September 2023

New $5.2m supercomputer enhances high impact research around Australia

Swinburne University of Technology has launched its $5.2 million supercomputer that will produce groundbreaking space technology, medicine, and environmental research by researchers and partners across Australia. 

Monday 14 August 2023

Collaboration the key to assistive technology design and manufacture

Swinburne University of Technology's Medical Technology Victoria (MedTechVic) is working with local industry and community groups to improve the design and manufacturing of fit-for-purpose assistive technology. 

Tuesday 18 July 2023

$5M awarded for Swinburne-led ARC Research Hub for Future Digital Manufacturing

Swinburne has been awarded $5 million to lead an ARC Research Hub for Future Digital Manufacturing, one of five new Industrial Transformation Research Hubs across the country.

Friday 28 July 2023