Asia Pacific 'Three Minute Thesis' winner explores space construction
Matthew Shaw's research explores how to extract metals from Moon rocks for space construction.
In summary
Engineering PhD student and 'extractive metallurgist' Matthew Shaw has won the Asia Pacifc 2021 Three Minute Thesis (3MT) competition
Shaw is researching how to overcome the harsh conditions in space to extract building material from Moon rocks
He presented at the virtual 3MT finals, hosted by the University of Queensland, on 20 October
An enthusiastic 'extractive metallurgist' has won in the Asia-Pacific 3MT Final, hosted by the University of Queensland, on 20 October.
In his presentation 'Lunacy', Engineering PhD candidate Matthew Shaw breaks down his research into extracting metals from Moon rocks to construct large structures in space - an area he says has not been studied in detail before.

3MT entrants must present their research to a general audience in three minutes, with only a single slide as an aid.
'Ever thought about building a house on the Moon? Flying a house up from Earth is way too expensive, so you need building materials,' he says.
Current estimates show it costs about $35,000 per kilogram to take materials to the Moon.

Through his thesis, Matthew has explored the idea of extracting building materials - specifically metals - from Moon rocks by vaporising the rocks with concentrated sunlight to separate the metal from inside of them.
The thesis was born from Matthew's experience working in the mining industry, where he was subject to harsh environments including more than 100 degrees Celsius temperature ranges.

It was developed with the help of his supervisors Professor Geoffrey Brooks, Professor Alan Duffy, Professor M Akbar Rhamdhani and CSIRO's Dr Mark Pownceby.

'It got me thinking a lot about the idea of working in even more extreme conditions, and space is nothing if not an extreme place.'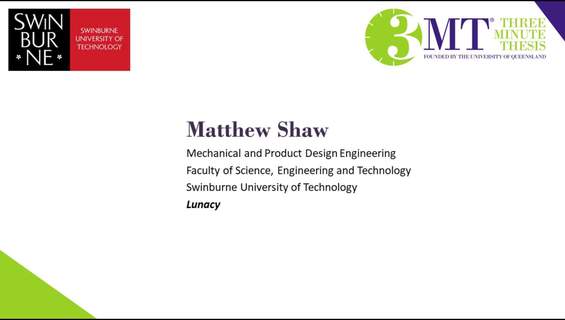 Matthew Shaw (3MT 2021 Competition)
Each of the finalists presented a three-minute presentation outlining their thesis.
Over the moon
In addition to his own research, Matthew is part of the team at Swinburne's Space Technology and Industry Institute, supervises undergraduate student research projects and mentors the high school students participating in the Swinburne Youth Space Innovation Challenge to send an experiment to the International Space Station.
'The semi-finals and finals each year always have some amazing talks, so I'm just happy to represent Swinburne and the new Space Technology and Industry Institute on the big stage. We've got some really cool work going on here in terms of space resource processing and it's fun to be able to present that,' he says.

Dean of Graduate Research, Professor Georgina Kelly, hosted the Swinburne awards presentation, which was held virtually in July. She described 3MT as 'the ultimate test of verbal communication skills for researchers.'
He has been awarded the first prize of a $5,000 research grant in addition to his prizes at the Swinburne competition: a $1,500 research grant and extra $500 for winning the 'People's Choice' award, presented by Swinburne early career researcher program coordinator Associate Professor Stephane Shepherd.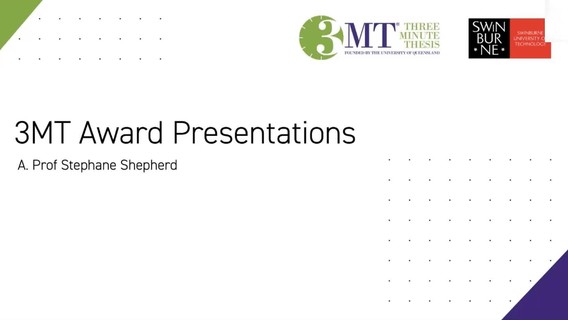 2021 Swinburne Three Minute Thesis & Visualise Your Thesis Award Presentations
The Swinburne award presentation was hosted by Dean of Graduate Research, Professor Georgina Kelly
An 'outstanding' presentation

Matthew says collaborating with other PhD students and working on 'elevator pitches' for the competition was rewarding. 'Being able to present your technical work in an accessible way is a really great skill to learn, and the 3MT competition really helps with that,' he says.
'No matter how confident you are, there's always that little niggling doubt that maybe you're still kidding yourself, so the positive response from everyone and the judges was pretty special,' he says.

Professor Kelly says that while all the presentations were 'wonderful', Matthew's was 'outstanding'.

'He took a very technical topic and made it clear and relatable. His enthusiasm for the research shone through and grabbed the audience's attention.'
Related articles
Does running water really trigger the urge to pee? Experts explain the brain-bladder connection

We all know that feeling when nature calls – but what's far less understood is the psychology behind it. Why, for example, do we get the urge to pee just before getting into the shower, or when we're swimming?

Thursday 14 September 2023

Quantum technology and sustainably produced chemicals – how Swinburne scientists are paving the way to a brighter future

Swinburne scientists will lead the way in sustainability and quantum technologies thanks to $1.75M in Australian Research Council (ARC) Future Fellowship grants.

Tuesday 01 August 2023

New $5.2m supercomputer enhances high impact research around Australia

Swinburne University of Technology has launched its $5.2 million supercomputer that will produce groundbreaking space technology, medicine, and environmental research by researchers and partners across Australia. 

Monday 14 August 2023

Science
Student News
University

Free events at Swinburne to celebrate National Science Week 2023

Get involved! Swinburne is hosting a suite of free science events during National Science Week, 12-20 August 2023.

Wednesday 09 August 2023

Do I have the right bicycle helmet and how can I tell if it's any good? A bike helmet researcher explains

If you ride a bike and want to cut your risk of traumatic head injury, you should wear a helmet. A major Australian review of 40 different studies and 64,000 injured cyclists worldwide showed wearing a bicycle helmet reduces the risk of serious head injury by nearly 70%.

Monday 07 August 2023