Swinburne lecturer creates LEGO stop-motion animations to teach maths
Dr Emily Cook is teaching math problems using LEGO stop-motion animations
In summary
Senior Lecturer in STEM Education, Dr Emily Cook, creates LEGO stop-motion animation videos to help teach maths to education students
Using her Adobe Innovation Grant, awarded through Swinburne's Adobe Creative Campus status, Dr Cook is able to make her videos look more professional
Dr Cook encourages anyone interested in maths to pursue a career in STEM
Swinburne's Dr Emily Cook, Senior Lecturer in STEM Education, is creating LEGO stop-motion animation videos to help students solve math problems.
The animations address short problems that are difficult to teach online, as well as long-form questions that require physical models to demonstrate. All of Dr Cook's fun creations feature a LEGO version of herself completing pun-filled calculations, a variety of maths topics and even animals, such as Adding Vectors (with a duck) and Linear Transformations (with a sheep).
From at-home hobby to professional production
Dr Cook was inspired during her "extreme boredom" in Melbourne's COVID-19 lockdown last year. While using LEGO to pass the time, she noticed that the matrices she was preparing lectures about looked like LEGO baseplates. From there, the idea struck her to create some new learning resources.
As an Adobe Creative Campus, Swinburne's Adobe Innovation Grant enabled Dr Cook to purchase filmmaking technology and more LEGO, helping to develop her ideas and give her homemade videos a professional edge.
Despite enjoying the process of making the animations, she admits it is still "painstakingly slow". Dr Cook storyboards the animation, writes the script, builds the models, performs the animation and edits the videos using Adobe Rush.
She says the animations take an "embarrassingly long time", with the first two-minute video taking many hours to create.
"It was probably a bit ambitious to start with a problem about a duck swimming across a river. Making the river look good and flow properly without owning enough blue bricks and trying to use the new equipment for the first time was hard!"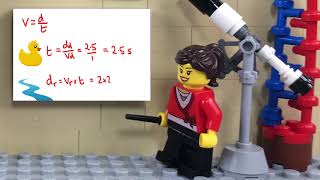 Adding Vectors (with a duck)
Adding Vectors (with a duck)
Maths makes a good impression
The animations have received positive feedback from her friends, family and, most importantly, students. Dr Cook hopes they will be useful to other teachers in the future who find them on YouTube.
Dr Cook began her career in physics, but through tutoring high school maths she found a love for teaching it. Her favourite part of her job at Swinburne is teaching first-year maths units and helping students transition from Year 12 into their university degree.
"Hopefully LEGO makes the compulsory first-year maths unit I teach a little more approachable. The terrible puns have always been part of my teaching style," she says.
Velocity Vectors (with a turtle)
Velocity Vectors (with a turtle)
Inspiring the next generation of women in STEM
As a woman in STEM, Dr Cook says it can be "uncomfortable" being the only woman in the room sometimes and says there are times that she feels like she needs to prove herself.
However, it also gives her the opportunity to inspire other women interested in a career in STEM. For Dr Cook, "Being in a position to be a role model and show young women … that it is possible for women to succeed in STEM and still be themselves," is a real highlight.
She encourages anyone looking to pursue a career in STEM, especially women, to "just go for it".
"Maths is important as it is used every day, whether or not people realise they are consciously using it. It underpins so many academic courses and careers from science and engineering, to business and design.
"Do what you enjoy and believe in yourself."
Related articles
Electric vehicle fires are very rare. The risk for petrol and diesel vehicles is at least 20 times higher

Two electric vehicle fires have been reported in Australia this week. Five cars were destroyed after a lithium battery ignited in a car parked at Sydney Airport on Monday. Firefighters believed the battery had been detached from the car because it was damaged.

Friday 15 September 2023

Accelerator Program paves the path to entrepreneurship excellence

After an intensive 12-week journey in the Accelerator Program 2023, five startups took the stage and presented their awe-inspiring pitches at Swinburne's Demo Night.

Thursday 14 September 2023

New $5.2m supercomputer enhances high impact research around Australia

Swinburne University of Technology has launched its $5.2 million supercomputer that will produce groundbreaking space technology, medicine, and environmental research by researchers and partners across Australia. 

Monday 14 August 2023

Collaboration the key to assistive technology design and manufacture

Swinburne University of Technology's Medical Technology Victoria (MedTechVic) is working with local industry and community groups to improve the design and manufacturing of fit-for-purpose assistive technology. 

Tuesday 18 July 2023

$5M awarded for Swinburne-led ARC Research Hub for Future Digital Manufacturing

Swinburne has been awarded $5 million to lead an ARC Research Hub for Future Digital Manufacturing, one of five new Industrial Transformation Research Hubs across the country.

Friday 28 July 2023