Dementia care: a tech-enabled future
This year's Barbara Dicker Oration looked into the tech-enabled innovations that are reshaping the individual experience of dementia.
In summary
The 2020 Barbara Dicker Oration explored the possibilities for a tech-enabled future in dementia care
A panel of Swinburne experts shared the latest findings in their fields that could reshape the future of dementia
Eminent Australian, Sir Gustav Nossal AC CBE, joined our expert panellists to share his personal journey with dementia and its impacts on his wife, Lady Lyn Nossal
At Swinburne University of Technology's (Swinburne) annual Barbara Dicker Oration 2020, a panel of experts discussed the tech-enabled innovations that are advancing the experience and care of people living with dementia.
From digital twins to telehealth counselling, technology is helping communities and practitioners shape the future of care from a personal to global scale.
Dementia is not just a medical issue or condition, it includes much broader social challenges. According to Dementia Australia, more than one million people will have a diagnosis of dementia in Australia by 2058.
While the search for a cure continues, there is a real opportunity to use technology to improve experiences for individuals with dementia,their carers and families.
Swinburne's Professor Nilmini Wickramasinghe, Professor Jane Farmer and Professor Sunil Bhar discussed the latest research findings in their respective fields that are pushing the frontiers of human-centred technology that could reshape the experience and care of dementia. Eminent immunologist, Sir Gustav Nossal AC CBE also joined this year's panel sharing his personal journey with dementia and its impacts on his wife and best friend, Lady Lyn Nossal.
Technology stereotypes and digital twins
Professor Sunil Bhar is co-director of Swinburne's Wellbeing Clinic for Older Adults, and recently launched a national telehealth counselling and support service for residential aged care. This telehealth service has earned the clinic a HESTA Excellence Award nomination.
"Through our telehealth project, we have found that existing stereotypes of people with dementia and the idea that they are unable to interact with practitioners to be completely untrue," says Professor Bhar.
He adds, "From our work with people in residential aged care settings, we've discovered that they could benefit from systemic therapy with their families and carers who know them best."
Another stereotype that Professor Bhar's team proved to be unfounded was the idea of older adults being resistant to use technology, especially as a medium for mental health services. "It is absolutely feasible and people are able to develop rapport with their clinicians via telehealth, which gives us hope," Professor Bhar explains.
Deputy Director at Swinburne's Iverson Health Institute, Professor Nilmini Wickramasinghe, shared the concept of a digital twin to inform the palette of options to care for those living with dementia.
"The concept of a digital twin is to map data points from the personal stories and journey of people with dementia and to look at these data points as trajectories to analyse and identify where they may be at on their dementia diagnosis," Professor Wickramasinghe explains.
These data points are then placed in augmented or mixed reality technology to support people with dementia and their carers.
"This research is at its infancy and it is hoped that in the long term we will be able to develop the most personalised support for people with dementia and a range of care options for these individuals," she adds.
Intersecting technology with humanity
While the advances in technology could go a long way in improving the experiences and care of dementia, it is important to be mindful of its role as an enabler, not a solution.
"Technology is part of the care team," says Director of Swinburne's Social Innovation Research Institute, Professor Jane Farmer.
"We need to keep our focus on the person with dementia and work around them and their needs and look at how we can use technology to improve their experience and care," she adds.
Vice-Chancellor and President, Professor Pascale Quester noted, "While we are learning more from our research, we are only scratching the surface in terms of our understanding, we must work harder and faster to deliver more for those that need the care and strive to utilise technology to create a human-centred world."
Swinburne and the Barbara Dicker Brain Sciences Foundation
The Barbara Dicker Brain Sciences Foundation was established by Dr Ian Dicker AM and his family in honour of his late wife, Barbara to support research to improve treatment options, explore preventative measures and ultimately find cures.
The Dicker family established their foundation with Swinburne in 2011, providing seed grants for early career researchers to pursue their work. In 2020, the Dicker family  generously announced a further five years funding support.
Anyone wishing to partner Swinburne, investing philanthropically in dementia research can visit the Barbara Dicker Brain Sciences Foundation giving page to learn more and donate.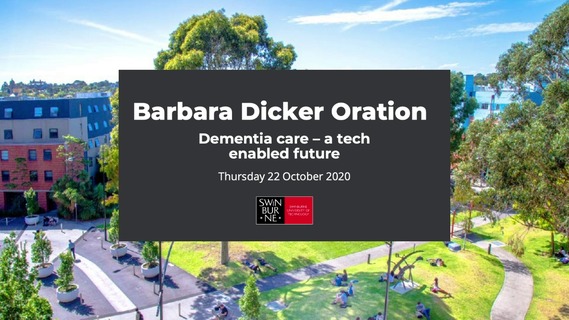 View a recording of the 2020 Barbara Dicker Oration and catch up on what was discussed.
Related articles
This dynasty won't end with Rupert: The Murdoch story is still being written

Australians grew up in a media landscape entirely dominated by Murdoch's mastheads and two generations came of age in a political landscape shaped by the whim of his media empire.

Monday 25 September 2023

Swinburne and Breakthrough Victoria create $18 million investment partnership to support Swinburne spinouts

Swinburne University of Technology will co-invest $9 million in investment, which is matched by Breakthrough Victoria, to create new ventures to drive commercialisation of our research. 

Thursday 21 September 2023

Swinburne alum and global HR leader unlocking people's 'inner hero'

Anoop Chaudhuri's career with Ford has spanned more than thirty years, three continents and 14 roles. He now leads HR for Ford and is passionate about helping individuals and teams thrive.

Thursday 21 September 2023

Substack newsletters are a literary trend. What's the appeal – and what should you read?

Every week since August 2021, Australian author Bri Lee has released a regular weekly Substack newsletter, News & Reviews, to thousands of paid and unpaid subscribers. The "news" offers commentary on current events and Lee's particular interests and knowledge areas.

Monday 18 September 2023

Is it okay to kiss your pet? The risk of animal-borne diseases is small, but real

While owning a pet is linked to numerous mental and physical health benefits, our pets can also harbour infectious diseases that can sometimes be passed on to us. For most people, the risk is low.

Tuesday 05 September 2023