Serving fresh in 2021: Dietetics & Nutrition
Study the rainbow to enjoy a successful career.
Get a taste of the healthy life
At Swinburne, we care deeply about nurturing the next generation of health practitioners. Our Master of Dietetics and Nutrition courses are designed to set you up for success.

We have deliberately made our class sizes smaller to offer you hands-on learning and greater support from our expert teaching staff, so you can experience amazing personal development. A huge component of any Swinburne degree is industry connection and we have established partnerships with respected practitioners and businesses to ensure you can undertake relevant professional placements throughout your degree. The idea is that when you graduate, you're confident and job-ready to enter the workforce as a dietician in one of many different areas.
The main course
Food is fuel for humans. What we eat quite literally shapes us - and our community. By educating people about the importance of what they put into their bodies, you get to help everyone from hospital patients to elite athletes embrace a healthier lifestyle.
So if our Master of Dietetics piques your interest, we think you'll be further tempted by our unique, research-based approach. You'll get to work with our superstar academics and likeminded students, enjoy MasterChef-type learning challenges, investigate and analyse a range of food products, consult with clients in lifelike simulations (we have two-way mirrors for feedback purposes) as well as conduct (and participate in) regular sensory taste tests via our mobile food testing stations where you'll experience taste, texture and smell individually.
There are several ways you can work towards entering our Master of Dietetics course. Nutrition is one of them. It's a key component of dietetics because it touches on every aspect of our lives; so during your requisite bachelor years, you can make nutrition your major in your health science degree. You can even pair it with business or media and communication to earn a double degree. What this all really means is that by the time you start our Master of Dietetics, you're already immersed in the area you'd like to specialise in.
Once you receive your qualification as a dietitian, some of the rewarding careers you can enter include clinical practice, sport and fitness, aged care, product marketing, public health, food sustainability or research settings.

What's your main course going to be?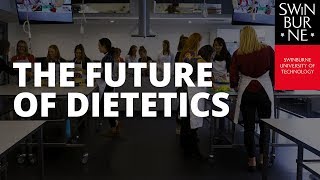 The Future of Dietetics
Hear what Swinburne Master of Dietetics students say about their course.
View transcript
Course Info

Innovation
Technology
Engagement
Swinburne Advantage

Swinburne 2022 Change of Preference Expo

Join us at Swinburne's Hawthorn campus to take a tour, get advice personalised to you and your study goals, and update your VTAC preferences on the day (and with confidence).

Register now

(Swinburne 2022 Change of Preference Expo)

Course Info

Engineering
Science
Information Technology

A Day in the Life of a Swinburne STEM Student

Go on a journey through the world of science, engineering and technology at Swinburne as you walk a day in a STEM student's shoes.

Register now

(A Day in the Life of a Swinburne STEM Student)

Course Info

A Day in the Life of a Swinburne Health Student

Experience what a day of uni looks like for a Swinburne health student as you learn about the different career paths in fields like healthcare and psychology.

Register now

(A Day in the Life of a Swinburne Health Student)
Keep on exploring
Nutrition and Dietetics

Student recipe bible

Applying