A Master of Design student from Indonesia
International student Florentina has fully embraced on-campus life at Swinburne
In the wake of the COVID-19 pandemic, learning has looked very different for many international students. Due to travel restrictions and the prolonged closure of Australia's borders, several international students enrolled in Australian institutions from overseas, studying online from their home countries.
As restrictions continue to ease and the world adopts a new normal, some students – like Master of Design candidate Florentina – are only now getting to experience on-campus life. Here, Florentina shares her study journey so far and offers tips for settling into student life overseas.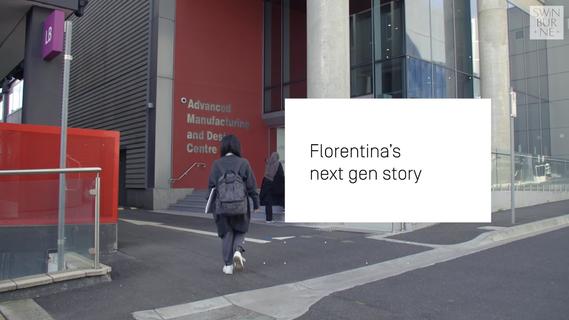 Meet Florentina
View video transcript [PDF 166KB]
Working towards a master degree
Florentina hails from Surabaya, a vibrant city in Indonesia. After two semesters of online learning, she moved to Australia in 2021 to continue her Master of Design course at Swinburne.
"This course was my first pick when I decided to pursue a master degree," says Florentina.
When considering her university options, Florentina explains that she weighed four key factors: curriculum, research, lecturers and overall reputation. She particularly liked how Swinburne's Master of Design course incorporates plenty of real-world projects, giving students the chance to build their professional experience while they study.
"The curriculum is a combination of industry projects, design research and final projects, which allow me to experience working with people of various backgrounds and enhance my individual design skills," she says, referring to Swinburne's Work Integrated Learning (WIL) commitment.
Florentina also enjoys having access to a whole library of creative software and digital resources. These tools allow her to broaden her skills beyond the curriculum of her degree.
"Swinburne is the first Adobe Creative Campus in Australia and has Design Factory Melbourne under its wing," Florentina explains. "Having free access to the Adobe Creative Cloud and using as many applications as I want is like a dream come true. I can even learn how to make animations!"
Finding community after COVID-19
For Florentina, it was equally important to learn about Swinburne's social opportunities as these would help her settle into her new home with ease.
"I chose Swinburne as my place to study for its multicultural and close-knit community," she says. "As an international student, exploring, engaging, volunteering and simply making friends with many fellow students from different backgrounds is what makes our journey memorable and meaningful."
Florentina says Swinburne's student support services also exceeded her expectations and helped her feel welcome.
"Two weeks before the start of my on-campus classes, the lecturer personally messaged and called me to make sure I understood the modules for my unit," Florentina explains. "As for my fellow students, we are always respectful to each other. I even have best friends who I talked to regularly during online learning, and we became so close outside of classes. When I finally came to Melbourne, it didn't seem unfamiliar."
"Having free access to the Adobe Creative Cloud and using as many applications as I want is like a dream come true. I can even learn how to make animations!"

Florentina , Master of Design
Innovative career options
In addition to studying, Florentina works as a casual lecturer and researcher. She says that an optimal degree will challenge your future career plans and encourage you to open yourself to surprising possibilities.
"I'm now exploring the possibility of creating a sustainable product or packaging business with my developed design skills," she shares.
Aiding prospective students
Florentina is a volunteer participant in the Student Ambassador Program, where she shares her experiences with prospective students and offers advice.
She encourages students to consider both their interests and their professional goals when choosing their courses.
"It doesn't matter if your plan changes during study, but just don't choose the university without considering how it will help your future career," she advises. "The right university may lead you to an even better future."
Chat directly to Florentina
Guaranteed real industry experience
Swinburne ensures all students can access industry experience as part of their course, whether it's a placement, internship or an industry-linked project. It's our Work Integrated Learning (WIL) guarantee!
If you're interested in a placement, you can even choose a Professional Degree, which comes with a 12-month full-time paid Professional Placement opportunity.
Learn more about our WIL guarantee
Scholarships for international students
Swinburne has a range of scholarships just for international students. If you're awarded one, you can focus less on finances and more on learning and experiencing life at Swinburne and in Melbourne.
The best part? Every international student application is automatically considered for a scholarship, so you won't need to submit a separate application.
Browse our scholarships for international students
Design

Use innovative design thinking to define how our futures look and feel

Games and Animation

Build new worlds, tell untold stories, and invent new characters

Media and Communication

Share your stories and others' with clarity and purpose

Find a course

Search our degrees, diplomas and master programs, and find information about pathways to a degree. Explore a range of flexible study options to suit your needs and career goals. 
Find out more about Swinburne
Hear more from our international students
Master of Professional Engineering

Jagannatha's story

India

Robotics student Jagannatha enjoys giving back to Swinburne's international students.

Master of Business Information Systems

Sachi's story

Sri Lanka

Getting a qualification in information technology is an excellent move for international student Sachi.

Master of Science (Network Systems)

Chinmayi's story

India

With a fascination of internet networks, international student Chinmayi is living her dream.

International student stories

Discover how students from all over the world are enjoying life at Swinburne while successfully building a career in Australia and their home countries.
Ready to start your own story at Swinburne?
Our friendly International team is available to support you all the way. Talk to us to find out more about your study options, entry requirements, fees and scholarships, life in Melbourne and more.
Talk to us