A Bachelor of Design (Communication Design) (Honours) student from Indonesia
Energetic Erina shares all the ways she's gathering experience for her career
"My first experience with design was when I was much younger. I would experiment with a phone app that worked in a similar way to Adobe Photoshop," says Erina, who is in the final year of her Bachelor of Design (Communication Design) (Honours) minoring in Digital Advertising Technology. "I liked how I could be creative and make visuals based on my imagination. The great thing about it was that I didn't need to be amazing at drawing, I just needed to have a good eye for design."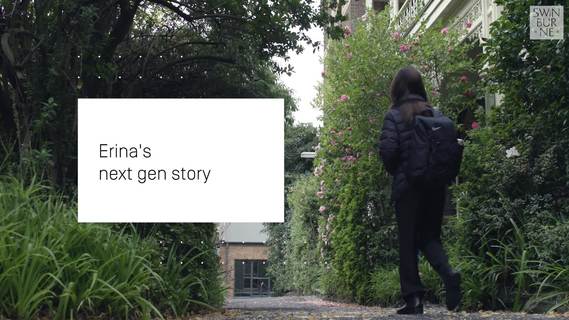 Meet Erina
View video transcript [PDF 166KB]
Enjoying study at Swinburne
Originally from Indonesia, Erina finished high school in Sydney and did a stint at Raffles Design Institute, Singapore, before joining Swinburne's UniLink Diploma of Design course. This eight-month program is just like the first year of a degree, but with smaller classes and more support. It allowed her to pathway directly into the second year of her degree when she successfully completed it.
After earning high distinctions and a 4.0 GPA, Erina was offered the International Excellence Scholarship for her bachelor degree program. "I love knowing that I am contributing to my own university fees, instead of having my family pay them in full," says Erina.
Experiencing real industry
It's also clear that she truly enjoys her course, stating that "I believe Swinburne is giving me real industry experience, as most of my assignments require me to work like I'm already in industry." She continues with, "My design degree is very practical in its approach, which I see as being really beneficial."
Case in point – this semester, she is juggling projects in two different units (classes). In Communication Design Strategy, she collaborated with fellow students to create a holiday campaign for T2 Tea. Her group chose to focus on the Lunar New Year and decided on the idea 'a gift of calmness', which capitalises on tea's inherent qualities as a welcome break between hectic celebrations.
In her Publication Design class, she was briefed to think of a metaphor that would suit her client, the Royal Botanic Gardens of Victoria, then apply it to the design of their annual report. Says Erina, "My concept was the everchanging nature and seasons of the garden. You can see this in the different colours and visual elements of my design."
During her diploma program, she also learnt to build websites from start to finish – apart from designing sites, she's picked up fundamental coding and can use Adobe Dreamweaver. In fact, she made invaluable contacts through her lecturers, which has led to freelance design projects; some of which have become additions to her portfolio, which will be instrumental in her future job search.
"I believe Swinburne is giving me real industry experience, as most of my assignments require me to work like I'm already in industry."

Erina , Bachelor of Design (Communication Design) (Honours) (minoring in Digital Advertising Technology)
Living life to the fullest
But that's not all. Alongside design, Erina's other passion is photography. She explains. "I've always enjoyed observing moments and subjects from a different perspective, seeing beyond the surface and trying to capture their essence. I've learnt myriad techniques and principles via classes at university and through self-learning." She even received a Commendation from Australian Photography Magazine's Photographer of the Year 2020 competition for her photo titled 'People Amongst Water'.
To top off her already busy schedule, Erina is also an international student ambassador. Her role is to assist future international students and answer any questions they may have about joining Swinburne. "It has been interesting to meet so many students applying to Swinburne. It feels great being able to help them through the process."
While Erina still has many months left before graduating, she's already gained an impressive amount of experience that is sure to make her resume appeal to future employers.
Chat directly to Erina
Guaranteed real industry experience
Swinburne ensures all students can access industry experience as part of their course, whether it's a placement, internship or an industry-linked project. It's our Work Integrated Learning (WIL) guarantee!
If you're interested in a placement, you can even choose a Professional Degree, which comes with a 12-month full-time paid Professional Placement opportunity.
Learn more about our WIL guarantee
Scholarships for international students
Swinburne has a range of scholarships just for international students. If you're awarded one, you can focus less on finances and more on learning and experiencing life at Swinburne and in Melbourne.
The best part? Every international student application is automatically considered for a scholarship, so you won't need to submit a separate application.
Browse our scholarships for international students
Design

Use innovative design thinking to define how our futures look and feel

Games and Animation

Build new worlds, tell untold stories, and invent new characters

Media and Communication

Share your stories and others' with clarity and purpose

Find a course

Search our degrees, diplomas and master programs, and find information about pathways to a degree. Explore a range of flexible study options to suit your needs and career goals. 
Find out more about Swinburne
Hear more from our international students
Bachelor of Business

Alex's story

Myanmar

International student Alex is creating a resume employers will want to chat about.

Bachelor of Computer Science (Professional)

Thao's story

Vietnam

International student Thao highlights her reasons to study computer science at Swinburne.

Bachelor of Engineering (Honours) (Professional)

Wendy's story

China

Wendy graduated with more than two years of real industry experience on her resume.

International student stories

Discover how students from all over the world are enjoying life at Swinburne while successfully building a career in Australia and their home countries.
Ready to start your own story at Swinburne?
Our friendly International team is available to support you all the way. Talk to us to find out more about your study options, entry requirements, fees and scholarships, life in Melbourne and more.
Talk to us