Well, you're officially a Swinburne student. Welcome.
Here you are, at the top of a new year, stepping into something totally new. And after the twelve months we've just had, you'll probably be feeling ready for just about anything.
But starting a new chapter is still big. It means learning new things and doing some adjusting. And that's where Orientation comes in. Want to get a hang of the Swinburne programs? Want to know where to get to know your peers? Want to explore your resources and find out where to go for help? Look no further.
Key Orientation dates 2021
Higher Education
Semester 1: 15 - 26 February
Vocational Education
February intake: Multiple events
March intake: Multiple events
(check your email invitation for your course's Orientation date)
UniLink and Foundation
Teaching period 1: 19 February
ELICOS
Teaching period 2: 11 February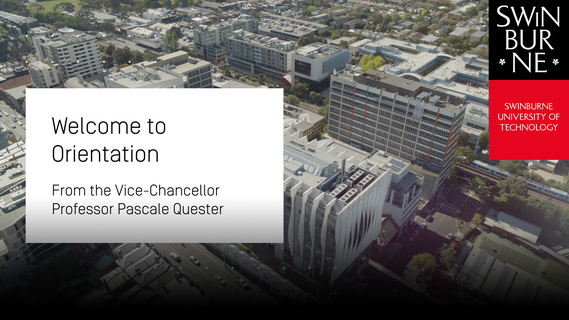 Welcome to Orientation
Welcome to Orientation
A welcome to Swinburne from our Vice-Chancellor Professor Pascale Quester.
Don't know what group you fit into? Here's a guide.
Higher Education: If you're studying a bachelor or master degree, a graduate certificate or a graduate diploma.
Vocational Education: If you're studying any diploma or a certificate that is not postgraduate or a UniLink course.
UniLink and Foundation: If you're studying a UniLink or Foundation Year course.
ELICOS: If you're studying an English language course.
If you're not sure when your classes start or what intake you're a part of, check your offer letter or the 2021 Swinburne Academic calendar.
Info for getting started
Here's where it all begins. Well, technically it all began when you accepted your offer. But here's where it all begins from now.
Depending on your type of study, either some or all of your Orientation events and resources will be hosted in Canvas. To access your Orientation, you'll need to log in to Canvas and 'enrol' into your course's Orientation by using the unique link you received in your email invitation.
To log in to Canvas, use the same username and password that you use to log in to your student email. Need help with navigating Canvas? Check out our Canvas FAQs.
If you haven't received your Orientation invite with your unique link, you will need to enrol in your course's units first. Haven't enrolled yet? Get started. If you are enrolled and haven't received your invite, please let us know.
Login to Orientation

Your orientation events and resources will be hosted in Canvas. To access your orientation, log in to Canvas and 'enrol' into the orientation event using the link you received in your email invitation.

Getting started at Swinburne

Are you a new student to Swinburne? Welcome! All the vital information you need to help you get started at Swinburne and settle into university life is on this page.

Find your people

Join a club, volunteer for a cause you care about or get involved in one of our online events to connect with your Swinburne community and find your people.
Your Orientation
Orientation for Higher Education and Vocational Education
If you're a student undertaking a Higher Education or Vocational Education course, your Orientation will likely involve both live on-campus and online events. You'll also have access to a variety of resources via Canvas anytime. Orientation events and activities will include getting to know the Swinburne services and spaces, finding your people – joining a club, volunteering for a cause, making new friends and joining the Swinburne Student Union – and meeting your teachers and Swinburne leaders.
If you're attending any on-campus events, you'll need to make sure you're following COVIDSafe directives. Have a read through our on-campus protocols so you know what's required.
Once you've enrolled in your course's units, you'll receive an email containing all of the details you'll need to participate in your Orientation.
Orientation for UniLink and Foundation
As a commencing student of a UniLink or Foundation year course, your live Orientation events and helpful resources will be held online in Canvas. To find out about student life and the services available for supporting you in your studies, come along to our Welcome Session. From there, you'll be able to dial into your Course Induction session, where you'll meet your teachers, and can ask any questions before classes start.
If you can't make your live Orientation events, don't worry. There are loads of resources you can access anytime in Canvas.
Once you've enrolled in your course's units, you'll receive an email containing all of the details you'll need to participate in your Orientation.
Orientation for ELICOS
If you're a student starting an ELICOS course in 2021, your live Orientation event will be held online via Microsoft Teams.
To help you prepare for Orientation and your studies, make sure that you have done the following:
We'll email you with the details you need to join Orientation, but if you have any questions, please contact our team at pathwayssupport@swinburne.edu.au.
Get started straight away
If you can't wait for Orientation and want to get started straight away, there are two things you can do right now:
Complete our Pre-orientation Program. Built by Swinburne students in the Quitch app, these handy modules are designed to help you settle in and provide a smooth transition to university. They'll equip you with the tips and tricks you need to know before you start university life and where to find support when you need it. 98% of students who've used the app say they feel more confident and/or prepared for uni life now! Here's what some students had to say:
"I really appreciated hearing from mentors, students and people I could connect with. This gives me more confidence to enter uni with a smile on my face and take a step out of my comfort zone."
"The module definitely clarifies all possible doubts a new student might have!"
If you're a newly commencing undergraduate student, keep an eye out for the Quitch invitation that will land in your inbox once you've set up your Swinburne student email.
Pop the Strategies for Success workshops in your calendar. Whether you're starting uni for the first time or would like some additional tips and strategies to help you ace your studies, this multi-day virtual workshop will provide you with the key tools to succeed at university. Includes live sessions and self-directed learning modules.
Strategies for Success
Monday 15 - Wednesday 17 February | Daily 1-5pm AEDT
Strategies for Wellbeing
Thursday 18 February | 1-5pm AEDT
You'll receive further information, including how to access the workshops, via email.
Keep on exploring
Free Adobe Creative Cloud

All Swinburne students have free access to the Adobe Creative Cloud and over 20 different apps including Photoshop, Illustrator, InDesign, After Effects and so much more!

Mentoring services

Like many students, it's probably your first time away from your family and friends. If you're finding it hard to adjust to university life, our friendly team of student mentors are here to help you settle in!

Student support services

Need support? Swinburne's student support services can help with your studies, career, health and wellbeing, accommodation, child care, IT, safety and more.

Accommodation

Discover all your student housing options at Swinburne, including on-campus accommodation, shared apartments, studio apartments and short-term accommodation.

Professional Purpose program

Learn to build a career that's meaningful to you. Swinburne's Professional Purpose program runs alongside your bachelor degree and functions like a life and career planner.

Scholarships

We offer a wide range of scholarships to help selected students from all walks of life reach their academic goals.
Contact us
If there's something we haven't covered here, or something you're not sure of and would like to hear more about, feel free to get in touch with us at Library and studentHQ.
Contact studentHQ