Breakthroughs in biomedical research have changed the way in which we identify and cure a variety of health issues. Biomedicine is at the forefront of technology — and it's changing lives.
With a biomedical degree, you'll learn to analyse and interpret complex data, then use it to make a positive difference to people's lives.
Explore biology, medicine, disease, chemistry and physiology (all touchpoints of biomedical science degrees) and apply your fundamental understanding of human anatomy, microbiology, biochemistry and physiology to real-world situations.
At Swinburne, studying biomedical science isn't just about theory. You'll have access to research labs and the latest instruments in healthcare technology to give you the experience you'll need to change lives.
In fact, we're the only university in Australia with MRI and MEG labs on campus, so by the time you graduate, you'll be confident in using the latest technology available.
Your tech-rich future starts now
Get ready to embrace it! Tech is built into all our courses to prep you for now — and for when you graduate. Campus to course info, advice to applications — we have you covered.
Find your way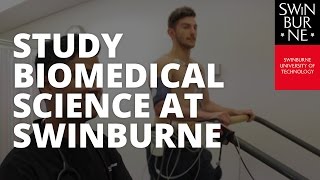 Study Biomedical Science at Swinburne
Study Biomedical Science at Swinburne
Hear from Tara and Don who have taken a year out from studying biomedical science to complete paid professional placements as cardiac technologists at Monash Heart. From conducting exercise tests to putting heart monitors on newborn twins, they're both learning skills they can use in the workforce after graduation.

Our MEG and MRI machines
Researchers using Swinburne's state-of-the-art magnetoencephalography and magnetic resonance imaging equipment.
A woman having a Magnetoencephalography scan

Swinburne's Siemens 3T Prisma magnetic resonance imaging (MRI) scanner.

Swinburne's Elekta Neuromag TRIUX magnetoencephalography (MEG) scanner.

The completed magnetic resonance imaging (MRI) upgrade to a Siemens 3T Prisma in May 2020.
An undergraduate degree must be about more than just knowledge – it's also job readiness, professional experience and access to further opportunities.
We partner with leading Australian and global organisations to offer students authentic workplace experiences. Our degrees can include placements, internships, industry-linked projects, study tours and more. This is your chance to work on real-life projects, solve day-to-day challenges in your field and gain the professional skills that put knowledge into practice. You'll build invaluable skills and confidence, knowing you have what it takes to land a job by graduation or even before.
Find out more about the Swinburne Advantage
GRADUATE STORY

Kicking goals in cardiology

Meet biomedical science graduate, Julie.

During her time at Swinburne, Julie completed a professional work placement at Royal Melbourne Hospital and was an In2Science mentor. Now, she's landed her dream role as a cardiac physiologist!

FACILITIES AND EQUIPMENT

Access Swinburne's neuroimaging facility

Situated in the Advanced Technologies Centre, Swinburne researchers have access to magnetic resonance imaging (MRI) and magnetoencephalography (MEG) machines among other state-of-the-art neuroimaging equipment and capabilities.
Looking for more?
Course guide

Find the course that will help you achieve your academic goals.

Got a question?

Speak with our friendly team and book a one-on-one appointment

Course planner

Begin planning the units you will study in your course.