Breakthroughs in biomedical research have changed the way in which we identify and cure a variety of health issues. Biomedicine is at the forefront of technology — and it's changing lives.
With a biomedical degree, you'll learn to analyse and interpret complex data, then use it to make a positive difference to people's lives.
Explore biology, medicine, disease, chemistry and physiology (all touchpoints of biomedical science degrees) and apply your fundamental understanding of human anatomy, microbiology, biochemistry and physiology to real-world situations.
At Swinburne, studying biomedical science isn't just about theory. You'll have access to research labs and the latest instruments in healthcare technology to give you the experience you'll need to change lives.
In fact, we're the only university in Australia with MRI and MEG labs on campus, so by the time you graduate, you'll be confident in using the latest technology available. Browse our courses to find detailed course information, application dates, entry requirements, fees, subjects, ATAR calculator and more.
Just three weeks until direct applications close
Thought you'd missed the boat? Not by a long shot. Semester 1 classes start soon, but there's still three weeks to submit an application, receive an offer and enrol.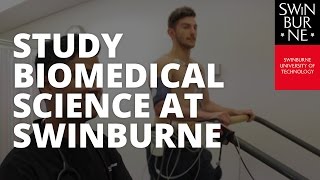 Study Biomedical Science at Swinburne
Study Biomedical Science at Swinburne
Hear from Tara and Don who have taken a year out from studying biomedical science to complete paid professional placements as cardiac technologists at Monash Heart. From conducting exercise tests to putting heart monitors on newborn twins, they're both learning skills they can use in the workforce after graduation.

Our MEG and MRI machines
Researchers using Swinburne's state-of-the-art magnetoencephalography and magnetic resonance imaging equipment.
A woman having a Magnetoencephalography scan

Swinburne's Siemens 3T Prisma magnetic resonance imaging (MRI) scanner.

Swinburne's Elekta Neuromag TRIUX magnetoencephalography (MEG) scanner.

The completed magnetic resonance imaging (MRI) upgrade to a Siemens 3T Prisma in May 2020.
An undergraduate degree must be about more than just knowledge – it's also job readiness, professional experience and access to further opportunities.
We partner with leading Australian and global organisations to offer students authentic workplace experiences. Our degrees can include placements, internships, industry-linked projects, study tours and more. This is your chance to work on real-life projects, solve day-to-day challenges in your field and gain the professional skills that put knowledge into practice. You'll build invaluable skills and confidence, knowing you have what it takes to land a job by graduation or even before.
FACILITIES AND EQUIPMENT

Access Swinburne's neuroimaging facility

Situated in the Advanced Technologies Centre, Swinburne researchers have access to magnetic resonance imaging (MRI) and magnetoencephalography (MEG) machines among other state-of-the-art neuroimaging equipment and capabilities.
Download a course guide

Thinking of studying with us? Whether you are a domestic or an international student, we have a wide range of courses to suit your needs. Simply complete the form to download your course guide.

Book a one-on-one

Not sure which course is right for you? No stress. Book a one-on-one appointment with a course adviser for help with your application or advice on your study options.

Course planner

Begin planning the units you will study in your course.

Work Integrated Learning

Swinburne guarantees real industry experience in all our bachelor degrees in the form of placements, internships or industry-linked projects. Find out more about Swinburne's Work Integrated Learning (WIL) programs.