Thinking of becoming an accountant but unsure if it's just about crunching numbers? As an accountant, you'll play a crucial role in helping your clients make informed decisions and learn how to become a strategic thinker about money – a skill that will always be in demand.
Our accounting courses give you the knowledge and skills to guide investment decisions, forecast financial decisions and help your clients use their money to achieve the best possible outcome.

When you learn accounting you will develop the capability to work as a financial analyst, tax analyst, accounts officer, management accountant or in a treasury role.
Choosing uni?
Don't be put off by the whole VTAC process - it really is easier than it looks (thanks to our VTAC-TICAL Toolkit.) Inside it, you'll find 'power tools' like our Plan of VTAC web session with the experts - which we recorded recently - the ATAR calculator plus the opportunity to chat one-one-one with a course expert.
Get tools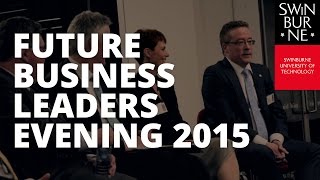 Meet our successful accounting alumni
Meet our successful Accounting alumni
A group of our accounting alumni recently returned to our Hawthorn campus to share the stories of their successful careers after graduating from Swinburne.
"I have found my degree in accounting and marketing to be an asset in running my business, Curtis Collection by Victoria. Marketing gives me a creative discipline and Accounting allows me to take the emotion out of decisions based on the business's financials. Swinburne prepared me in the best possible way, for running my own business."

Victoria , Bachelor of Business, Marketing and Accounting
An undergraduate degree must be about more than just knowledge – it's also job readiness, professional experience and access to further opportunities.
We partner with leading Australian and global organisations to offer students authentic workplace experiences. Our degrees can include placements, internships, industry-linked projects, study tours and more. This is your chance to work on real-life projects, solve day-to-day challenges in your field and gain the professional skills that put knowledge into practice. You'll build invaluable skills and confidence, knowing you have what it takes to land a job by graduation or even before.
Find out more about the Swinburne Advantage
How to become an accountant

Accountants tend to have strong analytical and problem-solving skills in addition to being good at maths. Learn more about what it takes to become an accountant in Australia.
Looking for more?
Course guide

Find the course that will help you achieve your academic goals.

Got a question?

Speak with our friendly team and book a one-on-one appointment

Course planner

Begin planning the units you will study in your course.