If you're a full-fee paying undergraduate, postgraduate, UniLink or Open Universities (OUA) student, a FEE-HELP loan can help you pay all or part of your tuition fees.
Expanded HELP loan limits
From 1 January 2020, there will be a new combined HELP loan limit in place, which includes HECS-HELP, FEE-HELP, VET FEE-HELP and Vet Student Loans.
You can read about HELP loans in detail on the Australian government StudyAssist website.
How do FEE-HELP loans work?
Through FEE-HELP, the Australian Government pays some (or all) of your tuition fees to Swinburne on your behalf.

If you don't want to (or can't) pay for your full-fee paying course up-front, a FEE-HELP loan allows you to pay back the Australian Government through the tax system once your taxable income is higher than the minimum repayment threshold.
The Australian Taxation Office (ATO) calculates your compulsory repayment for the year and includes this on your income tax notice of assessment. On top of the compulsory amount, you can make additional voluntary repayments to the ATO.
You must supply your Tax File Number (TFN) when you apply. If you fail to pay your fees in full up-front (or apply for a FEE-HELP loan) and supply your TFN by the census date, your enrolment will be cancelled.
The outstanding balance of your FEE-HELP loan will increase each year with the Consumer Price Index (CPI).
A loan fee is added to FEE-HELP loans for undergraduate students. As part of the Higher Education Relief Package, the Government has announced a Loan Fee Exemption will apply for units with census dates between 1 April 2020 and 31 December 2021. So, as of 1 January 2022 the amount you need to pay back will be 20 percent more than the cost of your course. This 20 percent loading does not apply to postgraduate students.
You will also need to pay the Student Services and Amenities Fee (SSAF). This is billed twice a year and is compulsory for all local undergraduate and postgraduate students. The SSAF is calculated based on your course load up to a maximum of $326 (2023).

The SSAF is not covered by your FEE-HELP loan.
If you need financial assistance to cover this cost, you can also apply for a SA-HELP loan.
In each teaching period, before the census date, you can:
pay nothing upfront and incur deferred FEE-HELP debt
pay part of your tuition fees upfront and the balance will accrue to your FEE-HELP debt.
You can pay by logging in to My Finances. Check your Statement of Account for the amount and choose your preferred payment method.
Are you eligible for a FEE-HELP loan?
You're eligible for a FEE-HELP loan if you are studying an undergraduate or postgraduate degree, or UniLink or OUA course at Swinburne, and you:
The HELP limit is the maximum amount you can borrow from the government in your lifetime towards your education costs. It is fixed and cannot be topped up.
It's your responsibility to ensure the Swinburne tuition fees for your intended course fall within the HELP limit. If your tuition fees exceed the limit, you will have to pay the excess in full up-front.
How to apply for a FEE-HELP loan

You can apply for a FEE-HELP loan online, after you have accepted your offer of a Full Fee Paying Place at Swinburne. 
Note: You must submit a FEE-HELP loan form online before the census date.
To apply online:
Log in to My Swinburne then select the My Study tile. 
Select the Government Assistance tab on the left. 
Click Add and select the relevant form from the dropdown me. 
Read the form carefully and fill out all necessary details. 
Click Submit.
Once you have completed all outstanding tasks, return to the homepage.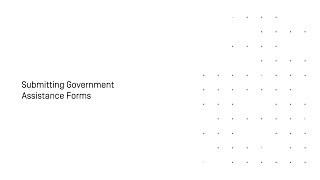 Submitting Government Assistance Forms
View transcript [PDF]
©
Assistance and further information
If you need more assistance understanding FEE-HELP loans or have a question, we're here to help.
You can: