Advanced Technologies Centre
Our Advanced Technology Centre (ATC) showcases leading-edge research facilities and teaching spaces, as well as architectural design and sustainability that encompasses 20,000 square metres.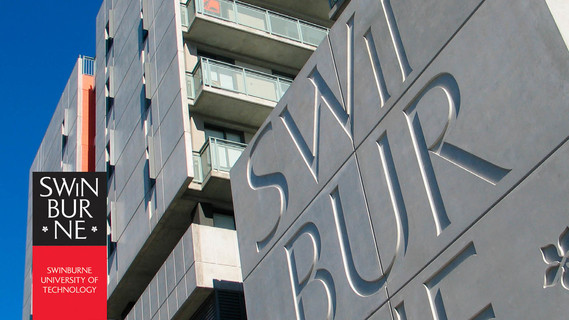 Looking from the outside in
View video transcript [PDF 150KB]
Located at our Hawthorn campus, the ATC is home to a number of excellent research facilities, such as:
Advanced Molecular and Proteomics Facility
Brain and Psychological Sciences Research Centre
Cellular Neuroscience Laboratory
Centre for Ageing: Assistive Technologies
Direct Metal Deposition Facility
Drug Discovery Laboratory and bioMerieux MALDI-TOF Reference Centre
Electrical Machine Laboratory
High Temperature Processing Laboratory
Materials Characterisation Laboratory
Microscopy Laboratory
Nano-biotechnology Laboratory
Non-Contact Inspection and Robotics Laboratory
Nanophotonics Applications Facility
Physical Containment Laboratory
Polymer Processing and Testing Laboratories
Power System Simulation Laboratory
Product Design Engineering Laboratories
Robotics and Mechatronics Laboratories
Smart Sensing and Signal Processing Laboratory
Surface Science and Interface Engineering Facility
©
Teaching in the Smart Structures Laboratory.
The ATC's cutting-edge architectural design includes the Smart Structures Laboratory's transparent walls. On the Burwood Road street front, the public and passers-by can watch as scientists and engineers test the integrity of construction materials and structures of the future using advanced equipment. 
We took this approach to ensure our intensely technological endeavours were on show. We invite the public to look in and engage with our passion for technology and innovation.
Digital Construction Lab

Crowds in ATC interior

Research technology in the ATC building

ATC building
As so many of our research collaborations here at Swinburne University of Technology deal with the development of more eco-efficient technology, we also opted for a design that embodied sustainability principles. Sustainability initiatives include the use of recycled materials, a thermal-mass insulating façade, rainwater capture, lighting that adjusts in response to natural daylight levels and the building's management system which, through its link to the Bureau of Meteorology, can predict changes in weather.   
The ATC was the first education building in Australia to be awarded a 5-star green star rating by the Green Building Council of Australia. 
Our latest news
Technologies and tools for a manufacturing transformation: how to approach Industry 4.0

Dr Nico Adams writes about some business model possibilities and the questions a manufacturing company should ask before "getting into" Industry 4.0.

Friday 26 June 2020

Swinburne launches advanced manufacturing centre in Weihai, Shandong

Swinburne becomes the first Australian university to launch a joint research centre in Weihai, Shandong.

Tuesday 20 March 2018

Swinburne to establish world first Industry 4.0 Testlab

Swinburne is establishing the world's first operational Industry 4.0 Testlab for carbon composite manufacturing.

Monday 05 March 2018

International SPIE NanoPhotonics forum takes over Swinburne

SPIE NanoPhotonics Australasia celebrates the latest in nanophotonics technologies.

Friday 15 December 2017

Next-generation condom named Medtech finalist

A project to create a next-generation condom has been named a finalist in the 2017 National MedTech's Got Talent Gala Finals.

Friday 08 December 2017
Contact the Swinburne Research team