Advanced Manufacturing and Design Centre
Our Advanced Manufacturing and Design Centre (AMDC) bridges the gap between imagination and reality. The AMDC represent a $100m investment and allows us to provide industry and organisations with unparalleled facilities and equipment to explore conceptual ideas for manufacturing next generation products.
The Advanced Manufacturing and Design Centre is a state-of-the-art facility that gives researchers and students the opportunity to use the latest manufacturing and design techniques and technologies.
Opened at Swinburne's Hawthorn campus in 2014, the centre is a hub for researchers carrying out world-leading research, education and training.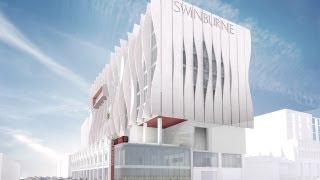 Virtual tour of the AMDC
Virtual tour of the AMDC
Take a virtual tour of Swinburne's Advanced Manufacturing and Design Centre (AMDC), located at Hawthorn campus in Melbourne. Completed in mid-2014, the AMDC promotes innovation and collaborative learning and functions as a centre for excellence in manufacturing and design.
The AMDC shares its equipment, knowledge and commercial outcome in a collaborative approach that builds strong links across the higher education, research, vocational training and manufacturing sectors. These collaborative efforts enhance Australia's ability to develop an internationally competitive, highly productive and technologically advanced manufacturing sector.
The $100 million centre was built with the support of the Commonwealth Government, which provided $40 million through its Education Investment Fund and is our second 5-star green star building, certified by the Green Building Council of Australia.
AMDC at sunset

Aerial drone shot of Advanced Manufacturing Design Centre

Students studying at the AMDC Sky Garden outdoor area in Hawthorn

Close-up photograph of AMDC building details
The AMDC was designed by Sinclair Knight Merz (now owned by Jacobs Engineering) and architectural firm WilkinsonEyre.
Research news
Swinburne researchers succeed in latest ARC Discovery Projects

Swinburne University researchers have been awarded more than $6.1 million in funding, across 12 projects, within the 2024 Australian Research Council Discovery Projects scheme.

Wednesday 08 November 2023

Using storytelling to reduce ageism in the community

A Swinburne-led project is using digital storytelling to prevent ageism, which can lead to elder abuse.

Monday 24 February 2020

More than $1.1mil in funding for Swinburne industry-linked projects

The projects will look at using recycled glass in roads, improving Australia's 5G network, and boosting quality of life in aged care through technology.

Wednesday 08 February 2023

Swinburne researchers recognised as national leaders

Swinburne researchers are among Australia's top achievers highlighted in The Australian's 2023 Research magazine.

Tuesday 08 November 2022

A rapid shift to electric vehicles can save 24,000 lives over the next two decades

Analysis for The Conversation by Professor Hussein Dia, Associate Professor Andi Nygaard, Dr Krysztof Dembek and Associate Professor Magnus Moglia

Thursday 15 September 2022
Contact the Swinburne Research Team