Alum success in communication design
Swinburne Communication Design alum, Michael Smith, has won Graduate of the Year Awards at the state and national level, as well as receiving international recognition.
In summary
Swinburne alum Michael Smith has received the Design Institute of Australia VIC/TAS and Australian Visual Communication Design Graduate of the Year awards

Michael's work was also featured in Arts Thread's 2022 Global Design Graduate Show and was shortlisted for the related award

Michael attributes his success to industry experience and a diverse creative approach
Less than a year after graduating from a Bachelor of Communication Design, Swinburne alum Michael Smith has received recognition for his work on a local, national, and international level. 
Award success
Michael graduated in 2021 and has hit the ground running. 
Michael received the Design Institute of Australia (DIA) VIC/TAS and Australian Visual Communication Design Graduate of the Year awards. 
A representative from Art's Thread in London reached out to Michael and encouraged him to enter their 2022 Global Design Graduate Show after seeing his winning GOTYA submission.
Michael's entry was shortlisted for the Visual Communication category. You can watch his submission below.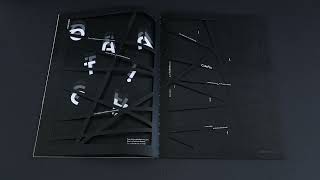 The Invisible Cities exhibition combines print, film, and space design in an immersive, experimental experience 
Working with industry

One of the things that attracted Michael to the Swinburne Communication Design course was the industry placement component, and he made the most of the experience when his time came. 
Michael worked at Swinburne's internal design consultancy, the Design Bureau, for 12 months. 
During that time, he worked on a project for the World Health Organisation (WHO), which led to an additional year-long contract working directly with WHO.  
"It's great having those opportunities to gain as much experience as possible," Michael said. 
"Having those hands-on industry-based projects is really important."
Michael's design for an Eco-Cinema focuses on how sensory elements of nature can elicit positive thoughts and emotions, creating a more content state of mind.
Diversity of skills
Michael's creative development flourished with the opportunity to experiment with a variety of creative practises both in and out of university. 
"Studying communication design at Swinburne, you get to dabble in lots of different areas and develop different skills," Michael said. 
"All those experiences that I had at Swinburne paired well with taking time to do design work outside of uni and pursuing other creative hobbies."
Alongside his design work, Michael practices painting and photography, and enjoys expanding his horizons. 
His recent pursuits include creating a typeface, designing a photobook, and learning more about 3D modelling and environmental graphics. 
Michael's advice for current students is to take every opportunity they can.
"Every experience that you have in life helps fuel your creativity in the future and the way you think," he said. 
Studying oil painting as a separate philosophy and skill set to design has allowed Michael to approach briefs from different perspectives.
Related articles
Destination Korea: An industry-linked study tour

Industrial Design and Product Design Engineering students spent three weeks in Seoul, Korea, as part of a new industry-linked, culturally immersive study tour.

Tuesday 12 September 2023

Student News
Trades
Design

Best in Australia: Swinburne VET students win gold at WorldSkills

Three Swinburne VET students won first place in the 2023 WorldSkills Australia National Championships and will go on to compete at the International WorldSkills Games in Lyon, France next year.

Monday 21 August 2023

Adaptable creativity – alum success from furniture to food

Industrial Design alum Sashia Rosari is the owner and creative mind behind both furniture design company SORS and HONU Poké & Matcha Bar in Jakarta, Indonesia. 

Tuesday 01 August 2023

Film and television
Design
Student News

Students skewer publishing world in new Truce Films web series

Swinburne students have played a major role in producing Monologue, a satirical web miniseries by award-winning production company Truce Films.  

Friday 11 August 2023

Design for Change winner: solar distillation solution

Bachelor of Engineering and Law student, Erfan Mangani was the winner of the Design for Change 2023 competition with his 3D printed solar distillation solution project that addresses issues of water equity in rural Australia. 

Thursday 13 July 2023