In summary
Swinburne is pursuing solar initiatives to reduce the university's carbon footprint and help Aussie households go green
By becoming a smart building, the ATC building could save 1.4 tonnes of carbon every year and save Swinburne over $200,000 in energy bills
A bird-inspired algorithm can overcome the environmental impacts of shading and increase the efficiency of household solar systems by up to 90 per cent
Swinburne University of Technology researchers are designing and implementing solar initiatives on campus and beyond to reduce the university's carbon footprint and save solar households thousands of dollars.
In a project that could have implications for energy grids across Australia and the world, the ATC building on Swinburne's Hawthorn campus has been converted into a smart building through the integration of power saving technology developed by staff and PhD students from the New Energy Technologies Research Group.
As a smart building, ATC can now detect ways to save energy, reduce the demand and share excess energy with other buildings on campus. 
The new and improved system is expected to reduce Swinburne's carbon footprint by 1.4 tonnes and save the university $200,000 each year. It also provides a key stepping stone to Swinburne's Net Zero 2025 Pathway.
Hear from the researchers and Swinburne leaders driving this project speak on the importance of this program, including Deputy Vice Chancellor, Research Professor Karen Hapgood, and Project lead of the Swinburne Smart Building Energy Initiative, Associate Professor Mehdi Seyedmahmoudian.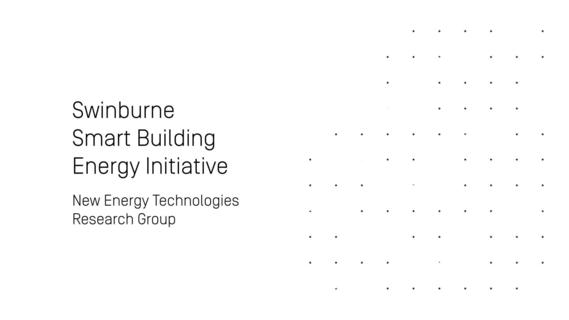 Swinburne Smart Building Energy Initiative
Video transcript [PDF 158KB]
Taking tech beyond our campuses
Swinburne is also making an impact on solar savings beyond the campus. Associate Professor Mehdi Seyedmahoudian and his research team have created a bird-inspired algorithm that can dramatically increase the efficiency of the more than 3 million solar panels on Australian roofs.
Solar panel efficiency can be impacted by up to 92% per cent by partial shading, where birds, dust or surrounding structures block out part of the sun. The new algorithm allows the shaded parts of the panel to be bypassed, saving solar owners money and generating greater volumes of renewable energy. 
Associate Professor Seyedmahmoudian says that many solar owners are unaware of the large impact that just a single bird or shaded panel can have.  
"People often spend a lot of money on solar panels, to increase efficiency, without knowing that these small changes on the rooftop, which are out of their control, can actually drop the solar panels' efficiency dramatically," he said.
A low-cost natural solution
Associate Professor Seyedmahmoudian and his New Energy Technologies Research Group found that 52 per cent of partial-shading conditions are created by birds.
"Our thinking was that if the problem is created by nature, then we need to implement nature to solve it," he says. 
"Obviously, we cannot control the birds, so we studied their movement to create a nature-inspired artificial intelligence. Now when you have birds over a panel, that section can be bypassed and you can get the highest efficiency possible from the rest of your solar panels." 
Because the system uses existing hardware and integrates the nature-inspired algorithm into the intelligent system, the technology doesn't come at a huge cost.
The smart software can also detect damaged or malfunctioning panels and divert unused power in the meantime. 
"People were focusing on infrastructure technology rather than the intelligence of the system. You cannot control the environment, so this is a very cost-effective way to improve the efficiency," Dr Seyedmahmoudian says. 
Coming to a roof near you
Associate Professor Seyedmahmoudian is now working with his research group so his solution can be installed directly into existing household setups.
"We are developing our own inverters within our research group, and also looking forward to exploring opportunities to work and share our knowledge with existing inverter companies," he said.
For the research team, the most important step is creating a pathway to implement and integrate this system on people's homes. 
"We want to be able to go to somebody's home and say, 'I'm going to give you this box, you don't need any new hardware, I'm just going to install this inverter' and as a result your solar system will dramatically improve."
Related articles
TikTok has a startling amount of sexual content – and it's way too easy for children to access

Explicit content has long been a feature of the internet and social media, and young people's exposure to it has been a persistent concern. This issue has taken centre stage again with the meteoric rise of TikTok. Despite efforts to moderate content, it seems TikTok's primary focus remains on maximising user engagement and traffic, rather than creating a safe environment for users.

Monday 20 November 2023

Sustainability
University

Green partnership to accelerate Swinburne's research impact

Swinburne has partnered with Twynam's Earth Fund to drive the commercialisation of decarbonisation research, accelerating the university's innovation ecosystem.

Tuesday 21 November 2023

Technology
Science
Sustainability

Swinburne and CSIRO launch state-of-the-art renewable hydrogen refuelling station

Swinburne University of Technology and CSIRO have launched a state-of-the-art clean hydrogen refuelling station, purpose-built for enabling hydrogen research.

Thursday 23 November 2023

We traced a powerful radio signal to the most distant source yet – a galaxy billions of lightyears away

Every day and night, hundreds of thousands of intense, brief flashes of radiation suddenly flicker on and then off all across the sky. These "fast radio bursts" are invisible to the naked eye, but to a radio telescope many almost outshine everything else in the sky for a few thousandths of a second.

Friday 20 October 2023

Technology
Health
Science

The new non-invasive brain scan techniques giving seizure sufferers a new lease on life

Swinburne University of Technology's cutting-edge non-invasive investigations for epilepsy are giving seizure sufferers like Stephenie Evans a second chance at a happy and healthy life. 

Monday 16 October 2023