ColdQuanta-Swinburne centre to turbocharge quantum tech
(Left to right) Grant Dooley, Professor Pascale Quester, The Hon John Brumby AO, Dr Werner van der Merwe and Professor Chris Vale at the launch of the ColdQuanta-Swinburne Quantum Technology Centre.
In summary
Breakthrough Victoria will invest A$29 million in US-based global quantum leader ColdQuanta to create the ColdQuanta–Swinburne Quantum Technology Centre.
The Centre will build on Swinburne's world leading strengths in cold-atom science to boost advanced manufacturing capability, drive workforce development and support breakthroughs with commercial potential.
Quantum technology uses the subatomic building blocks of nature to perform more efficient computer calculations, with important implications for health, transport, the environment, defence and more.
A $29 million investment from Breakthrough Victoria will help establish an Asia-Pacific quantum computing and technology facility at Swinburne University of Technology, in partnership with global quantum ecosystem leader ColdQuanta.
The ColdQuanta–Swinburne Quantum Technology Centre will support quantum breakthroughs with commercial potential and expand the state's quantum capability to create new industries and jobs to make Victoria a global player at the forefront of this critical technology.  
This era defining deep tech could revolutionise the way we live, work and travel - from emissions reductions and earth monitoring systems, pharmaceutical drug development, optimising flight routes and strengthening cybersecurity systems. 
"Swinburne's world-leading strengths in cold-atom science and technology make us a natural partner with ColdQuanta as we work together to grow the quantum industry in Victoria," said Swinburne Vice-Chancellor and President Professor Pascale Quester.
"By using atoms cooled to the lowest known temperatures in the universe, we are opening the pathway to a broad suite of quantum technologies that can potentially revolutionise the world as we know it.
"Working at the intersection of industry, research and investment, we are delighted to be helping upskill and reskill the next generation workforce required to power this revolution and bring people and technology together to build a better world."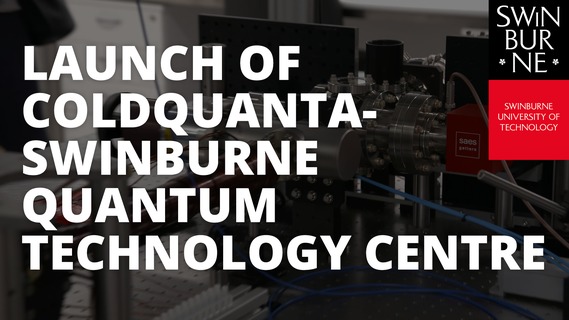 Launch of ColdQuanta-Swinburne Quantum Technology Centre
A revolution in technology
Quantum technology uses the subatomic building blocks of nature to perform more efficient computer calculations, improve navigation and timing systems, provide more secure communications, and deliver more accurate healthcare imaging through quantum sensing. However, these quantum breakthroughs require long-term investment and a skilled talent pool.
Building on shared expertise in cold atom science, ColdQuanta will partner with Swinburne University of Technology to bring world-class quantum capabilities to Victoria, connect the research community with industry and create opportunities for local job development and economic growth.
It will provide a gateway to the broader quantum community across other universities and strengthen Australia's sovereign capability in quantum technology.
"Quantum technology has the potential to transform many sectors, including the pharmaceutical, energy, finance, transport and communications industries," Breakthrough Victoria CEO Grant Dooley said. "Breakthrough Victoria's investment will accelerate R&D and commercialisation in quantum technology, attracting greater investment into Victoria.
"The investment will create jobs and develop world class skills development in quantum technology, while producing long-term, sustainable returns for Victoria."
Powering the next generation of quantum
The investment will fund:
ColdQuanta–Swinburne Quantum Technology Centre with world-class quantum capability;
Quantum Workforce Development Initiative to establish a world-leading education and training centre to prepare the future quantum workforce and address the global skills deficiency;
Advanced manufacturing capability with the potential local production of glass cells used in the cold atom method supporting the miniaturisation of quantum technology; and
Advanced manufacturing capability expansion in photonics development and miniaturisation. 
Australia's national science agency, CSIRO, estimated Australia's quantum technology industry has the potential to support 19,000 new jobs and generate $6 billion annual revenue by 2045.
One of the major challenges facing the quantum technology sector is the lack of a qualified workforce. ColdQuanta will work with Swinburne University of Technology to develop new programs to educate and train the next generation of workers to advance quantum information science, including STEM (science, technology, engineering, math) and related fields.
"Victoria's investment in quantum will drive economic growth and ultimately a competitive advantage for Australia," said ColdQuanta CEO Scott Faris.
"Building this Centre will attract new opportunities to Victoria and bring the expertise needed to leverage quantum technology to its fullest extent. ColdQuanta is excited to be part of building quantum capabilities in, with and for Australia.
"This partnership is an important milestone for ColdQuanta as it further expands our global presence and recognises the technical leadership of our hardware and software products."
Related articles
This dynasty won't end with Rupert: The Murdoch story is still being written

Australians grew up in a media landscape entirely dominated by Murdoch's mastheads and two generations came of age in a political landscape shaped by the whim of his media empire.

Monday 25 September 2023

Swinburne and Breakthrough Victoria create $18 million investment partnership to support Swinburne spinouts

Swinburne University of Technology will co-invest $9 million in investment, which is matched by Breakthrough Victoria, to create new ventures to drive commercialisation of our research. 

Thursday 21 September 2023

Swinburne alum and global HR leader unlocking people's 'inner hero'

Anoop Chaudhuri's career with Ford has spanned more than thirty years, three continents and 14 roles. He now leads HR for Ford and is passionate about helping individuals and teams thrive.

Thursday 21 September 2023

Substack newsletters are a literary trend. What's the appeal – and what should you read?

Every week since August 2021, Australian author Bri Lee has released a regular weekly Substack newsletter, News & Reviews, to thousands of paid and unpaid subscribers. The "news" offers commentary on current events and Lee's particular interests and knowledge areas.

Monday 18 September 2023

Electric vehicle fires are very rare. The risk for petrol and diesel vehicles is at least 20 times higher

Two electric vehicle fires have been reported in Australia this week. Five cars were destroyed after a lithium battery ignited in a car parked at Sydney Airport on Monday. Firefighters believed the battery had been detached from the car because it was damaged.

Friday 15 September 2023