Truth-telling takes the stage this reconciliation lecture
Commissioner Sue-Anne Hunter, Deputy Chair Yoorrook Justice Commission was this year's speaker at Swinburne's Annual Reconciliation Lecture
In summary
Commissioner Sue-Anne Hunter, Deputy Chair Yoorrook Justice Commission, gave the address at the 2022 Swinburne Annual Reconciliation Lecture
The Swinburne Annual Reconciliation Lecture is organised by the National Centre for Reconciliation Practice and advances understandings in the wider community on reconciliation
The Yoorrook Justice Commission is the first formal truth-telling body into injustices experienced by Indigenous Peoples in Victoria
Truth-telling took the spotlight as Commissioner Sue-Anne Hunter, Deputy Chair Yoorrook Justice Commission made her address and answered questions at this year's Swinburne Annual Reconciliation Lecture.
The Swinburne Annual Reconciliation Lecture is hosted by the National Centre for Reconciliation Practice. The annual lecture advances understandings in the wider community on reconciliation in Australia.
How to build reconciliation
At this year's event, proud Wurundjeri and Ngurai Illum Wurrung woman Commissioner Hunter asked: "How do you reconcile a history built upon falsehood?"
Many of us were raised with Australian history that starts with Captain Cook, with the world's oldest living culture a mere footnote.
"Data from the 2020 Australian reconciliation barometer showed that over one third of Australians surveyed disbelieved or were unsure of fundamental aspects of our shared history. That includes the presence of Indigenous peoples at the time of European arrival, the occurrence of mass killings of First Peoples, their incarceration, forced removal from their land and restriction of movement," says Commissioner Hunter.
On the other hand, 89 per cent of Australians believed in the importance of the country undertaking a formal truth-telling process. She explains that reconciliation begins by ending the silence.
Australia must reconcile with its past before we move forward – and this is a shared responsibility.
Executive Director Reconciliation Strategy and Leadership and Executive Director National Centre for Reconciliation Practice, Professor Andrew Gunstone, who emceed the event, said truth-telling is a critical component of a genuine reconciliation process and is a fundamental principle of Swinburne's Elevate 2020-23 RAP.
Professor Gunstone also shared that since the Annual Reconciliation Lectures and the Annual Barak-Wonga Orations were established in 2016, there has been a very diverse range of topics discussed – such as personal stories, astronomy, treaties, self-determination, and education – and the fundamental area of truth-telling has been present in all the lectures.
The importance of the Yoorrook Justice Commission
The Yoorrook Justice Commission is the first formal truth-telling body into injustices experienced by Indigenous Peoples in Victoria. The Commission was formally established in May 2021 to hear, record and address these truths historically until the present day.
"Yoorrook is anything but conventional," Commissioner Hunter says.
"Yoorrook is the result of continued advocacy and activism, and we owe a vast debt of gratitude to the generations of First Peoples who fought tirelessly for this. Yoorrook has been extremely hard fought-for."
Yoorook means 'truth' in the Wemba Wemba/Wamba Wamba language, which is spoken in the north-west of Victoria.
Yoorrook is a historic opportunity for both Indigenous Peoples and other Victorians to finally listen to each other and create a new story together. Together with Aboriginal and non-Aboriginal Victorians, it creates a path that leads to truth, understanding and transformation, and builds a shared understanding of our history.
Watch it back
Commissioner Hunter shared some of the initial findings from the Yoorrook Justice Commission, including two videos of interviews and emerging themes arising from the concerns of First Nations peoples.
She also encouraged all people to make a submission to Yoorrook and keep abreast of the stories coming out of the Commission, whether they are Indigenous or non-Indigenous.
Watch the full address: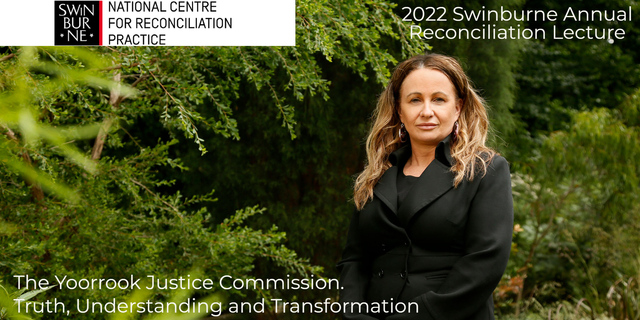 Related articles
Student News
Social Affairs
University

Celebrate Pride Week at Swinburne

Swinburne has a host of activities planned to celebrate Pride Week in line with this year's theme of Queer Intersections.

Tuesday 01 August 2023

Ageing in a housing crisis: growing numbers of older Australians are facing a bleak future

The collision between an ageing population and a housing crisis has left more older people in Australia enduring housing insecurity and homelessness. Our research, released today, explores how the scale of these problems among older people has grown over the past decade.

Thursday 10 August 2023

Photographic project to reveal the history of the Ngarrindjeri people

 An electronic archive will offer new insights into the way the people of the Ngarrindjeri Nation in south-eastern Australia lived over the past 150 years.

Tuesday 04 July 2023

What is 'heteroactivism'? How sports became a battleground for opposing LGBTIQ+ progress

There has been a sharp increase in public resistance and backlash to the advancement of LGBTIQ+ inclusion and equality recently. The UK charity Stonewall reports that LGBTIQ+ recorded hate crimes in the UK have increased in recent years, and in Australia, there has been a large uptick in anti-LGBTIQ+ related events.

Tuesday 27 June 2023

Student News
Social Affairs

Swinburne's Welcome Scholarship opens new doors

Swinburne's Welcome Scholarships continue to provide new opportunities for students from refugee and asylum seeker backgrounds to achieve their academic goals.

Tuesday 20 June 2023