Funding boost to prevent family violence
The first phase of the $2.5 million Family Violence Research Grants program was announced this month and Swinburne researchers have received funding across three projects
In summary
Swinburne researchers have received funding in the $2.5 million Family Violence Research Grants program
The three projects focus on children as victim-survivors, a review of the Victorian Multi Agency Risk Assessment and Management Framework, and interventions for young men and boys who use intimate partner violence
The projects pull in partner organisations to deliver impactful research
Swinburne research is putting data behind family violence interventions and service delivery in Victoria to learn how can we strengthen Victoria's response to family violence and better support victim-survivors.
The first phase of the $2.5 million Family Violence Research Grants program was announced this month by Victorian Minister for Prevention of Family Violence, the Hon. Ros Spence MP.
Swinburne researchers have been funded across several important projects to find strategies to improve family violence risk assessments and better support vulnerable groups, including children and First Nations peoples.
Swinburne Deputy Vice-Chancellor, Research Professor Karen Hapgood highlighted the obvious need for greater understanding in this complex and sensitive area.
"We have seen a shocking and disturbing increase in domestic, family and sexual violence in recent years, exacerbated by the pandemic. I have been greatly saddened by how often I see a news alert about another tragic death due to family violence," says Professor Hapgood.
"However, it is heartening to see Swinburne researchers working to prevent violence and change the toxic beliefs that perpetuate this problem in our society, as well as support victim-survivors and better protect at-risk children. For this issue where change is so difficult, it is incredibly important to have good research that shows which interventions, policies and services are effective."
Listening to children's voices and experiences
Children are commonly rendered invisible and limited data exist to track their journey through family violence services and support systems in Victoria. By taking a children's rights-based approach, Swinburne researchers and partners have been funded by Family Safety Victoria to highlight the need to understand children and pre-adolescents as having distinct rights, experiences, views and needs, which do not always align with those of their parents and caregivers.
Dr Georgina Dimopoulos, Dr Rachael Burgin and Dr Mitchell Adams will collaborate with Victoria's peak body for specialist family violence services, Safe and Equal, and Victoria's peak body for child and family services, Centre for Excellence in Child and Family Welfare. The study is titled 'Children's voices for change: A rights-based approach to understanding and implementing effective supports for children and pre-adolescents as victim-survivors of family violence'.
"This project is important because it responds to gaps in the evidence base in Victoria's family violence service delivery, in terms of understanding the needs of children and pre-adolescents aged 10 to 13 years experiencing family violence," says Chief Investigator, Dr Georgina Dimopoulos.
The research findings will be translated into a Children's Feedback Tool, to enable services that support children and pre-adolescent victim-survivors of family violence to centre children's experiences and to measure effectiveness through the lens of those experiences.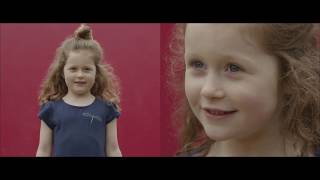 Because little people can be forgotten in times of crisis and sometimes it's the quietest voices that need to be heard the most. The Multi-Agency Risk Assessment and Management Framework (MARAM) offers a better way of listening to children and young people and hearing what they have to tell us about their own situation.

Systems that work for young people
The Victorian Royal Commission into Family Violence envisioned a Victoria free from family violence – and one that keeps people safe, responds to victim-survivors' needs and wellbeing, and keeps perpetrators in view. Central to this view is the Multi-Agency Risk Assessment and Management Framework (MARAM), which supports organisations to manage and assess family violence risk and improve the lives of our next generation.
Swinburne researchers Dr Rachael Burgin, Dr Georgina Dimopoulos and Dr Mitchell Adams – in partnership with Safe and Equal – have received a Family Violence Research Grant for their project to support the continued rollout of MARAM and build the capability of diverse workforces in aligning their policy and practice with the framework. They will identify barriers to and enablers of MARAM's implementation and investigate the experiences of victim-survivors who access these workforces.
The study is called, 'Strengthening Victoria's family violence risk assessment and information sharing: Understanding effective capability building to support MARAM implementation through the experiences of victim-survivors'.
A next generation better than before
Family violence is not just a 'women's issue'. Researchers are trying to find new ways to respond to intimate partner violence and change this behaviour in young men and boys. In collaboration with Western Sydney University, No To Violence and Drummond Street Services, Swinburne researchers Dr Rachael Burgin and Dr Joel McGregor are looking at the gap in interventions for these younger people. While overlooked, this is a critical time – a key window where beliefs and behaviours can be changed early. This should, ultimately, keep more families safe.
The study titled, 'Interventions for young men and boys using Intimate Partner Violence (IPV) in early relationships: Analysing identification, referral and practices, and investigating motivating and protective factors for targeted intervention', is a two-year project.
Related articles
Too many renters swelter through summer. Efficient cooling should be the law for rental homes

Summer is coming – and it's starting earlier, becoming hotter and lasting longer. As the hot weather hits, many renters will be sweltering in their homes. The World Health Organization recommends a list of actions for people to deal with heat. At the top of the list is "keep your home cool". But for many renters, this isn't possible.

Wednesday 22 November 2023

The Optus outage shows us the perils of having vital networks in private hands

Optus chief executive Kelly Bayer Rosmarin is set to front a Senate inquiry this week, probing last week's colossal outage which left millions stranded without internet or mobile phone connectivity for a staggering 14 hours. The company has faced severe critisism for its handling of the outage, including for its lack of urgency in updating the public.

Wednesday 15 November 2023

Swinburne and Oracle partner to enhance student employability

Swinburne and Oracle have partnered to provide students with valuable industry interactions.

Tuesday 05 December 2023

University
Social Affairs

In 5 years, this Australian astrophysics lab reached 50% women. Here's how they did it

Many organisations, from community sporting groups to the United Nations, have set themselves a target of gender parity: ensuring half of staff or members are women. Gender parity is desirable because training and retaining equal halves of a population's available talent influences an organisation's growth, problem-solving capacity and future-readiness.

Friday 17 November 2023

Swinburne students win third consecutive Advertising Capstone Challenge

Four Swinburne students have designed a winning campaign for BONDS Bloody Comfy Period Undies. 

Friday 10 November 2023