New research shows the way families watch TV is changing
Popular Australian kids' TV show, Bluey, is an example of what parents (and their kids) love about local content.
In summary
A Swinburne-based research team have published a major report on how Australian audiences discover, consume and value local children's television in the streaming era
The research is a collaboration with the Australian Children's Television Foundation (ACTF), the production and policy hub behind iconic children's television shows such as Round the Twist, and RMIT University
The ACTF have described how this research will inform their strategic thinking and planning, including their partnerships with streaming platforms like Stan and Netflix
What are parents' favourite TV shows to watch with their kids? How important is it that kids' TV is Australian? Which are the best streaming services for children? 
A Swinburne-based research team, Australian Children's Television Cultures, have completed a nationwide study of parents about how Australian audiences discover, consume and value local children's content.
The report, Parents' Perspectives on Australian Children's Television in the Streaming Era, covers parents' ideas of what makes "good" Australian children's television, the use of media platforms and the importance they place on diverse representation.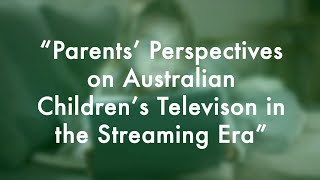 What makes good Aussie kids' TV? Hear from parents why local content is important to them – from the typically Aussie 'larrikinism' to sun smart messages.
Why we love Australian-made kids' TV
The researchers found that seven out of 10 parents believed that good Australian children's television is "fun and engaging".
Survey responses showed that parents valued "relatable" and "authentic" programming, including Australian accents, settings and iconography; recognisable depictions of family dynamics; and content that doesn't take itself too seriously (a "larrikin" sensibility). These qualities can all be found in kids' TV phenomenon Bluey, the Emmy-winning animated comedy about a Queensland-based family of Blue Heeler dogs. Parents identified Bluey as the show most watched by their children, as well as the kids' TV show they are most enthusiastic about watching themselves.
As one survey respondent, a Western Australia mum-of-two, observed, "Round the Twist and Bluey are the best because they show kids being passionate and irreverent and funny and adults handling their lives with patience, respect and humour, as well as being dorks and messing up."
©
Round the Twist gained an international following as a challenging, subversive show: one that combines horror, dark fantasy and the grotesque.
Parents highlighted the importance of children's content having an educational component, but "education" was often conceptualised beyond formal learning to include positive messages and life skills. Parents emphasised the importance of locally produced shows to provide Australian "everyday" education, including about water and sun safety, history and culture, Australian geography and preparing for school.
Camilla is a mum-of-two in an Australian-Québécois family living in Queensland. She explains, "Australian stuff was definitely more [relevant], especially Play School: it was outdoor activities, and being sun smart, and those sort of things that were relevant to us, whereas a lot of the French-Canadian stuff was how to slide down snow."
How we watch TV has changed
The research found that 94 per cent of households still used television sets to watch children's shows, but that the top 10 most popular "channels" were almost exclusively streaming services. The ABC was a trusted source of children's television; nine out of 10 parents identified that they use at least one of the ABC's services, with 65 per cent of parents selecting iView.
Dad-of-one Adam says, "I never actually just watch normal TV. We only ever use the apps and then watch Bluey … I don't know actually which [channel] it is. I just use the voice thing and just say 'Bluey', and then it comes up."
Other highly ranked services in this research included Netflix (77%), YouTube (69%), and Disney+ (56%). Streaming services without clear and well-organised kids' sections – such as Amazon Prime Video and Apple TV+ – were not used as often to view children's content.
Parents also reported that older children move away from free-to-air options (and their associated streaming services, such as iView) towards subscription video on demand services (e.g. Netflix) and YouTube. In fact, parents reported eight out of 10 older children (12 and over) watched YouTube compared to only 40 per cent of younger children (four and under). Older children also have a greater variety of "most watched" shows when compared to younger children, which may be reflective of the wider array of content available on streaming.
©
The Swinburne-based research group teamed up with the Australian Children's Television Foundation (ACTF) on an innovative four-year research project to help shape the future of kids' television in Australia
Why we need to watch what we watch
Swinburne researcher Associate Professor Liam Burke says, "Research that prioritises the audience is essential to help producers, policymakers and other stakeholders understand the complex role that local children's television plays in contemporary Australia."
This research is supported by the Australian Children's Television Foundation (ACTF), which is the national children's media production and policy hub behind much-loved shows like Round the Twist, Dance Academy and Hardball, and is conducted in collaboration with RMIT University.
ACTF CEO Jenny Buckland also noted of the importance of this project.
"This research is part of a larger four-year study exploring the impact of Australian children's television from every angle. The findings will inform our strategic thinking and planning," says Buckland.
The ACTF recently announced collaborations with streaming services Stan and Netflix, with Buckland adding, "This report demonstrates that Australian parents value shows that they can co-view with their children on popular streaming platforms, which encourages us to forge ahead with partnerships with those platforms."
The Australian Children's Television Cultures research project is based at Swinburne's Centre for Transformative Media Technologies. The authors are Swinburne University of Technology's Associate Professor Liam Burke, Dr Joanna McIntyre and Dr Jessica Balanzategui, and RMIT University's Dr Djoymi Baker.
Related articles
Film and television
Student News

N'Ouiblez Jamais: a student film on the lived experiences of WWII

Produced by three Swinburne Film and TV students, French documentary film N'Oubilez Jamais is about the experiences of a young Jewish woman during WWII.

Friday 01 September 2023

Film and television
Design
Student News

Students skewer publishing world in new Truce Films web series

Swinburne students have played a major role in producing Monologue, a satirical web miniseries by award-winning production company Truce Films.  

Friday 11 August 2023

What The Jetsons got right, and very wrong, about the future of work

Sixty years ago the animated series The Jetsons finished its first and only season before being cancelled. Just 24 episodes were broadcast between September 1962 and March 1963.

Thursday 06 April 2023

Swinburne film and TV research leads new Zombie film season

Swinburne is collaborating with ACMI, the University of Pittsburgh and RMIT University to present a brand new film season, Focus on the Dead

Friday 17 February 2023

Design
Film and television

Swinburne alum's Hollywood screen success

Producer, screenwriter and Swinburne alum, Monica Foley, has received Hollywood acclaim for a script she started writing during one of her Master of Creative Writing classes at Swinburne. 

Tuesday 21 February 2023