Carman's Kitchen founder Carolyn Creswell's biggest lessons
Carolyn Creswell has been leading Carman's Kitchen for nearly 30 years and has learnt many lessons during this time.
In summary
Carolyn Creswell, founder of Australian food empire Carman's Kitchen, shares her key lessons for business owners
Mrs Creswell was a guest speaker at the Australian Graduate School of Entrepreneurship (AGSE) at Swinburne
Company culture, embracing paranoia and exploring the market are just three of her areas of focus
Australian entrepreneur, founder and CEO of Carman's Kitchen, Carolyn Creswell, has learnt a lot in her almost 30 years as a business owner.
The 2012 Telstra Business Woman of the Year delivered Swinburne's Australian Graduate School of Entrepreneurship (AGSE) annual oration, outlining her journey and answering questions.

From being the 'muesli girl' who bought a small business for $1000, to leading a global food brand exporting 19 different ranges across 32 countries, the mum of four shares her biggest learnings.

Culture is key

Despite selling a product every second, Mrs Creswell has never been driven by the size or success of the company.

'How we interact is super important. One of the successes of Carman's is the culture within. We're just a random bunch of people out in the 'burbs of Melbourne and here we are designing products that we are selling around the world.'

Carman's Kitchen has never had investors, allowing Mrs Creswell to run the brand as she desires. The result was winning Employer of Choice (1-99 Employees) at the 2019 Australian HR Awards.

With 94 per cent staff engagement and benefits such as free barista-made coffee, discounted chef-made meals for lunch, Carman's Kitchen is setting the standard high for employee engagement in businesses.

'Most people don't leave a workplace because they don't believe in the company, it's because they don't believe in the manager. Managers set the culture of their team.'

Mrs Creswell says it's important that an employee's wellbeing and family is made to feel important, and that managers must check in.

'If you treat people with respect, that respect comes back.'

Paranoia can be healthy

It has taken almost 30 years for Carman's Kitchen to get to where it is today. During this time, there has been many struggles, such as being dropped from a major supermarket for 18 months.

'Going through adversity is the thing that gives you a healthy paranoia,' Mrs Creswell says. The possibility of losing all your success is something that aspiring entrepreneurs should treasure, because it forces you to make the best decisions and shows how much you care.

'I'm really proud that I care as much as I do. Purpose gives you happiness and personal satisfaction. If something goes wrong, there's a point where you can only feel sorry for yourself for a little while.'

'It's not rejection forever, it's just rejection for now.'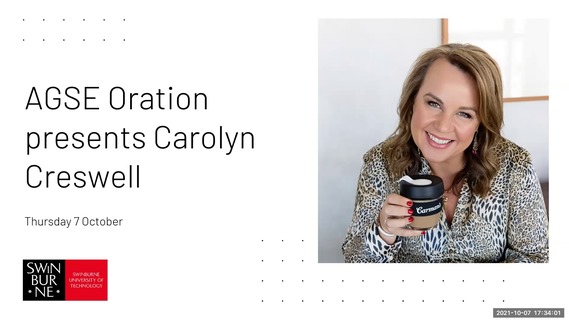 The AGSE Oration presents Carolyn Creswell
Evaluate the market
Catering to consumers wants and needs has never been more important as businesses must act as 'worldwide citizens'.
Mrs Creswell says limited edition products, international trends such as plant based and low sugar foods, and sustainability are a focus for Carman's Kitchen.

'Give yourself space in the day to listen to your gut', she says. Whether that be in the car or in the shower, it's crucial to reflect on the decisions that you believe are best.

COVID-19 has forever changed Carman's Kitchen, with consumers spending more time in supermarkets than ever before. The creativity and pitching of new products that cater to an 'at home' lifestyle such as breakfast products, rather than bars that are easy to grab on the go, is something that Mrs Creswell says is crucial to succeed going forward.

'Every five years when I look back on the business it almost needs to be radically different,' she says. 'The role of an entrepreneur is challenging people and to make sure they're being as creative as possible.'

'There is always something to learn from someone else's story.'
Related articles
Swinburne business and carpentry alum building up apprentices

With four qualifications under his toolbelt and a successful building company to his name, Swinburne alum David Vastbinder is using his experiences to give back to apprentices and the industry. 

Tuesday 12 September 2023

Swinburne alum and global HR leader unlocking people's 'inner hero'

Anoop Chaudhuri's career with Ford has spanned more than thirty years, three continents and 14 roles. He now leads HR for Ford and is passionate about helping individuals and teams thrive.

Thursday 21 September 2023

Accelerator Program paves the path to entrepreneurship excellence

After an intensive 12-week journey in the Accelerator Program 2023, five startups took the stage and presented their awe-inspiring pitches at Swinburne's Demo Night.

Thursday 14 September 2023

Australian businesses at risk due to poor information governance

A new survey by Swinburne University of Technology and Astral Consulting Services has found that industry needs a new approach to enterprise information management and information governance. 

Tuesday 22 August 2023

Swinburne students take home first prize in international Beta Alpha Psi competitions in Las Vegas

Five students from Swinburne's Xi Sigma Beta Alpha Psi chapter have taken home first place in international competitions at the Beta Alpha Psi Annual Meeting in Las Vegas. 

Tuesday 22 August 2023