Levelling up student spaces at Swinburne
Razor's Study Space, located next to Glenferrie Station, will open in Semester 2
In summary
Upgrades are happening across Swinburne's campuses

New gaming stations are coming to

Croydon and Wantirna

A half court, Razor's Study Space and an esports centre will open at Hawthorn in Semester 2

Through COVID-19 and multiple lockdowns, student spaces at Swinburne's campuses have been getting an upgrade.
'Our ambition is to develop a campus and spaces that create compelling experiences with students, staff and industry partners. Spaces that facilitate a deep sense of belonging where people come to network, partner and learn from one another,' says the Director of Swinburne's Facilities and Services Group, Mhairi Donohoe.
With students expected to spend more time on campus in the second half of the year, there will be many opportunities to enjoy the new and refreshed spaces, including a new half basketball and netball court, study spaces and esports centre.
Swinburne gets sporty
Currently under construction next to the Aunty Dot Peters AM Flowering Grasslands in Hawthorn, students and staff will soon be able to enjoy a game of basketball or netball on the new half-court. Both the court and seating for spectators will be available in Semester 2. It will be a welcome addition for the Swinburne Netball Club, which is open to all students who want to play.
Meanwhile, students at Croydon will find their sports court looking like new from next month after it undergoes a deep clean. Soon after, they'll discover a new gaming station – a PlayStation and controllers – in the cafeteria.
New gaming stations and activities for the Wantirna campus are also in planning – so stay tuned for those developments.
©
Swinburne students show off the new Razor's Study Space in The Junction, open in Semester 2
Razor's Study Space
Swinburne will open a new, quiet study space at The Junction, centrally located next to Glenferrie Station, in Semester 2. 
'The Junction has been a journey to revitalise over the past 18 months, and we're excited to repurpose an old-favourite with more students returning to campus,' says Associate Director, Student Experience at Swinburne Student Life, Ella Scorringe.
Previously a nightclub, then a pizza place, The Junction has been transformed yet again. Now home to Razor's Study Space, it's the perfect spot to go to between classes. Students can use their swipe cards to access the new space to focus on readings, assignments and revision in groups or solo.  
Razor's Study Space will open soon, but there are more developments in the pipeline at The Junction, including spaces for clubs and leadership activities. 
"I think our students will be most excited by the opportunity to collaboratively design the finishing touches to Razor's Study Space on the ground floor. And there is still so much to come!" Ella says.
Upstairs, students will have access to a new queer room and women's space. This space will also host large group meetings and collaboration spaces after student feedback uncovered a need for more places where groups of more than four people can work together. These spaces are expected to open in 2022.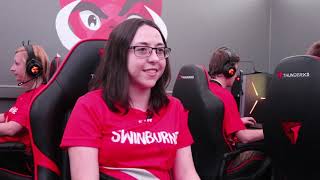 Join a club as an online student: esports
Hear about the Swinburne Esports Club from Swinburne Online student, Jennifer
Esports centre

The Esports Club is one of Swinburne's largest clubs, which is perhaps unsurprising for a university that offers a range of game design and animation degrees and diplomas.
The Swinburne Esports Club will have a new high-tech home at The Junction in Semester 2. Their new space will host computer stations and seating, high-performance gaming computers and red LED lighting conducive to competitive play.
The club welcomes newcomers and professionals alike to play any competitive game – including, but not limited to, League of Legends, Call of Duty, Fortnite, Street Fighter, DOTA 2, FIFA and Pokemon. They compete in more than 13 local and global competitions every year and host casual competitions and gaming days throughout the year.
The made-for-purpose space will allow the club to better enjoy, learn about and participate in competitive online gaming at Swinburne.
Related articles
Swinburne shines in ARWU Global Ranking of Academic Subjects 2023

Swinburne University of Technology has achieved strong results in the ARWU Global Ranking of Academic Subjects 2023.

Thursday 02 November 2023

Swinburne commits to improving international student employment outcomes

Swinburne University of Technology is proud to announce its commitment to improving international student employment outcomes under Victoria's Commitment to Action campaign.

Friday 17 November 2023

Swinburne celebrates 60 years of Work Integrated Learning

Swinburne is celebrating 60 years of Work Integrated Learning and building on our rich history in this space to deliver on our strategic plan.

Thursday 30 November 2023

University
Social Affairs

In 5 years, this Australian astrophysics lab reached 50% women. Here's how they did it

Many organisations, from community sporting groups to the United Nations, have set themselves a target of gender parity: ensuring half of staff or members are women. Gender parity is desirable because training and retaining equal halves of a population's available talent influences an organisation's growth, problem-solving capacity and future-readiness.

Friday 17 November 2023

Sustainability
University

Green partnership to accelerate Swinburne's research impact

Swinburne has partnered with Twynam's Earth Fund to drive the commercialisation of decarbonisation research, accelerating the university's innovation ecosystem.

Tuesday 21 November 2023