Video shows construction of Swinburne library 50 years ago
The library at Swinburne's Hawthorn campus was most recently refurbished in 2019 and is a modern, inviting space for students to study and collaborate
In summary
Historical footage has been recovered showing the construction of Swinburne's Hawthorn library in 1971
Swinburne was the first of the Victorian Colleges of Advanced Education (CAE) to have a building designed exclusively as a library
Another video shows Malcolm Fraser, then Minister for Education and Science, opening the library in 1972
A historical film has been recovered, 50 years since construction started on the library at Swinburne's Hawthorn campus.
The digitised 16mm colour film shows the transformation and construction of the library, which is officially known as the Bernard Hames Library, in honour of the Director of Swinburne from 1966-1970. Hames was instrumental in forming the library.
Architecture firm Godfrey and Spowers were commissioned to design the library in the late 1960s. Construction began in 1970 by Prentice Building Pty. Ltd, overseen by the then Chief Librarian Jessie Harley.
When it was completed in 1971, Swinburne was the first of the Victorian Colleges of Advanced Education (CAE) to have a building designed exclusively as a library.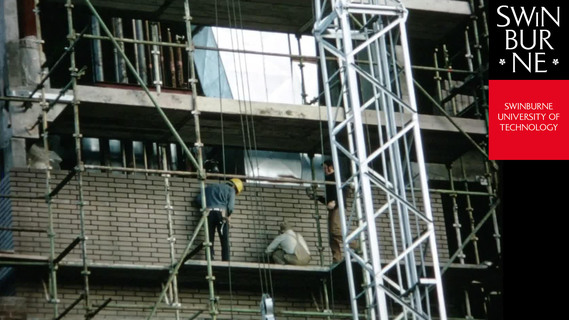 Construction of the Swinburne Library, 1971
Video showing the construction of the Swinburne library in 1971
The heart of the university
Simon Huggard is the current Deputy Director of Library Services at Swinburne. He enjoys leading the library team to support students and academics with their study and research needs.
Mr Huggard started this role in 2020. He has been a part of the library community since 1986 and has watched its evolution over the years.
'The library sits centrally at the heart of the university,' he says. 'We're a neutral, knowledge-based space and service which supports most staff and students at Swinburne,' he says.
He agrees with the words Former Prime Minister the Honourable Malcolm Fraser said when he opened the library in 1972, that libraries are 'the most important part of any institute of learning or higher education.'
The library also houses the Swinburne Commons digital media collection, Swinburne Research Bank digital repository of publications and the Swinburne Art Collection.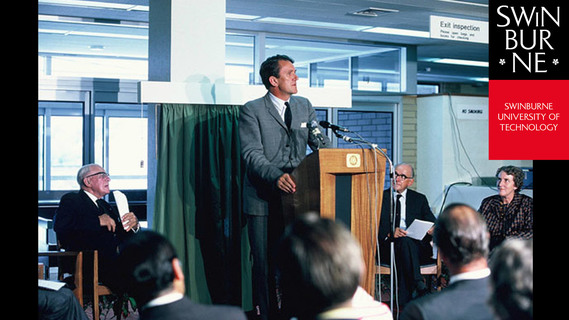 Malcolm Fraser opening Swinburne library, February 1972
Video of The Honourable Malcolm Fraser opening the Swinburne library on 11 February 1972 as Minister for Education and Science
©
The current Deputy Director of Library Services, Simon Huggard, was part of the Swinburne library in 1986 and returned to Swinburne in 2020
The transformation of research
Swinburne's library has been transformed to meet the evolving needs of the university.
It was refurbished in 2019 to seat almost 2,000 people and includes the designated Latelab study space, open 24/7. A team of 33 staff members assist more than 43,000 students and researchers.
The resources available have also expanded significantly. While digital content did not exist in 1971, it now forms 95 per cent of what the library owns, with 100 million items available on the Library search interface. With COVID-19 restrictions leading to more learning and working from home, digital usage increased last year by 30 per cent and more than ten million downloads surpassed.
The library will continue to embrace technological advances and research needs in the future. Mr Huggard suggests the search for resources in the next 50 years will become more personalised and even easier to navigate.
'I'm hoping this won't be in a creepy Facebook kind of way, but something really tailored to meet learning and research needs, with library staff supporting students and researchers through this journey.'
Related articles
Swinburne shines in ARWU Global Ranking of Academic Subjects 2023

Swinburne University of Technology has achieved strong results in the ARWU Global Ranking of Academic Subjects 2023.

Thursday 02 November 2023

Swinburne commits to improving international student employment outcomes

Swinburne University of Technology is proud to announce its commitment to improving international student employment outcomes under Victoria's Commitment to Action campaign.

Friday 17 November 2023

University
Social Affairs

In 5 years, this Australian astrophysics lab reached 50% women. Here's how they did it

Many organisations, from community sporting groups to the United Nations, have set themselves a target of gender parity: ensuring half of staff or members are women. Gender parity is desirable because training and retaining equal halves of a population's available talent influences an organisation's growth, problem-solving capacity and future-readiness.

Friday 17 November 2023

Sustainability
University

Green partnership to accelerate Swinburne's research impact

Swinburne has partnered with Twynam's Earth Fund to drive the commercialisation of decarbonisation research, accelerating the university's innovation ecosystem.

Tuesday 21 November 2023

Congratulations to Swinburne's 2023 highly cited researchers

Seven Swinburne academics have been named in the Clarivate Highly Cited Researchers list for 2023, ranking in the top one per cent by citations for their field.

Thursday 16 November 2023