Cybersecurity expert receives Lifetime Achievement Award
Senior Security Analyst Chris Goetze was awarded a Vice-Chancellor's Lifetime Achievement Award.
In summary
Chris Goetze has been awarded with a Swinburne Lifetime Achievement Award.
His career has spanned from Swinburne student to Senior Security Analyst.
Chris developed the 'Internet in a box' for offsite, secure wireless connection.
Chris Goetze is Swinburne's go-to person for cybersecurity threats and complex technology issues. He's an expert of our systems, workflows and architecture, an innovator, a calm presence in times of stress who has worked tirelessly to protect Swinburne and our community throughout his career.
Those are just some of the reasons Chris was honoured at Swinburne's Vice-Chancellor's Awards 2020 with a Lifetime Achievement Award.
For many at Swinburne, Chris Goetze is the face of cybersecurity. He's always the first on hand – often out of hours – to thwart phishing campaigns and cyber threats. But he's not just reactive. Chris' involvement in wider cybersecurity networks means he learns about potential vulnerabilities or issues early, and works to mitigate Swinburne's exposure before it becomes a problem.
"His peers describe him as dedicated, composed, a cool head, and a critical thinker in times of need," says Vice-Chancellor and President, Professor Pascale Quester.
"He is known as an outstanding cybersecurity analyst. He regularly goes above and beyond to protect Swinburne and our community, and for that we are forever grateful," she adds.
From student to leader
Chris started at Swinburne as a student. He studied electrical engineering, then transferred to electronics. He got a job in the AV department changing the globes in overhead projectors before jumping into a role with IT support. He's now a Senior Security Analyst and is instrumental in protecting Swinburne's reputation, data, technology and people.
Chris has grown up alongside the university, from a kid straight out of high school to a married father of two.
People sometimes ask him, 'Isn't it boring doing cybersecurity at a university?' To that, Chris explains that in the morning he could be securing an MRI medical scanner and in the afternoon he could be ensuring PhD students are able to submit their assignments safely and on time. Where else can you get that kind of variety?
©
Chris' 'Internet in a box' invention – a small, portable suitcase that provides offsite access to a secure wireless Eduroam network.
Thinking outside the box
Innovation and a desire to improve cybersecurity measures are hallmarks of Chris' career. He has a reputation for solving issues and enhancing user experience.
Chris was an early adopter of digitising physical security systems. He has played a pivotal role in modernising door access card systems and he could see the potential for capabilities such as 'people counting' well ahead of time. You can access our car parks with ease thanks to Chris' efforts to deploy security number plate recognition systems. He was instrumental in establishing our first cybersecurity incident management tool to capture information, correlate data and present security events for further analysis. 
But it is Chris' 'Internet in a box' innovation that was a standout. He developed the solution – a small, portable suitcase – to provide access to a secure wireless Eduroam network for people offsite.
Protecting the university
Chris is proud that he, and his colleagues, have protected the university for so long without a major attack. Most people aren't aware how much cybersecurity is needed to protect them day-to-day – and that's the way it should be.
He is also proud of how the IT team came together to support a swift transition to working from home last year. They had about two weeks, and they pulled off a fairly seamless transition so staff and students could get on with their work and study.
Thanks to the hard work of Chris and people like him, Swinburne is ready to deal with unforeseen challenges and threats of the future. But their achievement often goes unnoticed, because success looks like business as usual: no disasters, no disruptions. With this award, we recognise the impact of Chris Goetze's cybersecurity expertise, commitment and dedication to protecting the Swinburne community.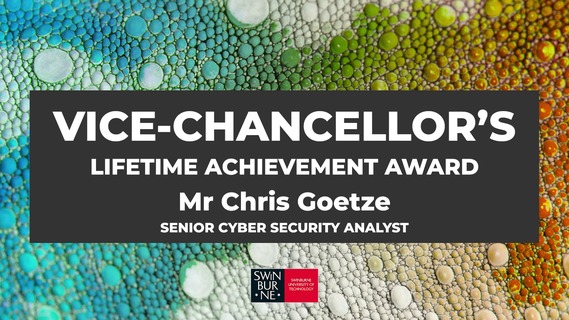 Vice-Chancellor's Awards 2020 - Lifetime Achievement Award, Mr Chris Goetze
Related articles
Swinburne and Breakthrough Victoria create $18 million investment partnership to support Swinburne spinouts

Swinburne University of Technology will co-invest $9 million in investment, which is matched by Breakthrough Victoria, to create new ventures to drive commercialisation of our research. 

Thursday 21 September 2023

Swinburne alum and global HR leader unlocking people's 'inner hero'

Anoop Chaudhuri's career with Ford has spanned more than thirty years, three continents and 14 roles. He now leads HR for Ford and is passionate about helping individuals and teams thrive.

Thursday 21 September 2023

Electric vehicle fires are very rare. The risk for petrol and diesel vehicles is at least 20 times higher

Two electric vehicle fires have been reported in Australia this week. Five cars were destroyed after a lithium battery ignited in a car parked at Sydney Airport on Monday. Firefighters believed the battery had been detached from the car because it was damaged.

Friday 15 September 2023

Accelerator Program paves the path to entrepreneurship excellence

After an intensive 12-week journey in the Accelerator Program 2023, five startups took the stage and presented their awe-inspiring pitches at Swinburne's Demo Night.

Thursday 14 September 2023

Vice-Chancellor Professor Pascale Quester reappointed for second term

The Swinburne University of Technology Council has approved the reappointment of Vice-Chancellor and President, Professor Pascale Quester, for a second five-year term.

Monday 07 August 2023