The university that leans into disruption
The disruption of the past year has provided an opportunity for Swinburne to differentiate itself in a competitive landscape, says Vice-Chancellor Professor Pascale Quester.

In summary
Swinburne's Chancellor, Professor John Pollaers OAM and Vice-Chancellor, Professor Pascale Quester share their bold vision for the future of higher education in Executive search firm, Odgers Berndtson's OBSERVE magazine.
Chancellor of Swinburne University of Technology, Professor John Pollaers OAM and Vice Chancellor and President, Professor Pascale Quester outline their bold vision for the future of higher education
Like many other industries, the higher education sector is currently undergoing a period of huge disruption.
One institution, Swinburne University of Technology in Melbourne, Australia, is responding with a vision for the future that sees it lean into that disruption. It includes embracing research-led innovation, forging close links with advanced manufacturing and laying the groundwork for Industry 4.0.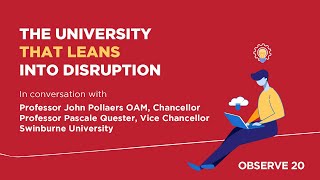 Industry meets academia
Before taking up the position of Chancellor of Swinburne University of Technology, John Pollaers had a distinguished career in the consumer products and advanced manufacturing industries. It is this commercial background that has helped shape his strategy for the future of the university – particularly when it comes to gathering and deploying the best of science and technology to pursue the university's goals.
"Part of the disruption that higher education has gone through is that it no longer can depend on government for funding. There's a recognition that if we work more closely with industry, with the best of our international colleagues, then in many respects that vision is potentially far greater than that of government," said Pollaers.
"We talk a lot about Industry 4.0, but we also talk about Society 5.0, where we bounce economic growth and the drive for technological change with inclusion, with social equity and sustainability. I think the opportunity to think about ourselves as one of the largest high-tech businesses in the country, deeply connected with the community differentiates us."
Disruption as an opportunity
Pascale Quester joined Swinburne University of Technology earlier this year as its Vice Chancellor and President. It is a role that demands strategic, innovative leadership, a deep understanding of academia, commercial acumen and the ability to create partnerships at a local, regional and international level.
Previously Deputy Vice-Chancellor and Vice-President (Academic) at the University of Adelaide, Quester's qualifications include a Bachelor of Business Administration from her native France, a Master of Arts (Marketing) from Ohio State University in the US, and a PhD in marketing from Massey University in New Zealand.
"Pascale joined us in the middle of the lockdown so already we've got somebody who's been able to stand back and look at the university without being forced into the traditional ways it was operating but think about it in a different way," said Pollaers.
Quester, too, believes the university sector is "ripe for disruption".
"As traumatic as this year has been, it has only precipitated something that was long coming," she said.
"Our students have had a moment of reckoning; they were thrown into a world where online delivery of material was something they had to get used to. And that has been confronting, but also a revelation of sorts. Education will be quite a different thing in the future than it was in the past."
Quester believes that despite the pressure caused by the COVID-19 pandemic, it has provided an opportunity for the university to differentiate itself in a competitive landscape.
"For a couple of decades, there has been a great degree of homogeneity – everybody trying to do the same thing. In marketing terms, we call it a 'me too' strategy. Now, there is an opening up of the sector and a realisation that people can be successful in different ways. And for Swinburne University of Technology, we've benefited because the case for technology has been obvious for everyone.
"This year demonstrated the benefit that technology can offer to society. The case for technology to improve society, to connect people, to advance knowledge and to share in a way that possibly wasn't imagined, that's a great strength. If that's what the future looks like, we will be at the forefront."
Bold vision
Together the Chancellor and Vice Chancellor are setting out to achieve their vision – and their relationship is critical to the success of their strategy.
"If you're going to attempt a bold and courageous strategy, you want your Chancellor to have your back," said Quester.
"There must be trust that we're going in the right direction. But if we stumble along the way, or if there are some obstacles, we need to have the resilience to say, 'this is the way we want to go because that is the way that we think we can deliver value.'"
Pollaers explains that his time spent as CEO of public companies has shaped his view of the role boards should play.
"I don't see that the organisation reports to the council, nor does it report to me. We're there to help and support Pascale with the vision she sets out for the university, and to help support clearing the blockages, enabling higher levels of risk to be taken, and hopefully bringing some experience to bear. We're there to be an accelerant and catalyst by enabling us to take greater risk.
"Pascale has been leading an extraordinary process of engagement since she's been on board. Going deeper with all stakeholders – the professional team, the academic team, the student body – to really understand how we can raise the level of experience, deepen the level of engagement, embolden the sort of questions they're asking, and encourage a 'no regrets' approach to expanding our research impact."
Ultimately, Pollaers believes that Swinburne University of Technology has a golden opportunity to play an integral role in the journey that many people will take in the future. He noted: "We're there to assist and maximise the human capital that a technology-rich culture requires, and that's a very exciting vision."
This article has been republished with permission from Odgers Berndtson. Read the original article here.

Related articles
This dynasty won't end with Rupert: The Murdoch story is still being written

Australians grew up in a media landscape entirely dominated by Murdoch's mastheads and two generations came of age in a political landscape shaped by the whim of his media empire.

Monday 25 September 2023

Swinburne and Breakthrough Victoria create $18 million investment partnership to support Swinburne spinouts

Swinburne University of Technology will co-invest $9 million in investment, which is matched by Breakthrough Victoria, to create new ventures to drive commercialisation of our research. 

Thursday 21 September 2023

Swinburne alum and global HR leader unlocking people's 'inner hero'

Anoop Chaudhuri's career with Ford has spanned more than thirty years, three continents and 14 roles. He now leads HR for Ford and is passionate about helping individuals and teams thrive.

Thursday 21 September 2023

Substack newsletters are a literary trend. What's the appeal – and what should you read?

Every week since August 2021, Australian author Bri Lee has released a regular weekly Substack newsletter, News & Reviews, to thousands of paid and unpaid subscribers. The "news" offers commentary on current events and Lee's particular interests and knowledge areas.

Monday 18 September 2023

What the *#@%?! How to respond when your child swears

There is little evidence to suggest children's swearing, or swearing in general, has become more frequent. But in 2013 a US study found by the time children start school "they have the rudiments of adult swearing" (about 42 taboo words).

Friday 22 September 2023