Engineering mentor honoured with Lifetime Achievement Award
Professor Syed Masood presenting at the Cold Spray Additive Manufacturing Conference in Melbourne in 2011.
In summary
Professor Syed Masood has been awarded a Lifetime Achievement Award at the 2020 Swinburne Vice-Chancellor's Awards for his success and commitment to research and teaching.
Swinburne's award-winning advanced manufacturing postgraduate degrees were developed by Professor Masood.
Professor Masood's research has had global reach and impact.
What does it take to lead one of the most successful engineering programs of its kind? Professor Syed Masood knows. 
Professor Masood has been a key architect of the advanced manufacturing postgraduate program at Swinburne University of Technology. He has managed, developed and driven the accreditation of the Master of Engineering (Computer Integrated Manufacturing) and the Master of Engineering (Advanced Manufacturing Technology). 
In spearheading these programs, he's played a key role in marketing too. When he has presented to prospective international students at overseas recruitment events, those students have enrolled in impressive numbers – clearly inspired by what he has to say.
As a leading researcher in the field of advanced manufacturing, it's not just students he's inspiring. Professor Masood's peers are responsible for his nomination in the 2020 Swinburne Vice-Chancellor's Awards and it would have been no surprise for anyone watching when he received a Lifetime Achievement Award.
Building a legacy
Professor Masood started at Swinburne in 1988, in what was then the Department of Manufacturing Engineering and a research centre called the Computer Integrated Manufacturing Centre. He is now Professor of Mechanical and Manufacturing Engineering in the School of Engineering.
Professor Masood has led the advanced manufacturing technology postgraduate program for more than two decades. It's thanks to his efforts that the program has garnered international recognition for being the most successful and unique program of its kind in Australia.
©
Professor Syed Masood with his PhD graduates: Dr Xuan Zhi Wang, Dr Mostafa Nikzad and Dr Abul Saifullah.
Mentoring the next generation
Professor Masood is a dedicated teacher and mentor. His colleagues describe him as humble – always focused on the desire for his students to be successful in their pursuit of knowledge.
He cites his greatest achievement as when Swinburne won the Victorian Manufacturing Hall of Fame award for international education, but what he's proudest of is his students. After more than 30 years at Swinburne, Professor Masood has supervised to completion close to 40 PhD and master by research candidates and more than 200 master by coursework projects. During that time his passion has never waned.
As a result of his teaching, supervision and mentoring, many of his students have gone on to become academics, business leaders and expert engineers in the Australian and global manufacturing community.
©
Professor Syed Masood received media attention for developing novel metal-polymer composites for fused deposition modelling with PhD students, Mostafa Nikzad and William Song.
How to be an expert
Teaching isn't all that Professor Masood does. He is a driven contributor to advanced manufacturing research and industry.
Professor Masood was responsible for establishing research concentration and infrastructure in additive manufacturing at Swinburne back in the mid-1990s.
Since then, he's secured scores of grants for his research and the facilities he works in, covering additive manufacturing and advanced manufacturing with fused deposition modelling, direct metal deposition and selective laser melting. His innovative research on the development of metal-polymer composites for fused deposition modelling and bi-metallic tooling on direct metal deposition have drawn significant industry interest and media attention.
Professor Masood has established many industry-based projects, such as several collaborative research projects with CSIRO Manufacturing and other leading Australian companies.
To date, Professor Masood has received 23 Australian Research Council grants – that's no mean feat. He's produced more than 400 publications in international journals and conferences, including four edited books and 14 book chapters. Currently, he has a Google Scholar h-index of 40 with more than 6800 citations. He has recently been included in a database of the top 2 per cent of world scientists, along with several other Swinburne staff – ranked based on citations in Scopus in different field categories and published by Stanford University via PLOS. 
It's clear that Professor Masood has global reach and impact. He's collaborated with researchers and industry across Australia, China, Indonesia and the United States of America.
"Professor Masood has demonstrated outstanding service and commitment to Swinburne through his achievements in the advanced manufacturing field," says Vice-Chancellor and President Professor Pascale Quester.
"His legacy at Swinburne lives through the success of his students," she adds.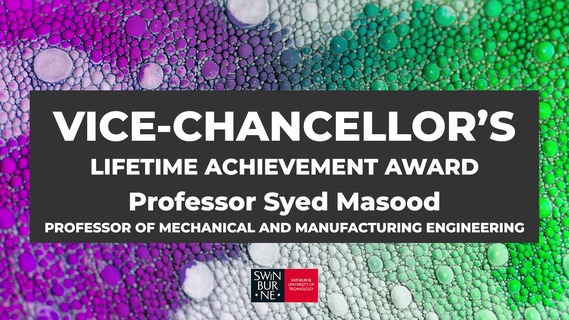 Vice-Chancellor's Awards 2020 - Lifetime Achievement Award, Professor Syed Masood
Related articles
Swinburne staff vote in landmark VET Enterprise Agreement

VET staff at Swinburne University of Technology have voted in favour of a landmark enterprise agreement

Tuesday 08 November 2022

Swinburne researchers share in $221 million for ARC Discovery Projects

Six Swinburne projects will share in more than $221 million of funding for 2023 Australian Research Council (ARC) Discovery Projects.

Monday 28 November 2022

Swinburne researchers recognised as national leaders

Swinburne researchers are among Australia's top achievers highlighted in The Australian's 2023 Research magazine.

Tuesday 08 November 2022

Swinburne highly cited researchers rise to the top in 2022

Nine Swinburne researchers are on Clarivate's list of 2022 Highly Cited Researchers. They are ranked in the top one per cent by citations for their field.

Tuesday 15 November 2022

Swinburne awarded best in class for equity and access

Swinburne's Care Leavers Assistance and Support Program has won an AFR Higher Education Award for improving equity and access for students who've experienced care.

Friday 11 November 2022
Register your interest
Register your interest to join us
Register