PAVE staff member honoured with Lifetime Achievement Award
Isabella is known for her caring personality and her outstanding work ethic.
In summary
PAVE Teaching and Learning Officer, Ms Isabella Chor has been named a Lifetime Achievement Award recipient at Swinburne's Vice-Chancellor Awards 2020
The award recognises a Swinburne employee who has made significant contribution and given a career-service to the university
Pathways and Vocational Education (PAVE) Teaching and Learning Officer, Ms Isabella Chor, has been honoured at Swinburne's Vice-Chancellor's Awards 2020 with a Lifetime Achievement Award.
Isabella started her journey with Swinburne in January 1989 as a centre receptionist and administrative assistant for Health and Human Services at the Outer Easter College of TAFE. Today, she is a Teaching and Learning Officer in the PAVE Business Services team, assisting and supporting the Migrant English and General Education Manager and teaching teams with the delivery of programs across the Department of Health, Science and Community.
Embracing education
When Isabella started at the Outer Eastern College of TAFE, she was relatively new to Australia and was balancing work, family and a new culture. Over time, she mastered English and committed herself to as much development – both professional and personal – as possible.
"One of my proudest achievements is successfully completing the Associate Diploma of Business (Office Administration) and the Graduate Certificate of Business (Executive Administration). These qualifications gave me additional skills and further improved my work performance," says Isabella.
©
Isabella's desire to upskill culminated in her successful completion of two qualifications at Swinburne.
"In reading Isabella's nomination, what struck me was how beautifully she has embraced education," says Vice-Chancellor and President, Professor Pascale Quester.
"How fitting, for someone who works at a university, to truly embody the spirit of learning and to seize every opportunity to upskill," she adds.
"I enjoy learning and Swinburne has given me lots of opportunity to learn. Continuous improvement is my aim and I learn from my team and other contacts," says Isabella.
It is these learning opportunities that Isabella credits for her personal and professional growth. "Working at Swinburne has helped me grow my communication skills. I've successfully learnt and upskilled myself with new IT systems and, most importantly, my confidence in my job has grown."
Giving back to Swinburne
Isabella has always been a dedicated member of the Swinburne community. Throughout her time at Swinburne, she has demonstrated her ability to embrace change and take on new challenges. She is described by her colleagues as the ultimate shy achiever with an outstanding professional and personal ethic.
"Her team members will tell you that Isabella is an integral team player, caring, extremely reliable and always willing to help, with a sense of humour, positive attitude, gratitude and love of life that is infectious," says Professor Quester.
©
Isabella is well respected by her colleagues thanks to her positive attitude and willingness to help.
"I am lucky to have supportive colleagues and work mates, who I count as part of my family, and I really enjoy working at Swinburne," says Isabella.
"Her gratitude for the opportunities afforded to her has stayed with her, and she has made it her mission to give back to Swinburne and her colleagues through her loyalty, time and support," Professor Quester concludes.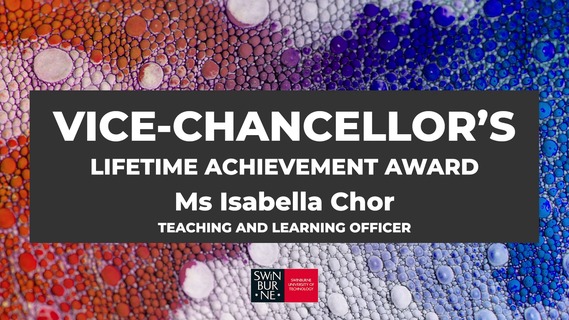 Related articles
Swinburne supports first National Quantum Strategy

As a leader in quantum technology, Swinburne has welcomed the Federal Government's first National Quantum Strategy.

Thursday 04 May 2023

Swinburne reaffirms support for Voice to Parliament

National Reconciliation Week 2023 is particularly unique. It falls during a historic year, in which Australians are being asked to vote in a referendum to recognise First Peoples.  

Tuesday 30 May 2023

Social Affairs
University

Driving systemic change: Swinburne appoints new Director of National Centre for Reconciliation Practice

Leader in reconciliation, inclusion and gender equity, Adam Mooney, has been appointed Director of the National Centre for Reconciliation Practice at Swinburne. 

Monday 29 May 2023

Swinburne appoints Defence head to tackle crucial and complex landscape

Wednesday 03 May 2023

New Latelab on the way in Swinburne's next gen_campus redevelopment

A new 24/7 Latelab and student hub is on its way as part of the transformative next gen_campus revitalisation

Wednesday 31 May 2023