Associate Professor Mary Dunkley recognised for more than 30 years' service to Swinburne and community
Mary is highly-regarded leader at Swinburne, known and loved for her strong advocacy for student and staff wellbeing, progression and success.
In summary
Associate Professor Mary Elizabeth Dunkley's more than 30-year contribution to Swinburne has been recognised at the 2020 Vice-Chancellor's Awards with a Lifetime Achievement Award
Mary has been a driving force behind the development of undergraduate and postgraduate accounting, finance and financial planning courses at Swinburne
Mary's leadership qualities are highly-regarded within Swinburne and the wider accounting profession and community
Department Chair of Accounting, Associate Professor Mary Elizabeth Dunkley has received a Lifetime Achievement Award at the 2020 Vice-Chancellor's Awards for her service to Swinburne, the accounting profession and wider community.
Mary's journey with Swinburne spans more than 30 years, joining the university in 1986 as a sessional tutor. For the last decade, she has been the Department Chair of Accounting, Economics and Finance in Swinburne Business School.
During her time at Swinburne, Mary has been instrumental in the development of the university's accounting and finance courses, and her warm and inclusive leadership style has positively influenced staff and students alike.
Swinburne Vice-Chancellor, Professor Pascale Quester says this award recognises the extent of Mary's influence on the community.
"Mary truly embodies Swinburne. Her energy, positivity and enthusiasm is infectious and her loyalty to students, staff and our organisation profound."

Mary says she is humbled by the acknowledgement of this award.
"I am enormously grateful to the students, alumni and colleagues that have shared the journey with me over the past decades. A focus on engagement with people whether it be Swinburne or industry colleagues, students or alumni engagement is a core part of the DNA of Swinburne, and this leads to our achieving our mission of real impact to transform industries, lives and communities."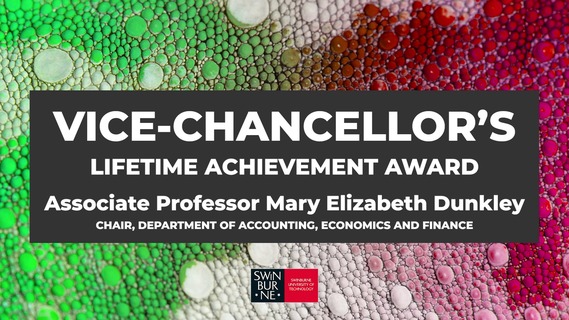 Forging connections with industry
Mary teaches corporate finance and financial accounting, and her professional networks have forged strong connections between Swinburne and industry.
She played a leading role in developing Masters Programs in Finance, Financial Planning and Professional Accounting and obtaining professional accreditation for these programs. Her extensive industry connections have enabled her to establish course advisory committees for these programs.
As a Charactered Accountant (CAANZ) and a Fellow of Certified Practicing Accountants Australia (CPA), Mary is an active participant within the accounting profession. She is the inaugural Chair of the Victorian Women's CPA Network, and current Chair of Professional Qualifications Advisory committee reporting to the CPA Board. She has presented extensive professional development courses for CPA Australia and delivered Swinburne Executive Education programs over many years to organisations such as BP and Mobil.
Her participation extends to the wider community, and she has served as a Justice of the Peace and a Bail Justice for the past 20 years.
Service to students
Mary's long-time colleague, Associate Professor Denis Vinen, says Mary is known for her strong advocacy and care for students.
"Mary is an outstanding educator and administrator who has impacted the careers of students and staff in a very positive way…she has an unwavering commitment to education," says Denis.
As a former Chair of the Faculty of Business and Law Student Progress Review Committee, Mary has made a meaningful academic and pastoral care contribution to students at risk.
Mary also has a keen interest in international students, which was the focus of her Masters thesis in the 1980s. She subsequently worked closely with the International Student Unit at Swinburne, particularly during the late 1980s and 1990s when Australia was positioning itself as a destination of choice for international students.
©
Mary has been instrumental in the development of Swinburne's accounting and finance courses, and is known for her advocacy and care for students.
A focus on others
Mary's colleagues describe her as a positive, warm and inclusive leader, passionate about supporting the personal and professional development of all staff.
Dean of Swinburne Business School, Professor Keryn Chalmers, says Mary brings 'positivity and community spirit' to the workplace.
"Mary's focus is on elevating and developing people. She invests her time, energy and passion in the team…she creatives an inclusive and connected environment," she says.
"Mary always leads by example and always thinks about the best result for everyone. She has always been one to delegate and create opportunities for another colleague to show their talent," adds Denis.
The most impactful memory
Despite a long and successful journey with Swinburne, Mary never planned that it would work out like it has.
"I began at Swinburne as a sessional tutor in accounting, not intending at all to have a career here. I was doing this just as a bit of interest. And I've been here ever since," she says.
For Mary, the most impactful memory from her more than 30 years at Swinburne is people.
"The type of people that Swinburne attracts as students and staff are passionate, and that has been consistent for all of my decades."
Related articles
Swinburne supports first National Quantum Strategy

As a leader in quantum technology, Swinburne has welcomed the Federal Government's first National Quantum Strategy.

Thursday 04 May 2023

Swinburne reaffirms support for Voice to Parliament

National Reconciliation Week 2023 is particularly unique. It falls during a historic year, in which Australians are being asked to vote in a referendum to recognise First Peoples.  

Tuesday 30 May 2023

Social Affairs
University

Driving systemic change: Swinburne appoints new Director of National Centre for Reconciliation Practice

Leader in reconciliation, inclusion and gender equity, Adam Mooney, has been appointed Director of the National Centre for Reconciliation Practice at Swinburne. 

Monday 29 May 2023

Swinburne appoints Defence head to tackle crucial and complex landscape

Wednesday 03 May 2023

New Latelab on the way in Swinburne's next gen_campus redevelopment

A new 24/7 Latelab and student hub is on its way as part of the transformative next gen_campus revitalisation

Wednesday 31 May 2023