Barak Wonga Oration 2020: Enduring Legacies of Aboriginal heroes
This year's Barak Wonga Oration was delivered by Dr Lois Peeler AM.
In summary
Dr Lois Peeler explored the enduring legacies of Aboriginal heroes at virtual Barak Wonga Oration
The annual Barak Wonga Oration celebrates Aboriginal cultural identity
The incredible Dr Lois Peeler AM recently delivered the 2020 Annual Swinburne Barak Wonga Oration. The event, named in honour of Aboriginal leaders William Barak and Simon Wonga, serves to advance understandings in the wider community on Aboriginal and Torres Strait Islander issues.
The Oration, a key initiative of Swiburne's Reconciliation Action Plan (RAP), is organised by the Moondani Toombadool Centre, which is responsible for all Aboriginal and Torres Strait Islander matters at Swinburne.
Dr Peeler is a Yorta Yorta and Wurundjeri activist and educator with a lifetime of experience in Aboriginal Affairs. She has worked in the Aboriginal community sector; the State and Federal public service sector, in the corporate sector and is the Executive Director and Principal of Worawa Aboriginal College.
Importance of recognising Aboriginal heroes
Over the course of her oration, Dr Peeler honoured and shared the stories of some of Australia's many Aboriginal heroes, including Jack Patten, Douglas Nicholls, Bill Onus, Geraldine Briggs, Margaret Tucker MBE, Mollie Dyer AM, Aunty Merle Jackomos OAM, Joyce Johnson, Hyllus Maris, Reginald Saunders, Lionel Rose, Harold Blair, Dr Naomi Mayers OAM, Professor Gary Edward Foley and Dr Alf Bamblett.
Dr Peeler emphasises that the wider Australian community must celebrate these heroes and role models.
"We share an understanding of what makes a hero. We want to see these people who lived the legacy of selfless lives, courage and heroic resilience celebrated, embedded and remembered by all Australians – not merely for the sake of inclusion, but because these amazing people lived lives that are exemplary of the best of human qualities. They are role models that any person would do well to emulate."
It is for this reason, Dr Peeler states, that the names and stories of William Barak and Simon Wonga should be known by every Australian and taught in every Australian school.
Aboriginal connections to the land
Dr Peeler also spoke of Aboriginal people's intimate connection to their land and the traumatic impact of being separated from it.
"The land is our greatest legacy and our understanding of being. Nurturing the land was a part of our responsibility; while the land nurtured us, it is an Aboriginal belief that we, being a part of the land itself, must give back," said Dr Peeler.
"The dispossession, dislocation and displacement from traditional lands has had a devastating intergenerational affect on Aboriginal people. And when we discuss dispossession, it is imperative for those who listen to adjust their own cultural lens; otherwise, you can't fully understand."
What our struggles with COVID-19 can teach us about Aboriginal experiences
We have all had to endure many restrictions as a result of COVID-19, but for Aboriginal people, unimaginable restrictions, limitations and upheavals of their way of life have been a lifelong struggle. Dr Peeler reflected on this as an opportunity for us to begin to empathise with the immense suffering undergone by these resilient individuals.
"Today, we all have a better understanding of what it is to have our existence and being shifted suddenly through isolation caused by COVID. Our mental health issues and every human malady have increased because of this disturbance of the predictably of life," said Dr Peeler.
"How much more, then, would it have been and continued to be for our ancestors to be removed from their rationale for life, their setting, their language, their beliefs, their food source, their context?"
For Dr Peeler, empathy is not only the key to more deeply understanding and connecting with the experiences of Aboriginal people, but also to making significant and essential change in the world.
"Change comes when we are changed," says Dr Peeler. "Knowing about something does not change your behaviour; it is only when knowledge is understood beyond sympathy and enters into the realm of empathy that real progress can be made."
Meanings of Aboriginality
In closing, Dr Peeler powerfully conveys what it means to be Aboriginal – both now, in the past, and the profound space of connection between the two.
"Aboriginality comes out of the culture: it comes out of being the people who belong here. It comes out of pride in ancient history and values that sustained a people for countless thousands of years – and that are still relevant today – that produced a balanced people. We who have survived and still survive amongst the apathy all around us today have the courage, the will and the pride to be Aboriginal in this situation. Pride in ourselves gives us a belief in ourselves."
"Tonight, I am proud to give voice to the enduring legacies of our great leaders. This is the compact between the past and the future."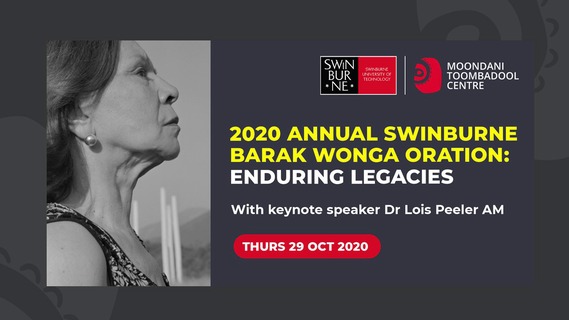 Barak Wonga Oration 2020
This brief summary can capture but a fraction of the breadth and depth of the stories so beautifully recounted by Dr Peeler. View a recording of the event to experience Dr Peeler's powerful oration for yourself.
Related articles
This dynasty won't end with Rupert: The Murdoch story is still being written

Australians grew up in a media landscape entirely dominated by Murdoch's mastheads and two generations came of age in a political landscape shaped by the whim of his media empire.

Monday 25 September 2023

Swinburne and Breakthrough Victoria create $18 million investment partnership to support Swinburne spinouts

Swinburne University of Technology will co-invest $9 million in investment, which is matched by Breakthrough Victoria, to create new ventures to drive commercialisation of our research. 

Thursday 21 September 2023

Swinburne alum and global HR leader unlocking people's 'inner hero'

Anoop Chaudhuri's career with Ford has spanned more than thirty years, three continents and 14 roles. He now leads HR for Ford and is passionate about helping individuals and teams thrive.

Thursday 21 September 2023

Vice-Chancellor Professor Pascale Quester reappointed for second term

The Swinburne University of Technology Council has approved the reappointment of Vice-Chancellor and President, Professor Pascale Quester, for a second five-year term.

Monday 07 August 2023

Swinburne to help drive change in Victoria's mental health system

Swinburne is an academic partner within the Victorian Collaborative Centre for Mental Health and Wellbeing's Adult and Older Adult Best Practice Consortium.

Thursday 10 August 2023