Education in the new space industry
In summary
Swinburne has launched a new Space Technology co-major
It will be available to students in Semester 1, 2021
Swinburne is celebrating World Space Week with the launch of our new Space Technology co-major.
The co-major is open to all undergraduate students and offers insights into the exciting and rapidly growing Australian space science industry, covering:
space technologies
space and microgravity science
space environment
data and visualisations
space entrepreneurship
space policy, law and economics.
"We are excited to be launching a co-major that will allow students to study space no matter their discipline," says Dean of Science, Professor Virginia Kilborn.
Students will collaborate on real-world projects with local and international industry partners while liaising with global leaders in space science and technology.
"This co-major was designed with industry and students will get the real-world experience they need to be part of the space sector," says Swinburne Space Office Project Coordinator Dr Rebecca Allen.
The co-major is open for enrolment in Semester 1, 2021.
Last week, the Australian Government identified the space industry as one of six national manufacturing priorities. The industry is forecast to reach $1 trillion globally by 2040 and offers excellent career path opportunities.
"Space technology is integrated into every aspect of modern life in Australia. From the GPS on your phone to weather forecasting and bushfire monitoring and disaster management, satellite technology in particular helps us navigate our lives," co-ordinator of the Space Technology co-major, Kim Ellis Hayes, says.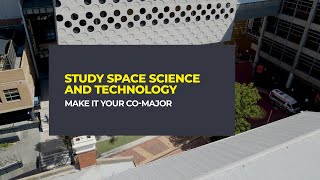 Study Space Science and Technology at Swinburne
Australian Space Industry Panel

For a look into this thriving industry, join Professor Kilborn, Professor Geoffrey Brooks, Dr Allen and Space Industries' Joshua Letcher for an Australian Space Industry Panel on Thursday 8 October from 12.00 to 1.00pm.
"The panellists will discuss Australia's future in space and how you can use your studies at Swinburne to prepare for a career in this exciting sector," says Dr Allen.
Hosted by the Swinburne Aerospace and Space Society, this event will cover everything from the space tech co-major to mining in space to future space missions. 
Related articles
Does running water really trigger the urge to pee? Experts explain the brain-bladder connection

We all know that feeling when nature calls – but what's far less understood is the psychology behind it. Why, for example, do we get the urge to pee just before getting into the shower, or when we're swimming?

Thursday 14 September 2023

Quantum technology and sustainably produced chemicals – how Swinburne scientists are paving the way to a brighter future

Swinburne scientists will lead the way in sustainability and quantum technologies thanks to $1.75M in Australian Research Council (ARC) Future Fellowship grants.

Tuesday 01 August 2023

New $5.2m supercomputer enhances high impact research around Australia

Swinburne University of Technology has launched its $5.2 million supercomputer that will produce groundbreaking space technology, medicine, and environmental research by researchers and partners across Australia. 

Monday 14 August 2023

Science
Student News
University

Free events at Swinburne to celebrate National Science Week 2023

Get involved! Swinburne is hosting a suite of free science events during National Science Week, 12-20 August 2023.

Wednesday 09 August 2023

Swinburne researchers celebrate ARC early career funding success

Swinburne University has been awarded over $1.26M of funding for three successful Australian Research Council (ARC) Discovery Early Career Researcher Awards (DECRA).

Thursday 31 August 2023