Swinburne-Siemens partnership is building the workforce of the future
Associate Degree of Applied Technologies graduate Callan Halton, operating a touch screen showing a Siemens factory simulation at the MindSphere launch event in Swinburne's Factory of the Future.
In summary
Swinburne's partnership with Siemens is enabling our students to work with industry and researchers, developing and co-creating new technologies and practices.
More than 400 students across higher and vocational education have used Siemens product lifecycle management tools and the MindSphere Industrial Internet of Things operating system
Siemens' suite of product lifecycle management tools and the MindSphere Industrial Internet of Things (IoT) operating system are enabling Swinburne students, academics and industry partners to collaborate and co-create local and global projects.
More than 400 students across higher and vocational education have used these tools, located in Swinburne's Factory of the Future and accessed throughout the university.
Developing skills for the future
Since 2017, Swinburne and Siemens have been working together to build the skilled, digitally savvy workforce of the future through the Industry 4.0 higher apprenticeship, the Associate Degree of Applied Technologies.
Co-developed by Swinburne, Siemens and the Australian Industry Group, the program bridges the current gap between technical training and university education, integrating trade skills into higher-level qualifications in Industry 4.0 technologies, such as cyber physical systems, Internet of Things, cloud computing, and augmented reality.
It also offers students first-hand work experience at Siemens and other industry partners to ensure development of practical workplace skills.
"The future of work will require a different type of skills base that will be highly digitally literate, with a range of pathways that are very broad," says Deputy Vice-Chancellor (Pathways and Vocational Education) Lisa Line.
"The Associate Degree program focuses on the practical competencies required by the advanced manufacturing sector in Industry 4.0. It is the only sub-Bachelor degree in Industry 4.0 anywhere in the world."
The program is designed to develop the skills for the future workforce required for Industry 4.0 and the connectivity and interaction between cyber and physical systems in advanced manufacturing.
The first cohort of graduates of this course were selected through an intensive assessment process to ensure they had the skills required to work collaboratively.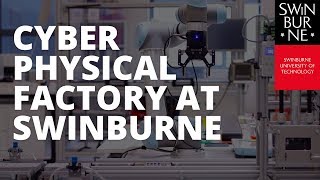 Cyber-physical factory at Swinburne
Graduate outcomes
One of those graduates, Callan Halton, now works full-time at Siemens as a software developer on MindSphere.
"I thoroughly enjoyed the Associate Degree," Mr Halton says. "It was great to learn about industrial technology and then go into the workplace and practise it. One of my personal highlights was spending a month in Huntingwood, NSW where myself and another apprentice got to experience a manufacturing environment in full-swing, at an Asahi bottling plant."
Since last year, Callan has been teaching a portion of the Industrial Networking class to Swinburne's first year Associate Degree students, covering cloud computing, databases and IoT, as well as web technologies.
"I try to keep the in-class projects to as closely simulate workplace tasks as possible, and it's been really rewarding to see the students using some of the things they have learnt in my class when they head back to the workplace," he says.
Kaye Russell completed the Diploma of Applied Technologies (the first year of the Associate Degree) and is now permanently employed as a service engineer (Controls and Digitalisation) at Siemens Energy.
"Although I was already a mid-level professional, I did not hesitate to start again as an apprentice," Kaye says.
"Studying the Associate Degree at Swinburne gave me the feeling of getting ahead. The work experience at Siemens was exceptional.
"The manufacturing conventions and the factory visits added value and a closer and bigger image of what the classroom lessons were all about. I treasure everything that I experienced. Not just the technical stuff but also the project presentation and reports.
"This apprenticeship program is the reason I am permanently employed by Siemens Energy now. Having the skills and knowledge gained from this program, I am well-equipped to do any job today and in the future."
Find out more about the Associate Degree of Applied Technologies - Advanced Manufacturing
This dynasty won't end with Rupert: The Murdoch story is still being written

Australians grew up in a media landscape entirely dominated by Murdoch's mastheads and two generations came of age in a political landscape shaped by the whim of his media empire.

Monday 25 September 2023

Swinburne business and carpentry alum building up apprentices

With four qualifications under his toolbelt and a successful building company to his name, Swinburne alum David Vastbinder is using his experiences to give back to apprentices and the industry. 

Tuesday 12 September 2023

Swinburne and Breakthrough Victoria create $18 million investment partnership to support Swinburne spinouts

Swinburne University of Technology will co-invest $9 million in investment, which is matched by Breakthrough Victoria, to create new ventures to drive commercialisation of our research. 

Thursday 21 September 2023

Swinburne alum and global HR leader unlocking people's 'inner hero'

Anoop Chaudhuri's career with Ford has spanned more than thirty years, three continents and 14 roles. He now leads HR for Ford and is passionate about helping individuals and teams thrive.

Thursday 21 September 2023

Substack newsletters are a literary trend. What's the appeal – and what should you read?

Every week since August 2021, Australian author Bri Lee has released a regular weekly Substack newsletter, News & Reviews, to thousands of paid and unpaid subscribers. The "news" offers commentary on current events and Lee's particular interests and knowledge areas.

Monday 18 September 2023