Here's how we teach young drivers truck safety
In Summary
Analysis for The Conversation by Nicki Wragg, Associate professor, Course Director, Communication Design (Honours) Swinburne University of Technology
Transport experts have warned that rising inner city populations and demand for new infrastructure could lead to more collisions, serious injuries, and possibly fatalities involving heavy vehicles, such as trucks.
Young drivers (18-25 year olds) are four times more likely to be involved in serious or fatal crashes. This means road safety campaigns that focus on young drivers interacting safely with heavy vehicles can make a difference to our road toll.
Road safety
The number of trucks on Australian roads is expected to double in the next 20 years.
In the 12 months to March 2018, 184 people died from 163 fatal crashes involving heavy trucks across Australia. And contrary to what people may think, 80% of road fatalities involving heavy vehicles are mainly caused by the other party – not by the truck driver. Around 63% of these other parties are aged 21 or younger.
---
Read more: Are autonomous cars really safer than human drivers?
---
The reason for this could in part be due to the fact most drivers have limited awareness of how to be safe around trucks.
Past campaigns by Victoria's Transport Accident Commission and others have highlighted the importance of road safety by focusing on aspects such as speed, fatigue and drink driving. But campaigns targeting safety around trucks are scarce around Australia.
The Royal Automobile Club of Queensland created a video to show how to share the road with truck users. And while there has been a truck awareness campaign in NSW, Australia has not yet had a campaign targeting the most vulnerable road users (18-25 year olds).
What people don't know about trucks
Swinburne University's communication design students partnered up with Melbourne creative agency, Hard Edge, to research and design such a campaign for their peers. Some research suggests designers of a campaign who are part of a target audience are well placed to understand the visual tone, language and behaviours of their target demographic.
There aren't many road safety campaigns in Australia that focus on heavy vehicles.
The students interviewed more than 200 participants aged 18-25. They found 80% never considered the truck industry and so weren't aware of the risks involved with sharing the road with heavy vehicles.
Half of the participants thought truck drivers were aggressive and unskilled, 20% were completely unaware of the location of blind spots on trucks, while 60% were vaguely aware trucks had blind spots. Most underestimated the time it took for trucks to brake to avoid crashes.
---
Read more: Don't just blame the driver – there's more than one cause of fatal truck crashes
---
The research correlated with the findings of the Australian Road Research Board regarding the daily challenges heavy vehicle drivers face in sharing the road with light vehicles. The five key messages from the board were:
Give plenty of notice of turns or stops, especially in heavy traffic
give trucks plenty of space when they change lanes
when turning across or joining a traffic stream, watch out for trucks
stick to your own side of the road as trucks cannot get out of your way easily
wait for trucks to complete their manoeuvres before proceeding
beware of blind spots.
Trucks have four main blind spots on the vehicle, located immediately in front of the truck, beside the truck driver's door, on the passenger side that runs the length of the truck and extends out three lanes, and 10m directly behind the truck.
The size of a truck is an important consideration for young drivers. Heavy vehicles can range between 4.5-22 tonnes. Greater vehicle mass requires more space to brake, for example, a truck travelling at 60km/h takes around 83m to brake while a truck travelling at 100km/h takes around 185m to brake.
---
Read more: Trucks are destroying our roads and not picking up the repair cost
---
Inappropriate speeds in prevailing conditions continue to be a major cause of accidents. Coupled with speed in a third party vehicle this can result in rolling, cornering or difficulty negotiating roundabouts or lane changes.
How we can teach them
In NSW, the Be Truck Aware campaign focused on blind spots, with videos showing what truck drivers saw when they were in the driver's seat.
Putting people in the driver's seat was an effective way to communicate a truck's blind spots.
As part of their research, Swinburne students also sat in the cab of a truck. From this vantage point, they decided the design problems for their campaign included how best to communicate the truck driver's point of view to car drivers, and how to develop a way young people would recognise and accept their role in the problem.
During their preliminary interviews, students discovered that 98% of people in light cars noticed truck-side advertisements. Some of the ideas they came up with included communicating the blind spots through colour on the sides of the truck.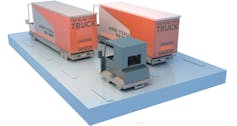 Teaching road users about blind spots through colour on the truck was one of the ideas students came up with. Vicki Litsoudis, Hannah Tempany, Maddy Hebden, Author provided
They also devised interactive games, to highlight the stupidity of driver behaviour when pulling out in front of a truck, to be screened during quarter time at football matches.
Road safety is a shared responsibility. Making our roads safer requires the support of organisations, industry, businesses, community groups and individuals.

Design is well placed to translate the complexity surrounding the issues and develop behaviour change campaigns that educate and motivate.
Written by Nicki Wragg, Associate professor, Swinburne University of Technology. This article was originally published on The Conversation. Read the original article.