Michelle's placement story
Health Science | Peter MacCallum Cancer Centre
I chose to do a professional degree because it included a 12-month placement which was built into the degree's structure. I was immediately drawn to the program because I think it's important for a university course to be connected to real work experience.
I completed my placement as part of the Behavioural Science team at Peter McCallum Cancer Centre which sits within the Department of Cancer Experiences Research (DCER). I assisted in studies aimed at identifying and solving real-world health challenges faced by people with cancer. My specific tasks involved the administration of studies, grant and ethics applications, the development of study materials, planning and coordinating team meetings, and liaising with health professionals. I generally assisted in any task within the research process – ranging from idea to publication and dissemination.
©
Michelle at the Peter MacCallum Cancer Centre.
I worked on a medication adherence study for patients with blood cancer which incorporated digital health into its intervention, and I also assisted in the administration of a decision aid study for patients with low-risk prostate cancer.

While on placement, I was given the opportunity of co-authorship. I currently have one publication (although it's just an abstract), and I will be a co-author on at least another two systematic reviews. It's unbelievable to think that something I've worked on is published in a scientific journal.
Each person at Peter Mac is so hard-working and committed to their job, and there's a universal recognition amongst employees, that it takes collaboration and teamwork to achieve the Centre's goals of better treatments, better care, and potential cures for cancer.
I didn't really have any expectations for my placement. Before I started, I decided that the best thing for me was to walk into Peter Mac with an open mind, and to just say "yes" to every opportunity that was thrown my way. Despite having no expectations, I was still really nervous on my first day. I didn't know what was required of me or what kind of tasks I would be undertaking. But my supervisor Penny was so lovely and welcoming that I instantly felt comfortable.
The most enjoyable part of my placement was definitely the people I worked with. The sense of camaraderie amongst my team members was the highlight for me.
My career path is leading towards forensic psychology, however, completing this placement at Peter Mac has taught me that you can't rule anything out until you've tried it. I can also say that it has opened my eyes to the professional world and allowed to me to identify the values I hold for working life.
"A Professional Placement gives an amazing opportunity to experience the professional world. You're able to create networks with people in the workforce, gain real-life experience in your field of study, and you even get paid for it – you'd be crazy not to do it."

Michelle , Bachelor of Health Science (Professional)
My placement will definitely help me to get a full-time job. It's so difficult to enter the workforce with just a degree nowadays and having 12-months of paid work experience under my belt will really give me an edge.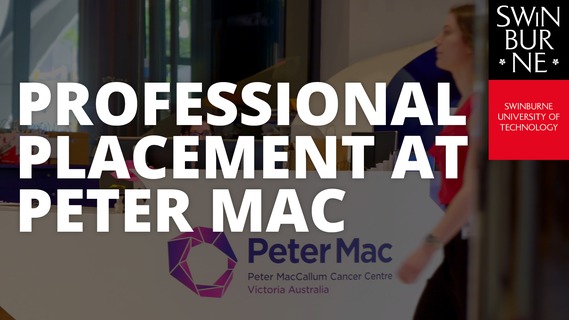 Professional Placement at Peter Mac
View video transcript
Create your own story
A placement is your chance to fully immerse yourself in an organisation and gain valuable industry experience that will generate real outcomes for your future. Find out how you can secure a placement.
Learn more