Gabrielle's placement story
Health Science | The Data Experience
I always had it in my plan to undertake a professional placement. I wanted to experience the real life working world, whilst still being a student because it allowed me to have an opportunity that may otherwise be difficult to get as a graduate fresh out of university with no experience.
I had high expectations of placement. I was hoping to get a placement that challenged me both within the realm of my capabilities, but also pushes me outside my comfort zone. I'm happy to say that my placement has certainly met my expectations.
©
Gabrielle completed her placement at The Data Experience.
I chose The Data Experience because, firstly, it is a start-up and that itself is an exciting opportunity. This placement has allowed me to mix psychology, which is my major, and one of my interests being business. I wanted to see if psychology and business would go together well and it turns out, they do! The Data Experience allows for you to bring your passion into your workplace and it made me feel motivated within a very welcoming culture.
My first day of placement was exciting. I was quite nervous as the day was approaching, but as soon as everyone was introduced to each other, the day flew by quickly. We mainly spent that day understanding what our roles would be within The Data Experience, as well as going through the on-boarding process, being a 12-week bootcamp.
My current project is based on the executive management tool used at the university. It involves reimagining what the future looks like for current and new users of the tool. After many interactions with clients, the scope of the project includes developing new levels of access that empowers a higher level of data capability and data maturity across the organisation with a strong focus on an inclusive and transparent culture. Along with this, the project also includes developing a reinvigorated training strategy, enhancing engagement throughout training and establish a community for the users.
Due to the nature of my project, I have been able to develop many transferable skills that will be useful in my future career. These skills include stakeholder management, confident yet flexible facilitation methods, excellent communication skills, building and implementing fresh design thinking strategies. I've also had the opportunity to be trained in innovative technology such as Tableau, as well as Amazon Web Services (AWS).
I love the job that I have because I can physically see and understand the true value of what I'm doing at The Data Experience. The four other junior consultants and I all have projects that will impact numerous people in a positive way. It's great knowing that all the time and effort I have been putting in at my job is paying off.
"The most enjoyable part of placement for me is getting to work in such a dynamic team. We all work so well together and come from very different course backgrounds, for example there are students placed in The Data Experience studying Physics, Finance and Marketing."

Gabrielle , Bachelor of Health Science
The working environment is definitely a shock when you transition from a university schedule to working full time. You learn that other people do rely on you and that your work impact others. In saying that, I love the working environment. I feel as though I thrive on structure and challenges, so working at The Data Experience is a great match for me.
Coming into The Data Experience, I was a little unsure if the role of Junior Consultant would be a good match for me, however now after nearly 6 months of being here I am certain that I have picked the right path to go down. I can definitely see myself working as a consultant in the future.
Placement will definitely help me get a full time job after university. I have learnt so many great skills that I believe gives me a competitive edge within the business industry.
The Professional Placements program is definitely an opportunity not to be missed.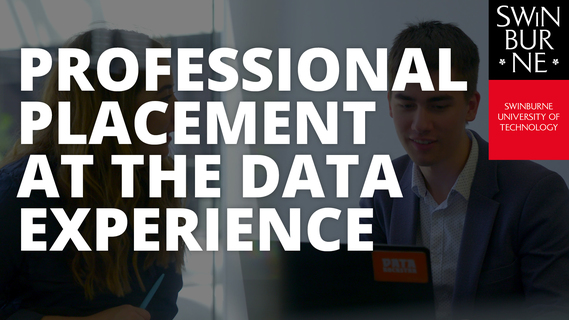 Professional Placement at The Data Experience
View video transcript
Create your own story
A placement is your chance to fully immerse yourself in an organisation and gain valuable industry experience that will generate real outcomes for your future. Find out how you can secure a placement.
Learn more