Media and Communication | August
When I started my Bachelor of Media and Communication (Professional) at Swinburne, it was the first year professional degrees were offered. Through conversation with friends and family, it was very clear that while a degree gives you great foundational knowledge, having a placement included in your degree will help you get your foot in the door to industry. It seemed like a great opportunity!
During my placement at August, I worked primarily within the engagement team, participating in business operations, client services and client engagement, as well as other tasks.
One of the clear standouts working at August is the team. The recruiting process screens for cultural fit in addition to technical skill, so I am around genuine, considered, engaged individuals on a daily basis.
©
Freya completed her placement at digital agency, August.
I have found that approaching tasks willingly and pushing myself to take on new challenges has taught me a lot.
Working in industry has given me tangible experience in my field. I've observed and participated in the smooth running of a business. I've become far more aware of the many moving parts involved in making a business work. I have had exposure to people working in numerous disciplines and have had the chance to collaborate and learn from this.
"My experience has highlighted for me the importance of doing work that I enjoy and find meaningful."

Freya , Bachelor of Media and Communications (Professional)
To this end there are many soft skills that I have continued to develop and hone during my placement, which will contribute to my career in a broader sense going forward. This awareness and industry understanding would definitely give me an edge.
A professional placement is great insight into industry. I love university and I believe it is a great environment for learning, but in today's competitive job market you need to gain practical, hands-on industry experience. This program is the best way to get that experience while still at university.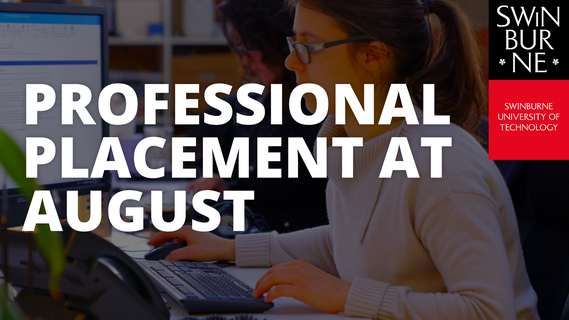 Professional Placement at August
View video transcript
Create your own story
A placement is your chance to fully immerse yourself in an organisation and gain valuable industry experience that will generate real outcomes for your future. Find out how you can secure a placement.
Learn more