Give your future-self the career edge through our highly regarded work integrated learning program.
Choose Swinburne
We're more than a university of technology, we're a university of real industry experience. Build your CV while you study. Preference Swinburne #1 or learn more about why you should.

Contact us
Depending on your course, our workplace training programs offer a range of opportunities that will give you invaluable skills and allow you to build your confidence and gain vital career experience by the time you graduate. Our workplace training programs can also count towards your degree. At Swinburne, we are dedicated to providing equal opportunity for all. If you have a disability or ongoing health issue and are undertaking a work placement, we offer a variety of support services. We'll work with you and your host organisation to help balance your learning needs to ensure reasonable adjustments are made to enable you to undertake tasks and participate in the same capacity as others, as per the Equal Opportunity Act (2010).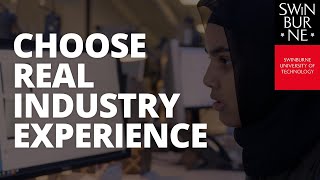 Professional degrees

Gain the advantage with degrees that incorporate a 12-month full-time professional placement with a leading organisation.

Placements

A 6- or 12-month placement is your opportunity to apply all that you've learnt while studying at Swinburne and immerse yourself in an industry relevant to your studies.

Internships

Expand your knowledge, develop your skills, engage with industry professionals in the workplace and earn credit towards your degree with an internship.

Industry-linked projects

Take on a real-life industry or community project for one semester. Team-based challenges may include competitions, research projects or internal briefs, and are guided by real industry professionals.

Accreditation placements

Accreditation placements are compulsory in many degrees and offer you the opportunity to learn within a great organisation and build valuable experience.

Overseas study tours

Our short-term overseas study tours are led by experienced faculty staff members and are an exciting way to learn outside of the classroom and travel.
Want to hear from other students?
Find out where other Swinburne students chose to work during their professional placements and discover how the amazing opportunity has provided them with the hands-on experience and skills to kick-start their careers.
Learn more
Looking to employ a Swinburne student?
Our placement students can offer your business more than just a helping hand. Gain new and fresh perspectives, increase productivity and help your team reach its goals — all while offering great learning experiences for our students in the law, education, health and engineering industries.
Learn more