Virtual overseas programs
We will be running another round of virtual overseas internships in the Winter 2021 break. Get an international experience from home while international travel is not yet possible!
Applications close 10 March 2021.
Why a virtual internship?
Gain the kinds of skills employers are now looking for.

With travel still feeling so out of reach at the moment, it can be hard to find the motivation to plan your next overseas adventure. But Swinburne Abroad is excited to announce our bespoke range of virtual overseas internship programs, designed to give you that international experience from the safety and comfort of home!

A virtual overseas internship will give you the chance to gain hands-on international experience in a workplace on the other side of the world- you'll grow your intercultural communication skills, learn in a new environment and utilise the digital skills that are now more in demand than ever before.

Global Virtual Internships

21 June – 30 July 2021
Europe and North America

Gain hands-on experience working for a company based in one of the world's leading cities such as Berlin, Barcelona, Boston, LA, New York, Paris, Rome, Toronto and more... You can choose your top three preferences of location from a range of cities across North America and Europe.

With internships available in a huge range of disciplines, you'll be working on projects suited to your study area, and have access to coaching/support and a network of other interns.

Multi-discipline / most study areas available, excluding Nursing, Education and Aviation

Cost: US$1,450 (approx A$2,000)
Funding available: N/A
Host: The Council on International Educational Exchange (CIEE)


Engineering Internships

21 June – 30 July 2021
China

Use your engineering skills and develop your workplace experience with this internship in China. The hands-on experience will speak volumes for your CV, but with extras including workshops on employability skills, an assigned in-country cultural mentor, plus a gamified system for community interaction, this virtual internship will feel just like the real thing!

Cost: A$2,400
Funding available: A$2,400 grants available
Host: Pagoda Projects (Intern China)

Business, Media & Design Internships

 21 June – 30 July 2021
 South Korea

Expand your skills working for an international company and gain job-ready experience before you graduate... This program is a unique opportunity for students studying Business, Media & Communications or Design to intern with a Korean based organisation. Network with other interns around the world, and immerse yourself in to the Korean culture.

Cost: A$1,300
Funding available: A$1,300 grants available
Host: Asia Internship Program

Business & Law Internships

21 June – 30 July 2021
Malaysia

Grow your CV with this virtual opportunity in Malaysia – you'll gain practical workplace experience in an outcome-driven role. A combination of working collaboratively with your team as well as independent project work will give you take-away remote learning skills. Plus extras like weekly language and culture classes and discussions will help the experience feel like a truly global one!

Cost: A$1,750
Funding available: A$1,750 grants available
Host: The Global Student


IT & Computer Science Internships

24 June – 23 July 2021
Vietnam

Gain professional experience and participate in career navigation training workshops- this program will give you tangible skills to get you job-ready. And with extras like culture exchange and expert coaching from colleagues, you'll feel like a global employee from day one.

Cost: A$1,100
Funding available: A$1,100 grants available
Host: FPT University

Grants and funding available
Yep, you read that right. There is plenty of Australian Government New Colombo Plan funding available for most of these programs, which is a great way to test out a virtual experience with most (if not all) of the costs fully covered! There is eligibility criteria and conditions related to this funding, so if you want to check your basic eligibility, keep reading below:
Must be an Australian citizen

Not a citizen of, or have residency rights to, the destination where the virtual experience is occurring
Studying an Undergraduate course
Students who have previously received a New Colombo Plan grant for a semester of short-term program are eligible to also receive a grant for a virtual program
Be between 18 - 28 years of age at the commencement of the program (there is a 30% buffer allowed for students outside of this age range)
Funding is allocated once successful applications are received, until exhausted, but not paid until the student is accepted into the program and has made an initial deposit payment to the internship provider
For more details on funding eligibility, please contact Swinburne Abroad directly.
Note: Unfortunately OS HELP Loans are not available for Virtual Internship programs.
Still not sure?
Working alongside our experienced third-party internship providers, you'll have everything organised including your internship position, virtual orientation and full support during your program- plus a network of other interns to share the experience with!
Overseas Internships (including our virtual programs) can be taken for academic credit towards your Swinburne degree. To learn more about this, visit our website or watch the information session below where our team will help explain the process.
It's important to keep an open mind with these programs. Most study areas/majors are available, but unfortunately not all, or your discipline may be better suited for a certain destination. But that's the nature of remote work- learning to be flexible! Our team will help give you program advice best suited for your course.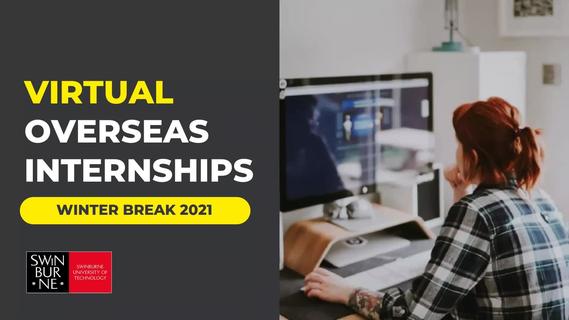 Virtual Overseas Internships
Virtual Overseas Internships
Get an international experience from home in the Winter 2021 break while international travel is not yet possible!
Want to find out more?
Come along to one of our upcoming information sessions where you will be able to chat to a Swinburne Abroad staff member about these programs and hear from students who completed virtual internships over the summer, or apply now if you're ready.
Still have questions?
Our friendly team are here to help answer any questions and find the right program for you.
Contact us