Learning and Academic Skills Centre
Want to boost your university marks? Improve your learning and academic study skills and gain better results through our Learning and Academic Skills (LAS) Centre.
Face-to-face appointments
Due to ongoing COVID-19 restrictions, face-to-face appointments will continue via Zoom and phone.
Want to talk to a LAS Adviser? Book an appointment.
From advice on assignments, writing essays and reports writing, presentation tips and exam strategies, to improving your maths, stats and digital literacy skills, we can help you achieve your academic goals.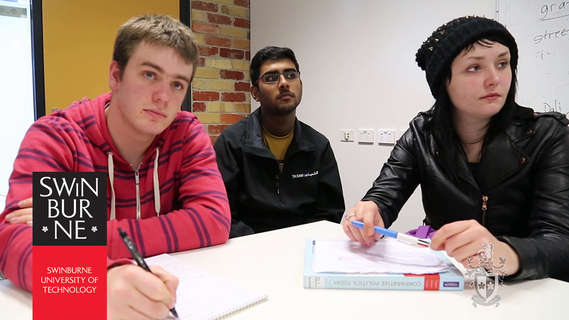 A student perspective (LAS)
View video transcript [PDF 154KB]
Help with assignment writing, referencing and exam preparation
Transitioning from secondary education to a tertiary level can be a big step up. Whether your pathway to studying with us is directly from school or if you're returning to study after taking a break (or simply wanting to boost your marks) we offer free advice and workshops to help you gain the skills you need to succeed!
Visit the LAS centre to:

improve essays, reports, critical analyses, thesis writing, case studies, journals, blogs and reports
understand and analyse assignment topics and questions
recognise and respond to task requirements, assessment criteria and rubrics
develop critical analysis and academic argument skills
find, select and read relevant resources
develop note-taking skills
improve your referencing skills
speak well and deliver strong presentations.
Need to speak with a Learning and Academic Skills adviser?
Give your grades a boost and book an appointment or drop in for online advice without booking. You are welcome to come individually or as a small group.
Book an appointment
Study skills programs and workshops
Enrol in one of our free programs or workshops to improve your learning and academic skills for study and in the workplace. Online programs and workshops include:
Study Smarter Online Program - NEW
Strategies for Success
Learning Skills for Success Workshops
LANTITE Preparation Workshops
Effective Editing and Proofreading Strategies
Negotiation Skills at University and at Work
Intermediate Grammar Review Online Program
Financial Literacy

Embracing Communication and Diversity in Australia
Learn or refresh useful skills for your study and beyond. Receive individual feedback from LAS Advisors and earn a Swinburne Participation Certificate for each completed module. Start your learning journey today!
SELF-ENROL NOW
Topics include:
Understanding what Swinburne expects of you
Planning and organising your time
Getting the most from your study time
How to approach your study ethically
Working in teams
Effective verbal communication
Giving an oral presentation
Writing reflective papers, blogs and personal profiles
Using email etiquette
Preparing for exams
For more information, please download the Study Smarter Online Program flyer [PDF 310KB].

Whether you're starting uni for the first time or would like some additional tips and strategies to help you ace your studies, this three-day virtual workshop will provide you with the key tools to succeed at university. Includes live sessions and self-directed learning modules. Live sessions will be via Collaborate Ultra.
Monday 15 – Wednesday 17 February | Daily from 1pm AEST

For more information, go to the Strategies for Success Canvas shell.
Attend our Learning Skills for Success Workshops conducted via Collaborate Ultra running early in Semester 1.
You'll also receive a Participation Award for attending four or more workshops. More information coming soon.
For students interested in developing literacy and numeracy skills for LANTITE, join our weekly one-hour workshops, Thursday 10–11am literacy presented by Dr Stephen Price and Thursday 11am–12 noon presented by Dr Elena Sinchenko.
To find out when workshops run, read the LANTITE Canvas home page. For more information, contact swprice@swinburne.edu.au or esinchenko@swinburne.edu.au.
The Effective Editing and Proofreading Strategies workshop is aimed at providing students with effective skills in editing academic assignments (content, structure and layout). It aims to equip students with effective proofreading strategies (grammar, vocabulary and punctuation) for more professionally written work.
For more information, contact frobert@swinburne.edu.au.
This workshop looks at what negotiation is, what skilled negotiators do, negotiation styles, how negotiation practices differ from country to country, and each student's experience with negotiation.
Students will practise negotiation, and give and receive feedback.
For more information, contact Antje Herrmann, LAS Advisor, at aherrmann@swinburne.edu.au.
LAS's free Grammar Review Online Program [PDF 2.3MB] is a free, online program that provides grammar review activities for intermediate to upper-intermediate students from a non-English speaking background.
This program focuses on four areas; verbs, determiners, prepositions and sentences. This provides an excellent opportunity for students to improve their grammar and enhance their general and academic English, both written and oral skills.
This program is free to all Swinburne students and enrolments are offered all year round. To enrol, please contact Frederique Robert at frobert@swinburne.edu.au.
This is a free workshop which covers financial calculations for study, work and life.
For more information, contact Dr Elena Sinchenko at esinchenko@swinburne.edu.au.

A free five-week program that runs twice a week for one hour. Dates for Semester 1, 2021 to be confirmed.
This program aims to assist students to:
identify your strengths in a global job market
share your experiences with your peers
get feedback from your convenor
improve your communication, inclusion and diversity skills for workplace readiness.
earn a Swinburne Participation Certificate and credits towards the Diversity Certificate as part of the Emerging Leader Program.
For more information, please download the flyer [PDF 97KB].
Need help with exam preparation?
Download our handy tips for preparing for an exam including tips for short answer exams, case studies and scenario questions.
Prepare for exams [PDF 220KB]
Assignment writing guides and samples
If you're looking for useful guides for assignment writing and language skills check out our study skills resources.
Learn more
Get just-in-time assignment support - around the clock
Your hours might be all over the place, but our academic support services can work with that.
Swinburne is partnering with Studiosity, a third-party provider, to give you real-time, one-on-one virtual support with a degree qualified study coach via their 'connect live' chat. Or you can ask for assignment feedback (including spelling, grammar, structure and more) delivered back to your inbox within 24 hours.  
All you need to do is login to any of your Canvas units and look for Studiosity on the left-hand side. On your first sign-in, you have to create a user profile and PIN.
Learn more
English conversation group

Make friends, practise your English and learn interesting things about life and culture in Australia.
Meet online Monday, Tuesday and Wednesday, from 12.30pm to 1.30pm starting Monday 18 January.
To join in the conversation, contact Dr Elena Sinchenko at esinchenko@swinburne.edu.au.
Develop your English language skills
If you're an international student or a student from a non-English speaking background, we can help you with the following workshops and short courses:
speaking and listening – improve pronunciation for better communication
writing skills – learn to plan and structure essays
grammar – learn correct use of English grammar
reading – manage texts and recommended reading materials
vocabulary – increase your word knowledge, understand Australian slang.
Learn more about our courses to improve your English or simply book an appointment and begin your journey to reaching your academic goals.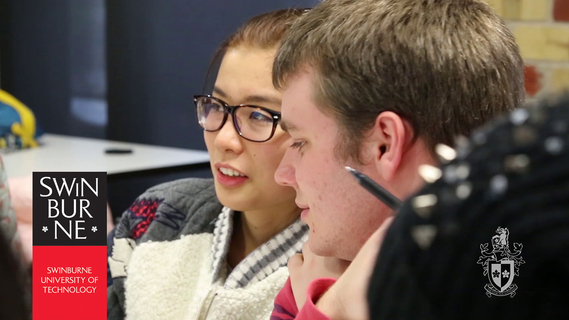 An international student perspective (LAS)
View video transcript [PDF 142KB]
In addition to any other language study you may be doing, you can practise your English conversation skills with our lunchtime conversation group.
Join in online and:

learn about Australian culture and customs
improve your vocabulary, pronunciation
practise your listening and speaking skills
understand Australian slang and everyday expressions
make new friends.
Conversation practice runs on Monday, Tuesday and Wednesdays at 12.30–1.30pm. There is no need to book an appointment, simply join a conversation practice session online.
Maths, stats, physics and chemistry help
The LAS Centre can help improve your knowledge and understanding of maths and physics, stats, basic chemistry and digital literacy and computer skills including Microsoft Word, Excel and PowerPoint. LAS also helps vocational education, UniLink, Faculty of Business and Law and Faculty of Health, Arts and Design students. Book an appointment with a LAS Adviser
If you are a student from the Faculty of Science, Engineering and Technology (FSET), you can access academic assistance via the Mathematics and Statistics Help (MASH) Centre.
The LAS Centre helps you to:
understand complex maths problems and identify the steps to solve them
interpret your maths and science assignment questions
read and understand written maths problems
get more from your lectures and tutorials
catch up with prerequisite content
develop your maths, stats, physics and chemistry (including concepts and terminology).
Self-assess your academic skills

The Swinburne Academic Literacy Needs Assessment (SALNA) is an online quiz for undergraduate and UniLink students at Swinburne. It helps you to find out where your strengths are, and which academic literacy skills you could work on developing.

It's designed to ease your transition into tertiary education by introducing you to key aspects of university study and writing, such as:
interpreting assignments
developing arguments
structuring your work
referencing your work.
Note: SALNA is a 15- to 20-minute self-assessment tool. Only you will see the results. Your tutors and lecturers cannot see your scores. At the end of the quiz, you will get feedback on your academic and language skills.
You will also receive a list of helpful resources that you can use to build particular skills.
Looking for extra study support?
We have Academic Development Advisers that work in each of our faculties. They can help you make the most of your university experience and assist with any issues you may face during your studies.
Contact us